Japan is famous for its cherry blossom trees, and the pretty pink blooms that herald the arrival of spring are a must-see.  The centuries-old tradition of viewing the cherry blossoms – Hanami – is where friends and family admire the flowers by picnicking under the trees.
It's a pastime popular on America's east coast too.   In 1912, Tokyo sent a gift of 3000 sakura trees to the U.S. capital, which formed the basis of Washington D.C.'s Tidal Basin cherry blossom display.  The city has held a Cherry Blossom Festival since 1935, and New York City is not far behind.
Home to more than 40 varieties of oriental cherry blossoms, Brooklyn Botanic Garden is "one of the foremost sites for viewing cherry blossoms outside Japan."  The 52-acre public garden is already attracting large numbers of visitors wanting to view the picturesque pink and white flowers – and last weekend I was one of them.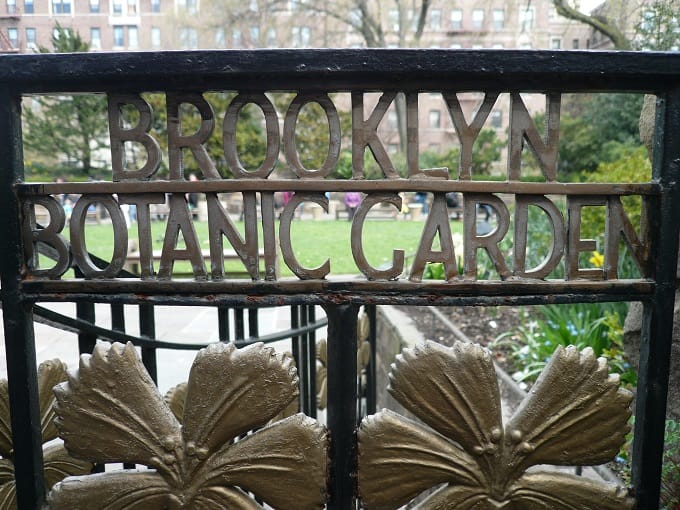 The blossoms are situated in neat rows on the green field of Cherry Esplanade, and along the nearby meandering path that is Cherry Walk. This in turn leads to the Japanese Hill-and-Pond Garden, one of the oldest of its kind outside Japan.  More than a dozen cherry blossoms line the pond, making for picturesque scenes with the red Tori gate in the background.
Cherry blossoms "are symbols of isagiyosa, the transience of life, and are meant to be cherished without trying to hold on to their evanescent beauty."  While Japan has this year seen its earliest-ever cherry blossom season, many of the trees in Brooklyn Botanic Garden are still at the 'pre-bloom' stage.
In spite of this, I was still able to "cherish" the cherry blossoms, admiring pink flowers draping delicately into the pond or swaying softly in the spring breeze.  It was nice too, to watch as others – families, friends, children – cherished this spectacular display of nature, blooming brightly in a quiet corner of one of the world's biggest cities.
While cherry blossoms only bloom in the spring, the Brooklyn Botanic Garden is open all year!
Where: 990 Washington Avenue, Brooklyn. Take the 2/3 subway train to Eastern Parkway station, the B/Q to Prospect Park, or the 4/5 to Franklin Avenue.
When: Opening hours vary in summer and winter. Check their website here for up-to-date information.