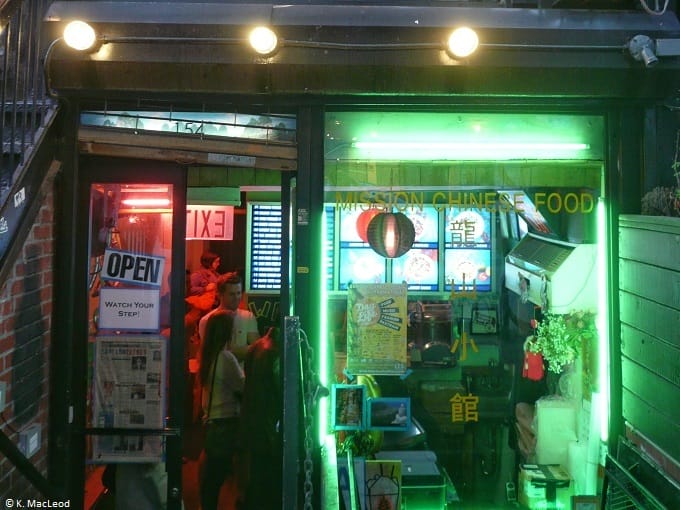 When we arrived at the Lower East Side address, my first thought was that I must have made a mistake.  Surely this wasn't the acclaimed restaurant I had heard so much about?  Tucked in a basement, this looked more like a cheap Chinese take-away, complete with neon back-lit images of the edible items on offer.
We were in search of Mission Chinese Food, and we had, in fact, come to the right place.  Once inside, we were promptly ushered down a narrow hallway, past an open kitchen – where it is said chef Danny Bowien can sometimes be seen cooking in his basketball cap – and into a small, somewhat strange restaurant area.
Dimly lit, with a red paper dragon strung from the ceiling and a painting of Mao on one wall, the setting was unassuming and far from serious.  Sitting down, you certainly don't feel as if you're about to enjoy one of the most exciting meals the city has to offer.
Anthony Bourdain recently described Mission Chinese Food as "addictive", explaining that "not all of it is spicy, but when it is, it's uncompromising, unrelenting, and merciless."  Spicy it certainly is – those Sichuan peppercorns will surprise you and render your tongue temporarily numb – but the temperature doesn't take away from the great taste.
The pork spare ribs were sweet, spicy and oh-so-tender, while the flavours of the 'Catfish a la Sichuan' practically transported me back to Tianjin.  Our shared side plate of salt cod fried rice (mixed with sweet Chinese sausage) was piled high enough to feed at least five people.
Mission Chinese Food opened here in May of last year and found its way into my mind via Brett Martin's award-winning GQ article, "Danny and the Electric Kung Pao Pastrami Test."  It painted eating here as a unique experience, which without a doubt it is: the lighting, the spices and the eccentric atmosphere make it an out-there evening of eating that doesn't disappoint.
The celebrated chef behind this melting pot of culinary traditions – Sichuan, Taiwanese, American – is Korean-born, Oklahoma-raised Danny Bowien, who started Mission Chinese Food as a pop-up in San Francisco.  He is not classically trained, or trying to be a celebrity chef: "I don't get it sometimes.  We're just trying our hardest to make things good" he told New York Magazine.
The customers, however, do get it.  Mission Chinese Food is now a firm favourite among in-the-know New Yorkers and famous culinary creatives alike.  Bon Appetit included it in this year's list of the 20 most important restaurants in America, while Zagat went further and hailed it one of the ten hottest 'It' restaurants in the world right now.  The line can sometimes stretch for hours from the basement steps outside, but believe me, it will be worth the wait for this "weird Chinese food."
Where: 154 Orchard Street, between Rivington and Stanton Street, New York.
When: Lunch 12pm – 3pm.  Dinner 5.30pm – midnight.
Cost: Cheapest dish $5; priciest $18.50.
____________________
UPDATE Summer 2015: After a hiatus, Mission Chinese Food is now located at 171 E. Broadway, NYC.