Have you ever heard of coffee cupping?
It's the standardised process used by professionals (like buyers, roasters, and baristas) to evaluate the taste and aroma of brewed coffee, allowing them to "select and maintain the quality of the roasted beans". Think wine tasting, but with a few more rules.
I had never come across it until the crisp New York day in October when I took the L train to Bedford Avenue, the centre of famed hipster haven, Williamsburg.
Here, bang in the middle of a block on Berry Street, is Blue Bottle Coffee.  Blue Bottle was born in California, back in 2005 when "a slightly disaffected freelance musician and coffee lunatic, weary of the grande eggnog latte and the double skim pumpkin-pie macchiato decide[d] to open a roaster for people who are clamouring for the actual taste of freshly roasted coffee."
Named after Central Europe's first coffee house, Blue Bottle Coffee can be found on both US coasts, and still retains its original ethos: roasting coffee on vintage gear, putting it in compostable bags, and getting it to customers within 48 hours.   With such a stake in the integrity of the ingredients, it's not surprising that Blue Bottle hosts free public discussions and cupping of their coffees in select locations (Brooklyn being one of them).
The Berry Street branch is housed in an old brick building that has in the past played host to everything from a glass blower to a barrel maker.  Big glass windows bring light into a space that's packed with people, even this early on a weekday morning.
Inside, the counter and seating area is smaller than I expect, but there is a fairly large coffee 'factory' at the rear of the room, providing a behind-the-scenes of view of how the coffee gets to your cup.
Lots of customers are sporting woolly beanies, and the accents are international as well as American, all with a hint of New York drama.  I manage to snag a single small seat at the end of the bar, and soak up my surroundings.
The walls are wooden, but unlike similar establishments there isn't a chalkboard in sight.  Instead there are brewing contraptions that look like vessels for science experiments sitting on shelves opposite the counter.  What kind of coffee do they create, I wonder?
Eventually I order a latte, which is expertly poured (art included, of course) by a Brooklynite boy with a short beard and a flat cap, dressed head-to-toe in mismatched denim.  The latte is smooth and flavoursome – with a perfect caffeine kick – but the real star of the show is the Mast Brothers double chocolate chip cookie, served inside a brown paper coffee filter.  Chewy, chocolatey, and wonderfully spicy: after the first bite I know I will be paying a visit to their factory around the corner.
Scrambling to finish this piece of chocolate heaven, I miss the name of the coffee guide, clad in jeans, a casual shirt, and a back-to-front baseball cap.  Laid out on a slim counter by the front windows are our coffee cupping implements, next to a mix of Ethopian and Sumatran beans, each suited to certain coffees.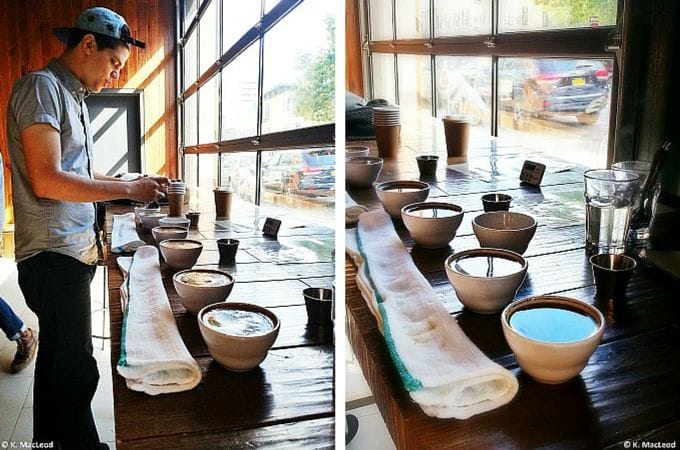 The laid-back barista instructs around six of us curious coffee drinkers on how to smell the dried beans, alerting us to how the scent will change once water is added, and again as the temperature changes.  We use metal spoons to 'break the crust' and smell the coffee a second time; apparently the real scent sticks to the underside of the spoon, so I make sure to give it a good sniff.
The act of tasting itself feels incredibly impolite: slurping loudly, gurgling, then spitting unceremoniously into a paper coffee cup.  I didn't quite catch whether this was for the benefit of our tastebuds – to cleanse the palette – or for our nerves, reducing what would otherwise be an extreme intake of caffeine.
Either way, my first coffee cupping experience was immensely enjoyable – and interesting.  It gave me an insight into the complexities of coffee, and encouraged me to be more adventurous with my coffee choices in the future.  (Next time I'll have to try something from the science experiment-style siphons!)
____________________ 
Have you ever been coffee cupping? Would you like to try coffee cupping at Blue Bottle Coffee, or elsewhere?