Edinburgh is well known for its abundance of independent boutiques, bars, and bistros, so naturally I had to seek out some of these quirky hotspots during my recent weekend spent exploring Scotland's capital.
Everyone knows I'm a caffeine fiend, but it's not only the coffee I love: it's the atmosphere on offer in the places it's served.  A good coffee shop has a chameleon-like quality, providing a space perfect for both socialising and solitude.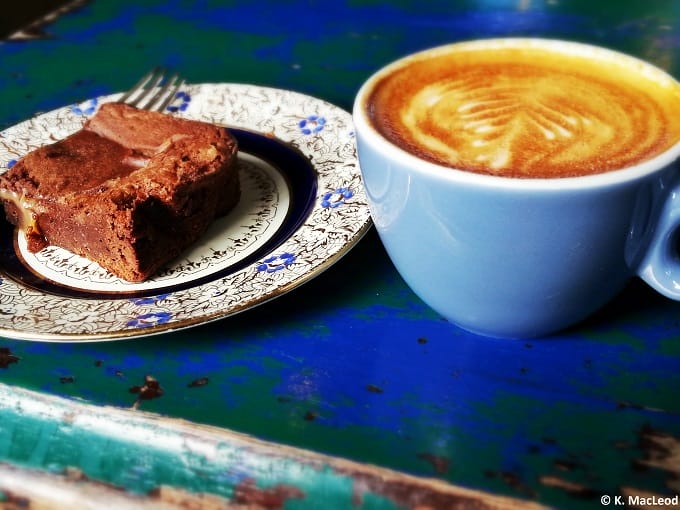 If there's one thing I love more than coffee, it's coffee and cake.  Lovecrumbs, located in the West Port, a short stroll from the Grassmarket, does both brilliantly.  The Edinburgh College of Art sits across the road, so the arty atmosphere is hardly surprising.
Mismatched furniture and china give Lovecrumbs a shabby vibe, but with the paint-chipped tables, vintage sofas, and bare light bulbs swinging on their wires, it exudes eccentric charm.  There's a piano at the back; giant windows overlooking the West Port (you can lounge in them with your cake and watch the world go by); and potted plants dotted here and there. I loved it – and that was before the coffee and cake.
Cakes are displayed like works of art on the shelves of an old wooden wardrobe, flavours outlined in chalk on their open doors.  That afternoon's baking included beetroot and coconut cake, goat cheese and thyme scones, and apple crumble, among others.  I went for the less adventurous option of a caramel brownie paired with a (perfect) flat white, and it didn't disappoint.
To the east of the city, on Leith's Easter Road, is the marvellous Manna House Bakery and Patisserie, a true local gem.  There is a wall of bread – an entire wall of enticing freshly baked baguettes, bloomers, and brioche – and a counter covered in pastries, quiches and sandwiches.  Having had cake for lunch at Lovecrumbs the day before, I had to restrain myself from ordering the giant meringues; it was barely 9am, after all.
The Manna House has only a couple of white-washed tables and a wooden counter by the window.  Awake early, I snagged a spot in the corner, made use of the free newspapers, and enjoyed a delicious breakfast of buttery pain de campagne toast and a fantastic little flat white.  There surely can't be a better way to start your day in Scotland's capital, and I was disappointed that it wasn't open before I had to catch my very early train up into the Highlands the following morning.
For a quick afternoon coffee fix, Wellington Coffee on George Street was just what I needed.  Space is tight in this below-ground spot, and the lines are long, but it's surprisingly bright, and the flat white (yes, another one!) was fabulous.  Due to the lack of space, it's not somewhere suitable for lingering with a novel or laptop, but perfect for a pick-me-up.
In the evening in Edinburgh, something a little stronger was on the menu: craft cocktails.  Having heard that the city's cocktail scene was on the up (thanks to Edinburgh Etiquette and Everything Looks Rosie), I decided a drink was in order.
From the outside, Panda and Sons masquerades as an old-school barbershop-come-speakeasy.  Non-descript narrow carpeted stairs lead down to what secured the place in my heart before I even entered: a doorway disguised as a bookshelf! Any childhood fan of the Famous Five or Secret Seven books would be in their element.
The hidden doorways are surprisingly soundproof, as the minute you step into the underground cocktail-bar the previously unnoticed noise hits you.  There was a real party atmosphere, and whole range of patrons (old, young, and everything in between), making it comfortable as well as quirky – no pretension in the air here.
The bartenders, with their bow ties, moustaches, and tattoos, look as if they belong in Chicago's Wicker Park – and so do the cocktails.  There was excellent service, and passion too; they were pouring spirits and zesting fruit as if it was an art form, which in many ways it is.
Bound books list the long descriptions of the drinks on offer.  I should have possibly opted for the sweet, pink gin concoction that tasted like a candy shop, but I went for the first one that caught my eye, the Robinson Crusoe: Talisker 10 year old, grilled pineapple syrup, Gabriel Boudier Apricot Brandy, fresh ginger, Gancia Bianco and Angostoura Bitters.
After the first overpowering taste of Talisker single malt, the Robinson Crusoe slipped into the enjoyable territory of smoky and sweet.  Admittedly, I sipped it slowly, but that did allow me to savour the flavour combination even more, as I sat in a barber chair that leaned back precariously in the direction of the old-school telephone behind me.  It's a prohibition-style speakeasy with a vintage twist, and Panda and Sons has set my expectations for craft cocktails in Edinburgh (and elsewhere) very high.
For coffee and cocktails (and cake) in Scotland's capital, these spots were perfect.  Edinburgh, I'll be seeing you soon for more exquisite eats and drinks!
____________________
Where are your favourite coffee, cake, or cocktail spots? Have you ever been to Edinburgh?
Let me know in the comments below, or on Facebook, Twitter, or Instagram.