Sitting in the splendour of the ballroom at the Hyatt at the Bellvue on Philadelphia's Avenue of the Arts, I was amazed: here, at the annual dinner of the St Andrews Society of Philadelphia, was the most enthusiastic display of Scottish pride I had ever seen.
That was back in 2009, and as I soon learned, the love of all things Scottish shown that January is not unusual.  Every April, thousands of people across America – many of them claiming Scottish descent – come together to celebrate their Scottish heritage, and nowhere is the party more prominent than the Big Apple.
April 6th is designated 'Tartan Day' in recognition of the Scottish emigrant influence on the States – nearly half of the signers of the Declaration of Independence were of Scottish descent – and nationally, it is New York that steals the show, with the famous Tartan Day Parade and increasingly popular Scotland Run, a 10k race through Central Park.
My first experience of Tartan Week was two years ago.  I attended a celebrity-studded Scottish fashion show near Times Square; listened to Gaelic poetry at Poets House near the southern tip of Manhattan; and squeezed, with thousands of others, onto the edge of the Avenue of Americas as the Tartan Parade took place.
Most amazing of all was the exhibition at Ellis Island.  Bagpipes bellowed as I disembarked from the boat, and, on hearing I was visiting from the Hebrides, a Canadian organiser of the event greeted me in Gaelic:  Có às a tha thu? Where are you from?
Last year I was in town too, flying in just in time for the annual fashion show, From Scotland With Love.  Designs from the likes of Harris Tweed Hebrides, Judy R Clark, and Vivienne Westwood graced the catwalk, mingling with Asian-inspired pieces that reflected the event's theme: The Scottish Lion Meets The Asian Dragon.
This spring, the fashion show has been postponed, but Tartan Week is set to be bigger than ever, with a Tattoo, featuring over 100 performers, taking place for the first time.  The Kelpies – miniature replicas of artist Andy Scott's sculptures in Falkirk – are on display in Bryant Park until April 23rd.  As always, there will be concerts, céilidhs, gallery shows, whisky tasting, and of course, the parade to polish it all off.
It's amazing to see the enthusiasm for Scotland on show in New York during April.  Whether recent ex-pats from Scotland, or those who have combed through generations of family trees for the smallest link to the country, everyone is equally excited.
For anyone in New York this month, all I can say is get out there and enjoy the Scottish side to the city that never sleeps!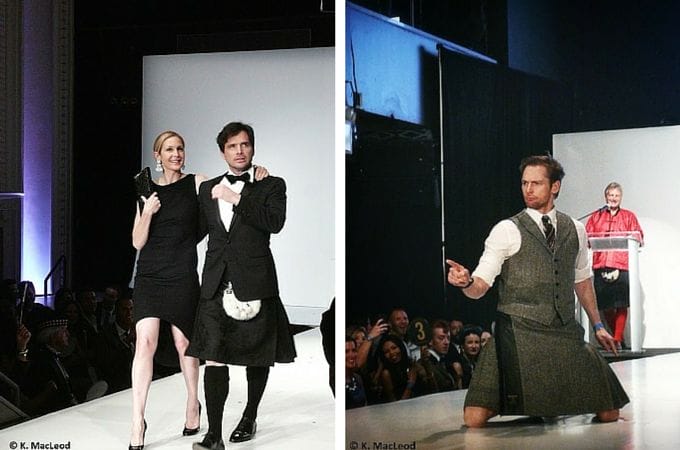 ____________________
Find a full list of this year's Scotland Week events in New York City at Tartan Week and The American-Scottish Foundation.
Have you ever been to Tartan Week in NYC? Would you like to attend?