Think of the ducklings you see in childhood cartoons – the fluffy, bright yellow, cuddly looking things – and you'll know just the kind of duckling I was holding carefully in my hands in a barn in Ness, in the north of Lewis.
Not carefully enough, though, because a few seconds later the three-day-old duckling half-fell, half-jumped to the floor. For a split second I thought I'd killed it, but to my massive relief it didn't seem fazed: it bounced up and was soon back in the heat-lamp covered box with its family.
I was in Ness to pay a visit to Air an Lot, the croft of Donald Macsween (better known as Sweeny) which is being opened up to the public as the first place in the Hebrides offering croft tourism.
A croft (lot in Gaelic) is essentially an island farm, and Air an Lot aims to give visitors to Lewis a chance to experience life on the island, learn about traditional activities like peat cutting, and get hands-on (literally!) with feeding and interacting with the animals.
Many of us harbour dreams of turning our hobbies into jobs, making a living from something we love, and Sweeny is doing just that. In the process he's providing an experiential travel experience, filling a gap in the Hebridean tourist market for those who want to 'travel slow' and get a real feel for local life. Air an Lot is still in its early stages, but Sweeny has big plans for the place over the next 12 months.
2014 is all about raising awareness, both in person and on the Air an Lot ('on the croft') blog, and by next year the croft will be renovated and ready to go for the start of the tourist season. But don't worry about waiting until next year – you can still step into a crofter's shoes (or wellies, as the case may be) and experience life 'on the croft' right now in North Dell.
In the space of a generation, the state of crofting in the Hebrides has gone from one where almost every household with a croft was raising animals, to the situation today, where only a small minority carry on crofting, often alongside full-time day jobs. In my family alone, both sets of grandparents had working crofts, yet when Sweeny asked me what I knew about chickens, I had to reply honestly: "Absolutely nothing."
My evening at Air an Lot soon fixed that! As well as oohing and aahing over the delightful little ducklings, I learned a lot. Khaki Campbell ducks are naturally shy.  A broody hen will only leave her nest once a day, during which she will eat, drink, and do the toilet. Female ducks can be identified by a bald-looking strip on the back of their necks – it's the spot male ducks grab onto when they are, shall we say, getting frisky.
I also found out that the male birds are nearly always the more attractive, interesting looking ones: a silky green neck or white collar of feathers on a duck; an extravagant headdress on a cockerel.  It's this appearance you have to rely on to tell the sex of the animal – there are no 'bits' to distinguish the men from the women!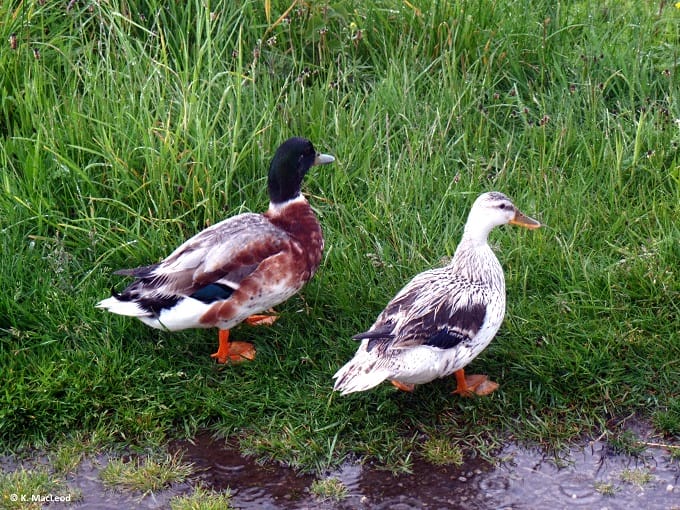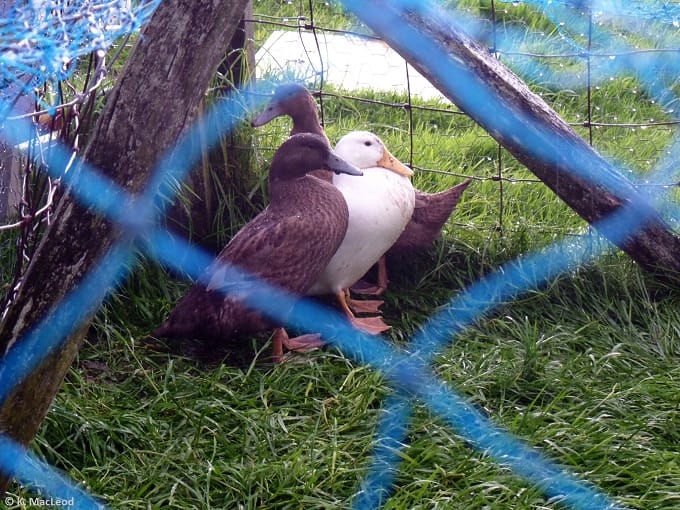 In true Lewis fashion, the heavens opened over Air an Lot and I was soaked, even in my wellies and waterproof jacket.  But the rain didn't really make a difference – we're used to it up here, after all.  Visitors to Air an Lot can have a taster session of cutting the peats, helping construct chicken runs, and other croft chores.
My tasks were feeding and giving fresh water to the chickens and ducks, and I also had the chance to hold some of the birds, like the ducklings and a surprisingly calm cockerel.  Sweeny tells me I would have been cleaning out the hen house too, if the rain had held off, so I send up a silent prayer of thanks that I'm not shoveling chicken poo in the rain!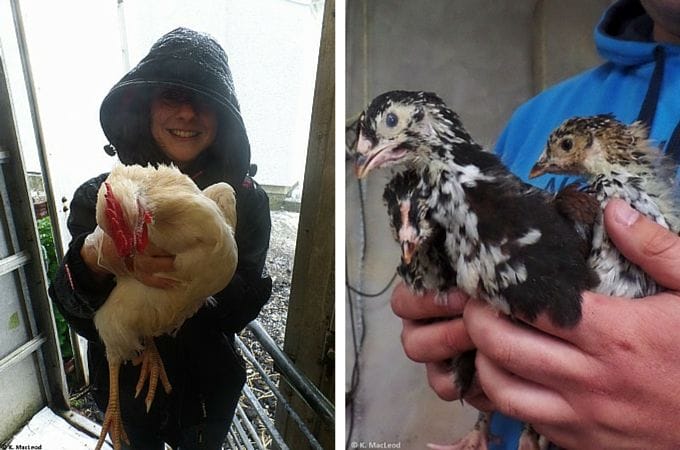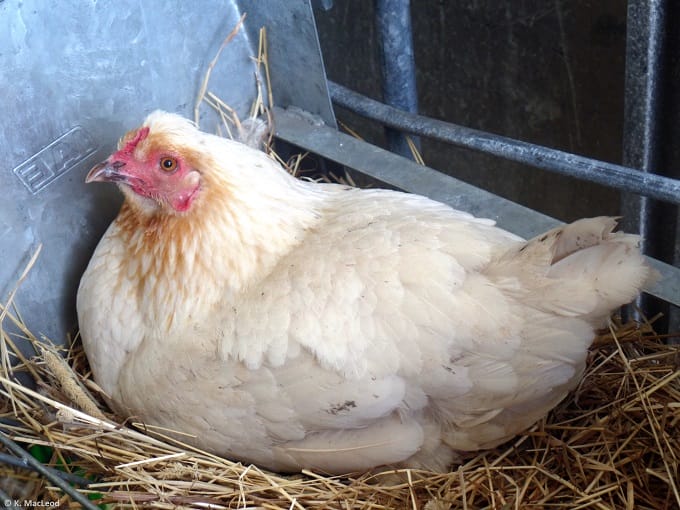 Primary school pupils, playgroups, and families with children have all made the trip to Air an Lot recently. It's a fun, educational experience for them, in  English or in Gaelic.  I loved splashing around in my wellies and feeding the animals, so I can only imagine how much fun children have when they're on the croft.
When primary pupils visit, they practice their Gaelic number counting skills out loud while collecting eggs from the side of the hen house. My Gaelic needs a lot of practice too, so I counted in my head until I picked up the last of the naoi deug (19) eggs, some still warm from the body heat of the hens.
Sweeny popped six into a carton for me to take home for my breakfast: once you've eaten a fresh croft egg, you'll never be able to eat a supermarket egg again.  Forget 'free range' or 'organic' options – even they can't compete with the croft.
Last but not least, I met the sheep of Air an Lot.  They only understand Gaelic, and it's quite a sight to see them all running up the croft towards us, as Sweeny shouts 'trobhad, trobhad' (come here, come here).
Even though the lambs are incredibly cute – a pair of them chase a hen, not quite sure what they're after – my favourites are the double act, the two older sheep who have only one eye between them, and are not part of the croft food chain. One is completely blind, and you can see his ears prick up at the slightest sound, using his hearing to follow his one-eyed friend, depending on her for directions.  It's an amazing interaction to watch.
My tour at Air an Lot ended just in time: the rain had stopped, but the infamous midges were arriving in full force. Despite being soaked to the skin, I was excited after an evening spent outdoors, learning about Air an Lot and life on a Lewis croft – an experience that locals as well as visitors to the island can really appreciate, and certainly shouldn't miss.
____________________
NEED TO KNOW
Where is Air an Lot? You'll find Air an Lot in the village of North Dell in Ness, near the very northern tip of the Isle of Lewis.
What can I do at Air an Lot? Activities vary depending on the time of year, but can include everything from collecting the eggs to feeding the livestock.
Where can I find out more? To visit Air an Lot, and for more information on prices, get in touch with Donald via the Air an Lot blog, and follow the updates on Facebook, Twitter, and occasionally on BBC Alba!
____________________
Have you ever visited a croft, or would you like to? Let me know in the comments below – I'd love to hear from you!