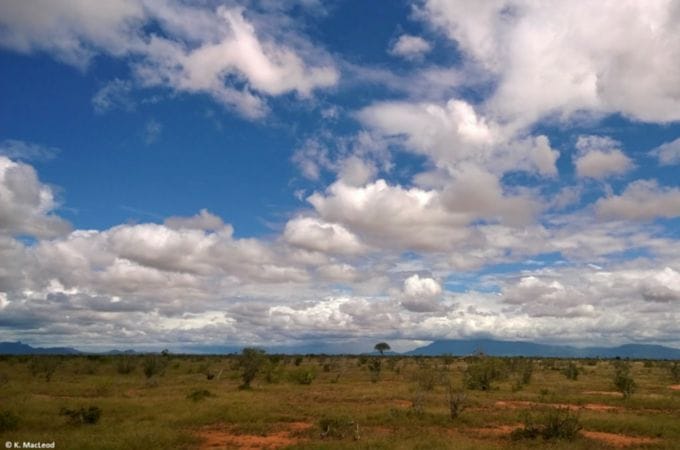 The first thing I noticed was the sky.
It seemed bigger, somehow, than the sky at home: an enormous, endless expanse, blue and white and bright, watching over the rusty-red earth and dusty scrubland that makes up Tsavo East, Kenya's largest reservation.  Love of the wide open Kenyan landscape would turn out to be a theme for me on this trip.
I was on safari with five others (my mum; a lovely couple from Edinburgh; and two teenage siblings from Manchester), embarking on an experience that for many is the main reason for coming to Kenya.
We were signed up for a day and half in Tsavo East with JT Safaris and our guide, Joseph, followed by the same in neighbouring Tsavo West, but I wasn't sure what to expect.  Which animals would we be lucky enough to see? Would they be nearby, or would we need to use binoculars?
By the time we arrived at the luxurious and isolated Ashnil Aruba lodge, I was hot, tired, and hungry, but soon revived by a lovely lunch.  The afternoon game drive – the serious start to our Kenyan safari – took us past animals almost immediately.
There were nimble gazelles ('gazillions' of them, we joked).  There were fighting zebras, a little dirty from the deep red soil, which then ran across the road in front of us: a true 'zebra crossing!'  There were the two, elegant, long-necked giraffes, which slowly ate their dinner of leaves without paying us the slightest bit of attention.
There was the elephant that came quite close to the jeep, and which made me scream with shock as it let out a loud hoot through its trunk, its large legs threatening to run.  Of course, no-one else batted an eyelid, and had a good-natured laugh at my nerves.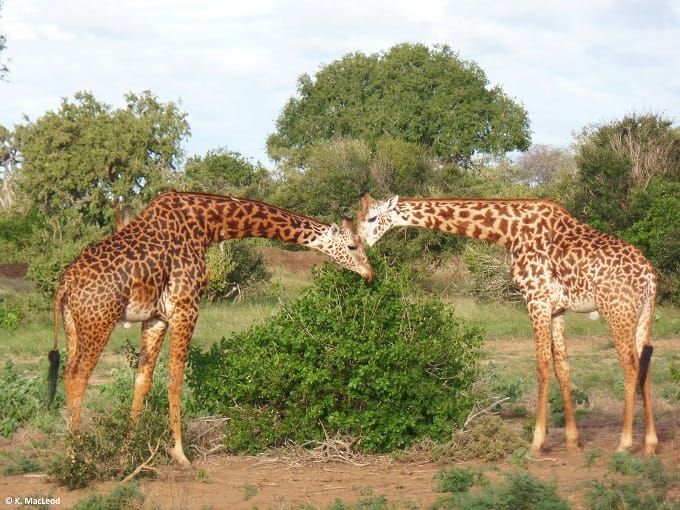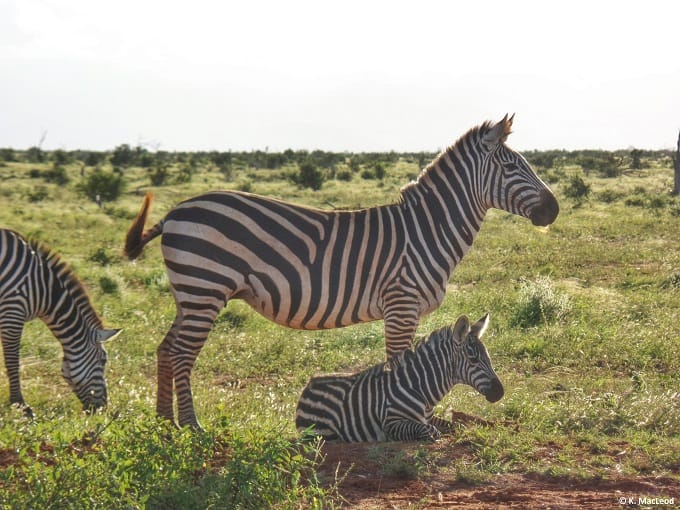 Later in the afternoon we stopped in the middle of the red road, Tsavo East's residents all around us.  Gazelles and waterbucks wandered slowly by, while zebras stood still, flicking their tails and watching us with what felt like curiosity.  One, maybe a mother, stood sentinel over her silent, sleeping, calf.  It felt like a scene from a David Attenborough series.
After sunset we spent an enjoyable evening back at the lodge, getting to know our fellow safari-goers over Kenyan cocktails and Tusker beer (and the occasional bug that dropped by).  Despite the late night, we were all up bright and early for our morning drive the next day, one that brought even more amazing animal encounters.
Hippos wallowing in water, while zebras paraded behind them.  An elaborately feathered ostrich (male, of course).  A family of elephants, red from the dust (much like ourselves), drinking from a watering hole; when they left, the youngest had trouble keeping up.  It was adorable, and elicited a few cries of 'awww!' from inside the jeep.
It's hard to describe the sense of wonder that comes with being out on safari, far from the crowds, with only wildlife and open plains to keep you company.  A safari had never been near the top of my travel to-do list, but now that I was out there, experiencing Kenya's natural glory, I realised why it's a bucket list item for so many people: it's incredible.
We left the family of elephants behind, and returned to the lodge for lunch, welcomed back by the friendly and knowledgeable staff.  But the wildlife wonders didn't end there; we still had two more days on our Kenyan safari to savour.  Next stop, Tsavo West…
____________________
Have you ever been on safari? Would you like to go on one? Why not check out Part II of my Kenyan safari experience for more inspiration!