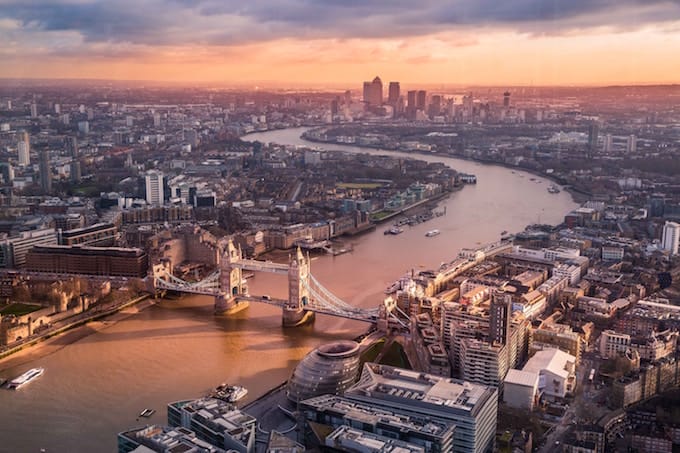 The elevator had only one option.
After shooting upwards so fast it made my ears pop, the lift deposited us on the 31st floor of London's tallest building, out into the entrance of one of the city's loftiest bars: Aqua Shard.
At almost 310 metres, The Shard is the tallest building in Britain, a sharp modern addition to a city skyline whose outline dates back centuries. About halfway up sits Aqua Shard, the contemporary British restaurant where my friends and I joined the after-work City crowd and well-dressed visitors for drinks with a dazzling view at the atrium bar.
The cocktail menu is extravagant – think tea infusions and botanical bases – but tempting as they sounded, we all settled on wine. Given that the drinks are accompanied by such fabulous views, they're surprisingly well-priced. But it wouldn't have really mattered what we ordered from the sleek, crowded bar – it's the city that steals the show.
Aqua Shard is a place the phrase 'a room with a view' was made for.
Through clear glass walls, what seems to be the whole of London is laid out before you for the taking.  Straight ahead is the Gherkin and a cluster of City skyscrapers. To the right is the Tower of London, guarding its post as it has done since the 1080s.  St Paul's Cathedral looks sensible and regal, as always, and the Thames cuts through it all languidly.
By our second glass of wine, the sun had started to set, showing London in a whole new light. The sun seemed to linger behind the BT Tower, reflecting off the river, before disappearing and transforming the city yet again.  It all felt rather glamorous, sitting with a chilled glass of wine in hand, watching the glittering capital at our feet.
If you have a weakness for city skylines, then drinks at Aqua Shard – especially at sunset – are an experience not to be missed.
NEED TO KNOW
Where is the Shard?  The Shard is located at 31 St. Thomas Street, a short walk from the London Bridge Underground station.
When is Aqua Shard open?  The bar at Aqua Shard is open 10.30am-1.00am Thursday to Sunday, and 10.30am-3.00am on Friday and Saturday.
____________________
Have you ever visited the bar at Aqua Shard, or would you like to? Where's the best "bar with a view" you've been to?
Let me know in the comments below – I'd love to hear what you think!
____________________ 
Image of Aqua Shard by Paul Winch-Furness, courtesy of Aqua Shard; skyline image courtesy of Luca Micheli at Unpslash.