Spotting the Shard and St Paul's Cathedral to my left, and the Houses of Parliament and the London Eye to my right, I felt a frisson of excitement: this was it!  I was in London, battling through rush hour traffic in a trademark black cab to reach the OXO2 Tower on South Bank, location of the Cosmopolitan Blog Awards 2014.
Earlier, I had pampered myself at the brand new Hoxton Holborn hotel, making good use of the rainfall shower, fluffy white towels, and Pen and Ink bath goodies, before heading downstairs to the in-house nail bar, Cheeky, for a last minute manicure.
Now the awards, sponsored by Next, were imminent.  150 hopeful bloggers had been whittled down from nearly 47,000 entries, and were all descending in heels and dresses in the hope of scooping one of the blogging world's most coveted national prizes.  Having never expected to even make the shortlist, I was simply excited at the prospect of an evening of cocktails and conversations with like-minded bloggers.
The second floor of the OXO Tower looked exactly as you might imagine a party hosted by Cosmopolitan would: white walls, pink lighting, stunning views over the Thames, and a fabulously dressed crowd, all sipping classy-looking cocktails.
Waiters more akin to male models wandered around brandishing trays of champagne.  The bar by Pinky Vodka provided a selection of speciality cocktails (think twists on the traditional cosmopolitan, with names like Bond in the City and The Bridget Jones). Remington stylists were operating a pop-up hair lounge; IZ Beauty were designing nail wraps; and Seekers of Sun were offering delicately detailed temporary foil tattoos.
Almost immediately after arriving, I bumped into two fellow travel bloggers: Kirsten, of Kirst Over The World, and Adela, of Hidden Gem Holidays.  We joined forces with Kristina of beauty blog Creepers and Cupcakes, and made straight for the Next photo booth (after selecting a Pinky cocktail and pink cookie pop from Next, of course).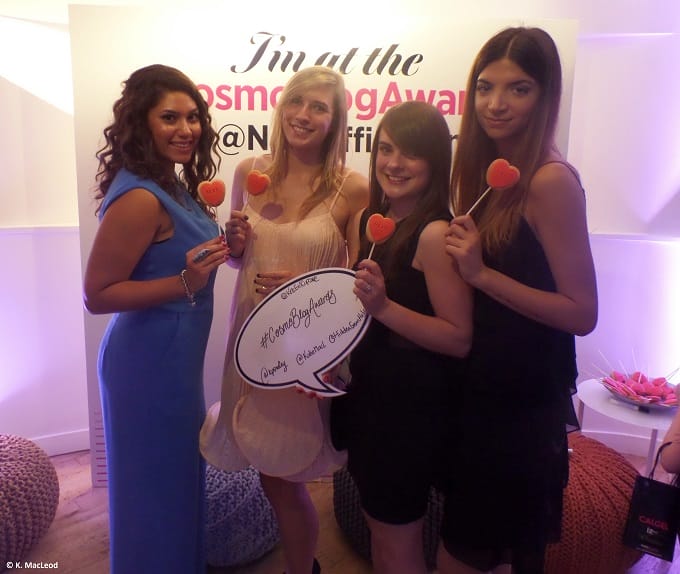 Enjoying cocktails and photo booth opportunities with fellow travel bloggers Kirsten and Adela, and beauty blogger Kristina.
Next up – appropriately for us travel bloggers – was the Thomson Holidays stand, where we met Christian and El, two of the team behind the Thomson blog.  After chatting about our favourite trips, dream destinations, the perfection of Paris, and the benefits of savvy flight seat choices, we donned the accessories from the holiday dressing-up box and posed for those all-important social media shots.
All of a sudden (or so it seemed – time does fly when you're having fun) we were all ushered into an adjoining room, where the scene was set for the awards ceremony itself: more pink lighting, TV screens, and rows of white chairs leading to the stage, where Cosmopolitan's Editor-in-Chief, Louise Court, and Digital Editor, Kate Lucey, were waiting.
One by one the awards were announced, and girls in glamorous dresses made their way up the aisle as their blog banners were flashed across the screens for all to see.  Thomson, true stalwarts of the travel industry (the company has been around since 1965) were sponsoring the 'Best Travel Blog' category this year, so it was Christian, Thomson's Head of Editorial, who took to the stage to announce the winners.
It was after the Highly Commended award had been announced that my stomach flipped: who had won?  Seconds later, when Christian started saying "Stories…", it dawned on me that my blog name was being read out.  Stories My Suitcase Could Tell had won!  Shaking, I made my way to the front of the room, where I was presented with my lovely Cosmo Blog Award and posed for photos with Christian, Louise, and Kate.
A still from Cosmopolitan's video of the night: what this doesn't show is how much I was shaking!
After the awards ceremony, it was time for more conversations and cocktails – celebratory ones this time.  Adela and I checked out the DIY cupcake stand by Two Little Cats Bakery, and bumped into more fellow travel bloggers, which led to laughs, more destination recommendations (I found I share a mutual love of NYC with Elaine and David of The Whole World is A Playground), and even more posing for photos.
Christian and El stole me away for a quick winner's interview for the Thomson blog, which I have to admit was a surreal experience.  As a journalist, I'm used to being the one asking questions, so the tables were turned when I sat down for a chat with El on one of the plush white leather couches, still in a state of excitement and shock.
More travel blogging chats took place as the DJ played into the night and mini dishes of steak and chips were served.  All too soon the party was over, but the ending was sweetened with a Cosmopolitan goodie bag stuffed with everything from Next accessories and Pinky Vodka to make-up palettes and quirky snacks.
Travel bloggers posing for the camera.  
The fabulous goodie bag!
I left on cloud nine – I still haven't come down! – and was greeted by a barrage of kind messages on my phone from family and friends as the cab sped back across the Thames to The Hoxton, where I indulged in a cocktail from the vintage-style bar at Hubbard & Bell to celebrate.
As with all writing, travel blogging can at times be very insular: you sit alone at a laptop, typing away with only the faintest idea of how (or even if) your words will be read.  So being shortlisted for, and ultimately winning, the Cosmopolitan Best Travel Blog Award, was a huge surprise for me – I'm still ecstatic!
I've been writing in one way or another since I was about eight years old, and even penned pretend articles for CosmoGirl (Cosmopolitan's now-retired little sister) in my early teens.  It's an incredible feeling, and such an honour, to be recognised by a magazine that is a global publishing institution, or as the New York Times put it, a "global juggernaut."
At the same time I'm humbled to know that people out there have been reading and voting for Stories My Suitcase Could Tell.  This wouldn't have happened without all my readers, so thank you; I hope you all join me on the next stage of the journey with Stories My Suitcase Could Tell.
You never know where travel can take you – as I learned in style at the Cosmopolitan Blog Awards in London this week!
The stack of vintage suitcases in the lobby of The Hoxton presented too good a photo op to pass up!
____________________
Thank you so much to everyone who has supported Stories My Suitcase Could Tell so far – it means the world to me!
You can keep up to date with my travel tales by subscribing to my behind-the-scenes email updates, or following along on Facebook, Twitter, and Instagram.