There's no other way to say it: The Hoxton Holborn is cool.
It oozes cool, in a quirky, charismatic way. Which other hotel could brandish interior accessories that look as if they were squirreled from your granny's attic, and make them seem like the most stylish, must-have items out there?
Style is the first thing you notice at The Hoxton, which only opened its doors on High Holborn in central London at the end of September.  It's sister to the original Hoxton in Shoreditch, which started in 2006 as something of an 'anti-hotel' – no hidden extras, no rip-offs, just a cool, comfortable, convenient place to stay.
Step into the lobby of the newest Hoxton and you're greeted by stacks of vintage suitcases; couches, armchairs, and giant cushions in muted colours; shaggy rugs on the wooden floor; and art arranged in a mismatched manner on the bare concrete walls. Knick-knacks find a home on every surface: back copies of Vogue and National Geographic, old globes, clocks, and ceramics.  I loved it on sight.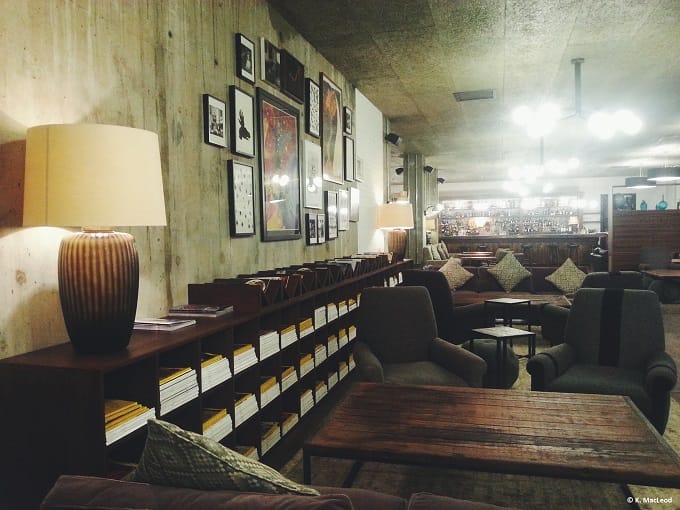 The Holborn edition of The Hoxton is home to 174 rooms, which come in four sizes: Shoebox, Snug, Cosy, and Roomy.
My Mum and I stayed in a Cosy, the perfect size for a two-night stay, with a big double bed, folding desk, and leather armchair. Accessories were artfully arranged in here too: what bookworm could fail to be bowled over by a shelf filled with rows of orange Penguin classics?
There's even a stylish back story to the wallpaper. Created by local designer Toby Triumph, the inspiration comes from the eccentric different worlds of London, taking its cue from Charles Dickens and Monthy Python. The hallways are cool too, featuring industrial style wooden seating, and dressers stacked with old hardbacks and board games.  I exited the downstairs toilets one afternoon to be greeted by a fashion photo shoot in the hallway (it's that kind of cool).
The style here is something special – but it's not window dressing.
The Hoxton Holborn's hip exterior is backed up by the substance of sheer comfort and excellent service.  In the Cosy room, the bed was so soft that I sank right into it, and it's covered with the kind of heavy duvet that almost guarantees a good night's sleep (there are extra pillows under the bed too, should you need them).  The compact but comfortable en-suite bathroom was stocked with Pen and Ink bath goodies, thick fluffy white towels, a steam-free mirror, and a very relaxing rainfall shower.
You'll find complimentary milk and water in the fridge, and a kettle on the desk for tea and coffee, while breakfast comes delivered in a bag at your preferred time in the morning: orange juice, granola, and a banana. On top of an hour of free calls to anywhere in the world is the free, fast, unlimited wi-fi (which let's face it, is now all-important in making guests feel at home in any hotel).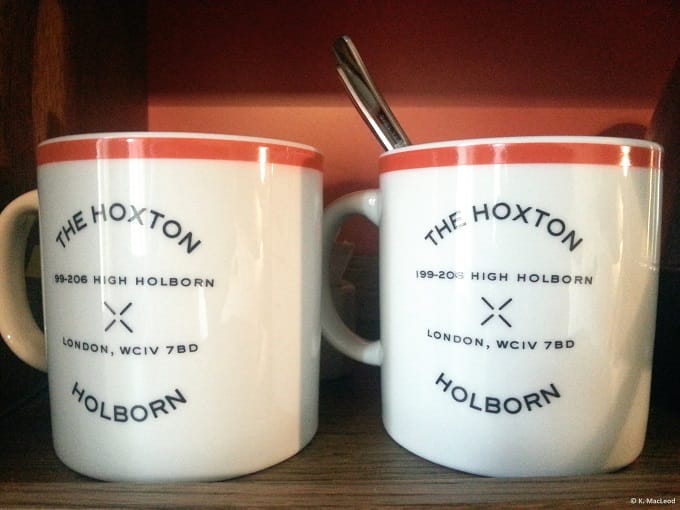 The 'Hox' staff, dressed in sporty seventies-style uniforms, were friendly to a fault, and always attentive.
Sometimes it felt as if they were anticipating our next move before we knew it ourselves. There were undoubtedly some small teething problems, but no-one's going to hold that against a hotel that had been running for just three weeks. In fact, when there was a brief power cut one evening, it only seemed to encourage the party atmosphere in the lobby downstairs.
As if style, service, and four-star comfort weren't enough for one hotel, The Hoxton Holborn is also a social hub. Work, sleep, play – whatever you want, you can do it here. I saw power breakfasts taking place at the dining table in the lobby; actors crowded round a couch poring over scripts; laptops plugged in for study sessions; and a continuous early evening stream of after-work types looking for a drink at the Hubbard and Bell bar (whose cocktails I can confirm are as delicious as they sound).
With two in-house restaurants, a nail salon (Cheeky, scene of my pre-Cosmo Blog Awards manicure), and an espresso bar, The Hoxton Holborn is so much more than a mere hotel.
We made the most of The Hoxton's ethos of being a hub for all aspects of your stay, starting on the ground floor at Hubbard and Bell, which serves American-inspired food for breakfast, lunch and dinner, in a trendy space of leather booths and long wooden tables made for multiple meals.
I brunched on an everything bagel with smoked salmon and scallion cream cheese, while my Mum opted for a taste of the kitchen's 'black pudding' (it wasn't black pudding, Stornoway-style, but it was very tasty).
The cafe and bar are brilliant too – the latter looks a little like you a imagine one in a Twenties speakeasy would have, while the coffee from the cafe was just what I needed to start the day.  They don't do things by halves here, either; my Mum's tea was made with real tea leaves, accompanied by cup, saucer, and strainer.
The dimly-lit basement is the destination for those in search of a filling dinner, courtesy of Chicken Shop.
Sitting at the counter, in front of stacks of old-fashioned enamel plates, we were faced with all the action of the open kitchen. Chickens roasting on spits over an open fire, corn on the cob being cooked to just the right level of crisp, and fresh crinkle-cut chips being liberally sprinkled with sea salt.  It was delicious; so delicious in fact, that we returned for another feast the very next night.
The Hoxton brand is so successful that three more hotels are in the works, set to open in Amsterdam, Paris, and NYC over the next two years. For now though, add 199-206 High Holborn to your address book.
Whether you lay your head here or not, it's more than worth visiting London's hottest new hotel, the Hoxton Holborn, for the chance to work, rest, and play, all in one buzzing, stylish space.
____________________
NEED TO KNOW
How do I get to the Hoxton? The Hoxton Hotel is in High Holborn, right by London's West End, and a few minutes walk from Holborn Station, on the Central and Picadilly tube lines.
How much does it cost? Rooms start at £99 – an absolute steal for central London!
_____________________
Have you ever stayed in the Hoxton Holborn, or would you like to? Do you have any other recommendations for London hotels?
Let me know in the comments below – I'd love to hear from you!