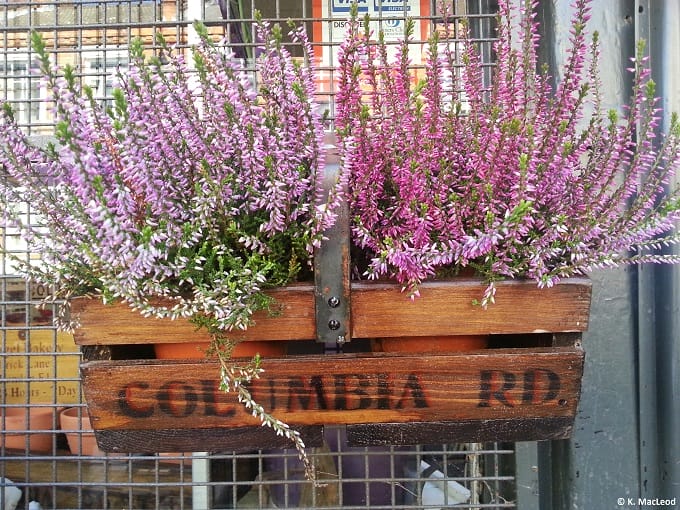 "Cop a feel, luv."
He was talking about flowers, of course, and the woman next to me at the stall seemed very taken with the dried purple blooms that never need watering. At Columbia Road Flower Market that Sunday morning, the 'pitch patter' rang out loud and clear in thick Cockney tones, floating over the heads of the crowds which were slowly picking their way down the East End street.
"Fiver! Everythin' for a fiver!"
"Only a tenner! Direct debit's due on the Bentley in the morning!"
"Got these from the back door of Marks and Spencers last night, only four quid!"
It felt like a little slice of London life, the life you don't get to see when you're constantly moving from one popular tourist sight – Big Ben, Buckingham Palace – to the next. The street (which we had walked to from Old Street Station) was crowded, but not pushy; there was no sense of being in a rush or a hurry.  Everyone, it seemed, was content with a slow Sunday stroll in the late autumn sunshine, accompanied by the scent of plants and the shouts of the pitch owners.
The Columbia Road Flower Market has been here for generations.
Come rain, hail, or shine, these pitch holders will be here, lining Columbia Road with their plants and filling the air with their patter. The road was built on during the Victorian era to accommodate the growing city of London, and the flower market grew from what was originally a Saturday trading market. Many of the stallholders seen on the street today have been there for decades, with the flower businesses running in the families.
Now famous across the world for its quality of blooms, this is the place to find to a plant in the capital. Sunflowers, technicolour roses, cacti, palm trees, banana plants – every colour and kind of plant you can imagine is stocked on the road side stalls. Coming from the already wintery north of Scotland, it was almost a shock to see the variety of flowers that can survive (and thrive) during autumn at the other end of the country.
The shops lining Columbia Road were fun to explore too, offering everything from vintage china and second hand books, to art and bric a brac from days gone by. Coffee and carrot cake was being sold from a small courtyard, and as we sat at the side of the road enjoying the treat, we could see someone shucking oysters on the street corner.
We even met a Pearly King and Queen (there are a pair for every borough in London) collecting money for charity and chatting with passers by. The Pearly Queen informed me that although the Pearly King's name always comes first in 'Pearly Kings and Queens', I could rest assured that she was most definitely in charge.
After covering the length of Columbia Road twice, we turned towards Brick Lane and Spitalfields.
I've never seen such a variety of food in one place: there was food everywhere, and an entire side street filled with people sitting on the kerb eating out of takeaway trays. Of course, as well as the stalls selling Japanese, Italian, Ethiopian, and fancy fish and chips, there were the curry houses for which the street is famous for.
We ended our stroll with a break in Trumans, a proper pub not far from Old Spitalfields Market. It offered another slice of London life: locals watching an all-important football game between two rival London teams.  The landlady was making her loyalties known loud and clear from behind the bar, but the atmosphere in the pub was jovial. As someone not remotely interested in football, it was a lot more fun watching the locals' reactions than the game itself.
It had been a last minute decision to head to the Columbia Road Flower Market that morning, and it turned out to be a good one. For a look at London life that's more authentic (and interesting) than the city centre sights, Columbia Road and its environs are an enjoyable place to while away a weekend. Flowers, food, and football: for us, it was quite the Sunday stroll in London's eclectic East End.
____________________
NEED TO KNOW
How do I get there? Take the Northern Line tube train to Old Street Station, and walk north east along Hackney Road until you see Columbia Road on your left.
When should I visit? The Columbia Road Flower market runs on Sundays from 8am until (roughly) 3pm, come rain or shine – the stalls are open in all weathers!
____________________
Have you ever been to Columbia Road Flower Market, or London's East End? Would you like to visit? Let me know in the comments – I'd love to hear from you!