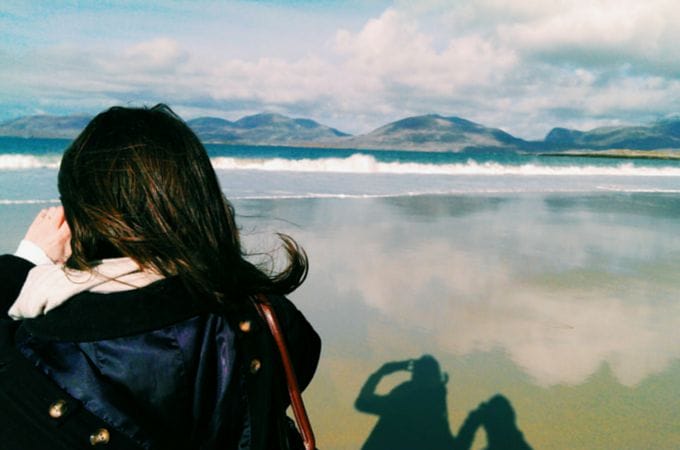 Some say home is where the heart is, but I think home is different things to different people.  I think, although I cannot speak for us all, that home has a particular meaning for us islanders: for the Leòdhasachs, the Hearachs, the Uibhisteachs.  The Hebrideans.
For those of us born and brought up in the Outer Hebrides, home can never really be anywhere else.  There is a connection here, not only to family and the house you grew up in, but to the island itself, its land, its wide skies, its culture and history.  We may have been gone for decades, lived across the globe, sailed the seven seas, and we will still call this island chain 'home.'
As photographer Ian Lawson writes in his stunningly beautiful photographic book on the islands, From The Land Comes the Cloth: "The indigenous people of the Outer Hebrides feel a deep sense of place, a connection to the land on which they live and make a living that is rarely broken no matter how far from home they might travel."
I have to admit that I didn't always appreciate the wonders of the Western Isles.  Despite reveling in the freedom as a child, as a teenager I couldn't wait to escape – and I'm ashamed to say I thought of it in those terms – to the bright lights of a big city, the coffee shops and boutiques and bustling streets.
It was never my plan to come home, to come back to the Hebrides, but after leaving for university on adventures that took me to China, America, and elsewhere in Scotland, I found myself back where I started – and now I couldn't be more grateful for that unexpected turn of events.
Living in Lewis as an adult has made me appreciate, and love, the islands so much more than I ever thought possible.  I love the tangy scent of sea salt that fills the air when it's damp.  The smell of that (now all too rare) puff of peat smoke from a chimney.  The sight by the roadside of yellow gorse against green grass and blue skies. The croaky sound of a corncrake in summer.  The ever-changing hues of the moors, from orange to brown to purple and everything in between.  The starry night skies that seem impossible in scope.
I love a good Gaelic joke, or the sound of sentence said with a Stornoway twang.  The smell of Harris Tweed that transports me to childhood.  The view of Point as you drive across the Braighe on a summers day; and the reverse, when the rest of the island is laid out before you like a perfect painting.  Those sands of Luskentyre – and Seilebost and Horgabost and Nisabost and Scarista – that take my breath away every single time.
I love the sense of shared history and community, where everyone (or so it seems) knows not just you and your parents, but of your grandparents and great-grandparents too.  I love knowing that where I walk and work and live today, so did generations of my family before me.
There's nothing like starting the day by popping into the coffee shop where the ladies behind the counter (and even the other early morning regulars) know exactly who you are and where you're from; nothing quite like venturing into adulthood with friends you've known for forever.  It's heart-warming, belonging to a place like this.
I'm leaving soon – very soon – to set up a second home, in one of those big cities with bright lights that I dreamt of as a teenager.  But as the poetry and prose of islanders and Gaels long gone before me proves, my heart will always belong to the Hebrides.