If you've read my post about Travel Plans and Dreams for 2015, you'll know that I'm on a mission to complete the 'Take 12 Trips Challenge' this year, with the goal of exploring at least one new place, near or far, each month.  Along with the challenge, I've decided to start a monthly round-up of suitcase stories: what's been happening on (and off) the blog for the past few weeks.  So without further ado, welcome to April on Stories My Suitcase Could Tell…
Travelling
Although this month has been spent mostly in the close vicinity of New York and New Jersey, it's been surprisingly full of adventures – a good example of how 'local' travel can be just as interesting as its international cousin.
April got off to a great start, thanks to an influx of Scots descending on the city for the annual Tartan Week celebrations.  From listening to bagpipes blaring in Bryant Park while New Yorkers on their lunch break looked on in confusion, to enjoying gin cocktails with the hipsters in Brooklyn at the first Stateside 'Gathering' of the Scot Street Style movement, it was a hectic start to the month (and a good excuse to get my Harris Tweed blazer out on show!).
Following on from WITS15 in Boston, I got involved with more travel blogging meet-ups, this time closer to home: a Travel Massive party at the Gansevoort Hotel on Park Avenue, and the jam-packed weekend that was the New York Travel Festival.
At the latter, I picked up photography tips from Gary Arndt; listened to panel discussions on ethics in travel, chaired by the Travel Editor from the Wall Street Journal; delved into the depths of travel writing with David Farley; and got stuck into the nuts and bolts of social media with Victoria Fine from Slate and Abbie Wise from Real Simple.
I also got out of the seminar rooms and into the sunshine, thanks to the Instagram walk led by Liz Borod Wright, a blogger and lecturer at Columbia School of Journalism.  The 90-minute stroll introduced me to city sights I'd never encountered before, like the stunning cathedral of St John the Divine and the classic campus of Columbia University (which is home to a pensive Rodin statue).
One of the highlights had to be my recent expedition into the New Jersey countryside, which took us to the eco-friendly park that is Duke Farms.  With spring finally in the air, expect to see more escapes from the city on Stories My Suitcase Could Tell as May rolls around!
Writing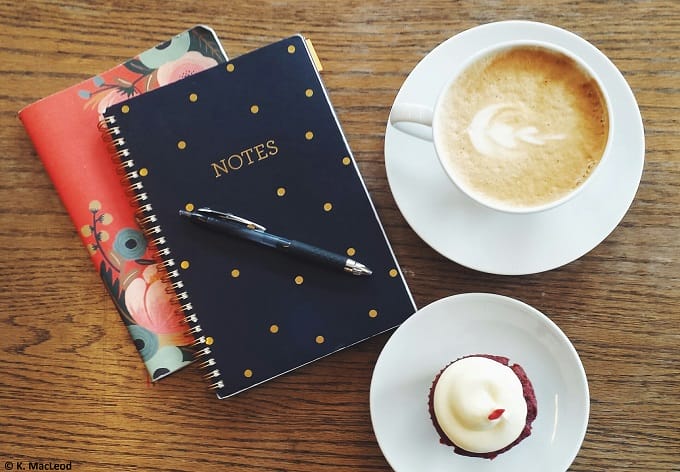 Finding Inspiration at the Travel and Adventure Show in Philadelphia
Why I Loved the Women In Travel Summit in Boston
The Pru: Beautiful Views of Boston From Above
A Look Inside My Suitcase: Seven Things I Never Travel Without
A (Personal) Walking Tour of Boston's Neighbourhoods
A Spring Day at Duke Farms in New Jersey
If you happen to find yourself in the Western Isles next month, you'll see more of my scribbling in EVENTS Newspaper!
Reading
As I've mentioned before, I love to read, and books even played a starring role in my childhood dreams of travel.  Here are some of the stories, travel-related and otherwise, that I've been reading this month:
12 tips for travel while working fulI-time, The Whole World is a Playground. I had the pleasure of meeting the couple behind the blog, Elaine and David, at the Cosmo Blog Awards last year, and caught up with them over wine and cupcakes when they were in New York recently.  In this post, they explain how they manage to hold down two full-time jobs in finance while also travelling more than most people I know: last year they visited 13 different countries.  If you want to know how to travel while working full-time, these two have plenty of practical tips to get you started – I'll be using some of them myself!
The Bitter, Not-Sweet Cadbury-Chocolate War, Vanity Fair. Those of you who know me (or who regularly read this blog), will know that I have something of a sweet tooth, and a particular penchant for that classic British chocolate, Cadbury.  Earlier this year, Hershey – the company which manufactures tasteless American chocolate – filed a lawsuit that effectively bans the import of real British Cadbury, allowing them to sell their own vile-tasting version instead.  It's caused quite the uproar, as this Vanity Fair piece explains in great (and entertaining) detail.
Harris Tweed: the wool to succeed, The Telegraph. The smell of unfinished Harris Tweed always transports me straight back to childhood, reminding of when I'd visit the main mill, where my father used to work. This Telegraph article looks at the revitalisation of the industry, and the process that goes into making this government-protected 'champagne of fabrics' in the Outer Hebrides.  I sometimes find that people who write about the islands from the outside tend to romanticize or stereotype the place (or even get their facts wrong altogether), but I thought this feature did the subject justice, and is well worth a read.
Chimamanda Ngozi Adichie: "I wanted to claim my own name", Vogue.  Chimamanda Ngozi Adichie is one of my all-time favourite writers.  I've devoured all her novels, not to mention her short stories and essays on everything from health to feminism, so I loved this profile on her by Erica Wagner, who travelled to Nigeria to meet and talk with the award-winning novelist.  The article also made me ridiculously excited about hearing Adichie talk at the PEN World Voices festival here in New York next month!
Eating & Drinking
Brunch at Sam a.m. in Jersey City.  This little neighbourhood cafe in Paulus Hook has seen us twice for brunch this month. Open for breakfast and lunch, Sam a.m. use simple, seasonal ingredients to create delicious American dishes, like the chicken, waffles and cranberry syrup I opted for on our first visit. (They also offer a 'bring your bottle of prossecco' policy for brunch cocktails – perfect!).
Sushi and tonkatsu at Mitsuwa Marketplace.  My husband and I just can't get enough of this place.  Mitsuwa, the Japanese supermarket and food court, is situated just across from Manhattan in Edgewater, New Jersey.  The food here is hands-down the best Japanese cuisine I've eaten outside of Japan itself, and makes other Japanese restaurants in the area seem lacking in comparison.  My favourite dish is the tonkatsu, fried pork on a bed of rice mixed with ginger, onions, scallions, and egg: heavenly.
Pop-up snacks at Smorgasburg.  Everyone's favourite foodie flea market is back!  Smorgasburg is now a summer staple in Brooklyn, and we made our way to the Williamsburg waterfront with friends on the opening day earlier in the month to sample the new food stall offerings.  Asian wontons, a confit duck leg, a lamb burger, and tacos were all picked up by our group. (And of course, I added an ice cream sandwich to the mix. There's always room for dessert!).
____________________
So there you have it: April on Stories My Suitcase Could Tell. What have you been up to this month?