People shoot awkward glances in my direction.  Others smirk, laughter playing at the corners of their lips.  What I'm about to do is often joked about, frowned upon, and in some cases, banned outright.
I'm about to take a selfie – with a selfie stick.
Some people thought the selfie (the act of taking a picture of yourself, one-handed, with your camera or phone) reached peak popularity when it was declared 'Word of the Year' in 2013 by the Oxford English Dictionary.  Selfies have only grown in popularity since, and the ubiquity of "taking a selfie" has increased even more with the arrival of the selfie stick.
This long, extendable metal rod (or monopod) originated in Asia: it clips onto your smartphone, and, with some versions reaching as far as three feet, allows for a wider shot and higher angle, giving your holiday photos a bit more context.  Mine is Bluetooth enabled, which means I don't have to set the camera timer – one push of a button, and the scene (myself included) is captured in an instant.
The selfie stick, however, has received a lot of bad press.  Articles espousing the narcissism of those who use them are ten-a-penny.  Headlines scream out with concern that "selfie sticks are ruining travel." Museums, music venues, and sports stadiums alike have banned them, including London locations such as the National Gallery, the O2 Arena, and Wimbledon.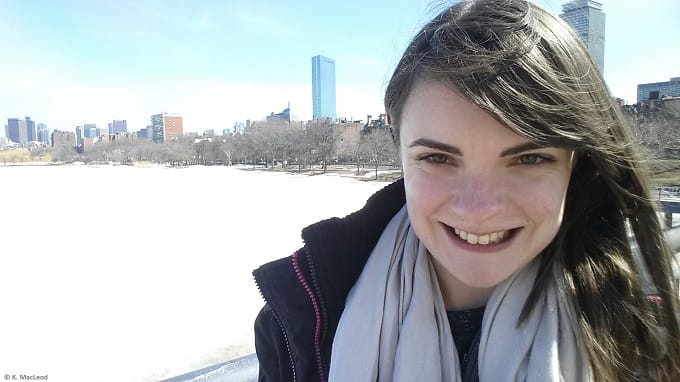 The selfie by the Charles River in Boston that caused smirks and sniggers.
But are they really that bad?  Despite the negativity, I have wholeheartedly embraced the selfie stick.  Whichever form of photography we choose to use, most of us want photos of ourselves on holiday: on top of the Empire State Building, on the beach in Spain, climbing the Great Wall of China.
With the selfie stick, even if you are the only person around, you can have that photographic memory.  It also prevents family albums filled with photos that omit the same family member time and time again – the one taking the photo.
Before Instagram, even before Facebook, my friends and I took selfies when they were still simply called "photos," things we printed out to paste in physical photo albums.  Enamoured with the new-found freedom that came with passing our driving tests, we'd take off in the car, a mix tape (yes, a cassette tape) blaring through the speakers, on mini-road trips around the Outer Hebrides.
By ourselves on the beach or at the Callanish Stones, one of us would wrap the camera strap around our wrist, reach our arm out, and – with the camera upside down – snap a photo, a freeze-frame memory of our teenage antics.
We rediscovered those photos recently, shortly before I moved to the States.  Sitting side-by-side on the sofa, we laughed until we cried, exclaiming in surprise at the stories that resurfaced in our minds thanks to the mind-jogging properties of these photos – photos that would now be sneered at as selfies.
Before they were selfies: a photo with one of my oldest and dearest friends, taken over a decade ago in Ness on the Isle of Lewis.
One of these sneering observations on selfies, and the use of selfie sticks, is that all these snapshots prevent you from being in the moment, and stop you from experiencing the destination you've chosen to visit.  If you never once put down your camera, then no, you won't truly experience the moment – but that argument works just as well for those using professional DSLRs and digital point-and-shoot cameras, as it does for selfie sticks.
Another is that travellers using selfie sticks intrude on the space of others, ruining someone's line of vision, for example, or  even accidentally hitting them.  Frankly, that's got more to do with the individual using it than the stick itself.  Apply some common sense, and don't use a selfie stick where you might knock someone out or damage a priceless piece of art.  Problem solved.
There's also the concern that selfie sticks are stopping spontaneous interactions with strangers.  Yes, when you're in a crowded place, you could ask a stranger to take the photo.  Sometimes the photo is great, and sometimes you've passed your camera to a photographer who chops off heads or gives everyone interesting hats in the form of lamp posts (selfie sticks solve that awkward photo dilemma).
Besides, if you want to chat to locals, you have a much better chance of a genuine conversation if you introduce yourself to someone at the coffee shop around the corner, or that bar you've stopped at for a refreshing beverage.  I've enjoyed plenty of friendly chats abroad this way; very few genuine conversations have followed the act of handing over my camera.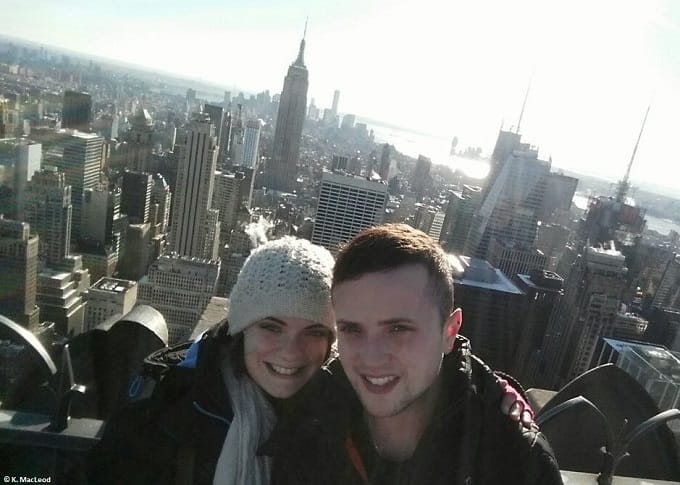 Fun with the family: snapping a selfie with my brother at the Top of the Rock observation deck in Manhattan.
To me, the arguments used against selfie-stick fans sound suspiciously similar to the condescending stereotypes and distinctions made between 'travellers' and 'tourists' (a distinction which fellow traveller Kirsten Powley recently dismissed on her blog).  We don't like it when writers tell us how to travel, claiming their approach to seeing the world is far superior, so why let them tell you how to capture your holiday memories? The answer is simple: don't.
If I'd listened to the crowd, I wouldn't have the photo of my whole family at the Top of the Rock in Manhattan, which marks the last time the four of us were all in the same place together.  If the anti-selfie brigade had existed when I was in high school, maybe my friends and I wouldn't have those photos of our younger, pre-university selves to smile and laugh over.
As a society, we have been using photos to capture and relive memories for generations.  The vehicle might have changed – an iPhone strapped to a Bluetooth contraption instead of a clunky Polaroid – but the end game is the same.
So don't feel guilty.  Ignore the naysayers.  Get out there and take that holiday selfie with pride (and consideration for your fellow travellers).  You know I will be!
____________________
What do you think of selfie sticks?
Have you ever used one? Do you think they are 'ruining travel'? Let me know in the comments below, or on Facebook, Twitter, or Instagram – I'd love to hear your thoughts!