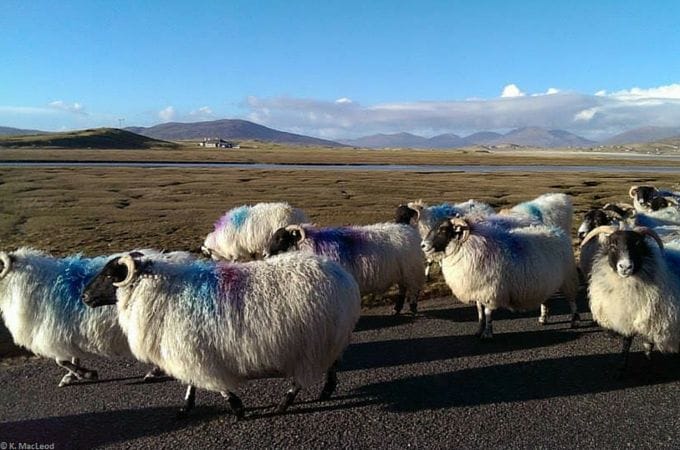 We've heard it all before, those of us who hail from the Outer Hebrides, from Scotland's Western Isles. Tell someone that you call the islands home, and the responses are fairly predictable.
"Where is that, exactly?"  "Are you near Shetland?" "Do you have electricity up there?" "Have you ever left the island?"
Ignorant comments like these from non-islanders, either those visiting or those safely ensconced in cities like Glasgow, Edinburgh, and London, are frustratingly commonplace. Even worse is the lazy attitude of those paid to tell the story of our shores to would-be visitors: the travel writers.
When it comes to travel writing, there appears to be only one acceptable media narrative for the Western Isles: the one of a beautiful landscape inhabited by a backward society of religious fundamentalists who chain up their children's playgrounds on Sunday and survive sparingly in a harsh climate.
As the Americans like to say: give me a break!
Yes, the Outer Hebrides are home to stunning natural landscapes, and I wholeheartedly agree with Lonely Planet's assertion that "there are few more beautiful places on earth" (seriously, see for yourself). But that is where our affinity ends.
In story after story, tradition is raised up as the core of island life, whether in terms of employment, music, or the infamous Sunday shop closures. While it's true that the culture here is strong – islanders like myself are staunchly proud of their roots – it's a mistake to extrapolate from there and assume that everything and everyone is stuck in the past.
Fishing, weaving, and crofting were once thriving industries in the Outer Hebrides, and while they are still in business, they are no longer the mainstays of the economy, as so many articles imply. Like the rest of the country, islanders work in all manner of roles, in tourism, hospitality, local government, engineering, higher education, the media and the health service, to name just a few. (Surprise! We're just like you!)
It is true that many (but certainly not all) of the supermarkets, shops, and offices are closed on Sunday. But it is not true that all islanders are old-school, God-fearing church-goers; that they all treat Sunday as a day of "contemplation and Bible-reading"; or that children are barred from playing in padlocked playgrounds on Sundays. The latter has never happened in my lifetime – and I'm approaching the end of my third decade faster than I would like – yet it's something that rears its head regularly in news reports and travel features on the Outer Hebrides.
Like the rest of the country, there are those that go to church, and those who do not. Regardless of your religious proclivities, Sunday is a guaranteed day spent with family; the Castle Grounds, beaches, and restaurants are always busy on this much-welcomed day off. (It should be noted that Sunday is also enjoyed as a day off in much of continental Europe, and yet these communities are not regarded disparagingly by the media as a cultural throwback.)
Even when you move past the same old cultural stereotypes, the travel guides for the Outer Hebrides are still despairingly unimaginative. A case in point is their food recommendations. Take Digby Chick, for example. The more formal restaurant in the centre of Stornoway has lovely food, but the way the guidebooks frame it, you could be forgiven for thinking it's the only place worth eating and drinking at in the entire island chain.
There's no mention of the sloe gin cocktails served in mason jars at An Lanntair, the modern arts centre that overlooks Stornoway harbour; no word of the perfect cup of coffee to be had at Delights on North Beach Street, a coffee accompanied by cakes and great conversation; and no sign of the hearty sandwiches at 40 North on the west side of Lewis, sandwiches so local that they put New York's farm-to-table pretensions to shame.
And what about the Thai Cafe (a personal favourite), the Chinese and Bangladeshi restaurants, or the Nepalese chefs that serve up Central-Asian inspired wraps at HS1 and the Caladh Inn?  Forget about it: they don't fit the stereotype, so they don't make the story.
These travel writers are parachuted into the Outer Hebrides for a short period of time and simply see what they want to see: a quaint community unaffected by modern society. The author of an article published last year was apparently astonished to discover that something as modern as a boutique hotel, the Hotel Hebrides, could be found on the Isle of Harris (if he'd gone a little further he'd have spotted a few more luxury options, including the award-winning, self-catering Broch House).
Lonely Plant writes that "life has traditionally been a tough, self-reliant affair… Buildings and towns are usually practical bases rather than an end in themselves." Another writer describes day-to-day life in the Hebrides as "arduously mundane." Rough Guides adds that Stornoway is "really only useful for stocking up on provisions or catching the bus."
I can't help but wonder where, exactly, these people have been. No-one I know describes life on the islands as 'tough', and I can think of plenty of locations that are certainly worth a visit in their own right (there's an entire section of this blog dedicated to them). If one of these writers had taken the time to open a copy of any of the local newspapers, they would have been met with endless listings and features on what's been happening in the islands, a life on which is far from "mundane."
These writers' observations illustrate a blatant projection of their own preconceived opinions onto a place they do not know. It's an unfortunately common trope in travel writing, one that a number of journalists, like Julie Schwietert Collazo, are trying to transcend as they look beyond the superficial level of the destinations they write about.
Collazo recently hosted a workshop on place-based journalism at the New York Travel Festival, which I attended. While she was referring to the lack of in-depth reporting about Latin America in the mainstream travel media, my mind immediately went to the tried and tested stereotypes aimed at my home in the Western Isles.
Travel writers tend to romanticise the way of life and the landscape of the Outer Hebrides, constantly referring to our supposedly bleak and isolated existence, ignoring the fact that in reality, the lives of islanders are like the lives of citizens across the United Kingdom.
We shop at brand-name supermarkets, with the added choice of local butchers, bakers, and fishmongers. We watch the same TV, eat the same food, and enjoy the same pastimes – we're just lucky enough to do all this with a particularly stunning backdrop, an intriguing history behind us, and an additional language in our arsenal.
So the next time you see a travel article talking about the Outer Hebrides, whether the Butt of Lewis in the north or the Sound of Barra in the south, make sure you take it with a pinch of salt.  Or better yet, book the trip and experience it for yourself. After all you've read, these islands at the edge of Europe might just surprise you.
____________________
Have you ever seen cultural stereotypes in action in travel writing and the media, about the Outer Hebrides or elsewhere? Let me know in the comments below – I'd love to hear from you!
To find out what the Outer Hebrides are really like, check out my guide to the islands full of first-hand stories, inspiration for visiting, and tips on what to do if you're visiting!