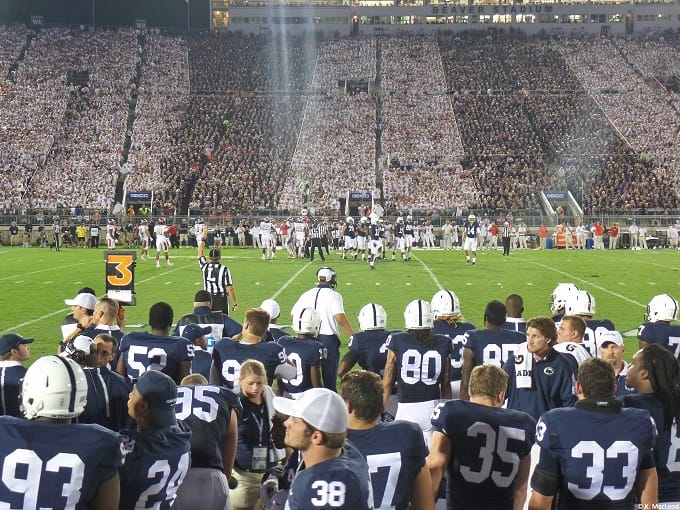 Tailgating: in the UK, it's a word used to describe driving too close to the car in front of you.
In America, it more often than not refers to the ritual of eating a lot, drinking a lot, and partying to excess in the hours before a major American football game.
I learned all about American tailgating in central Pennsylvania last weekend, in the shadow of the Penn State University football stadium. Before then, I'd heard of Penn State only vaguely. During my year as an exchange student at the University of Pennsylvania in Philadelphia, it wasn't unusual to spot students wearing t-shirts with the phrase 'Not Penn State' emblazoned across the chest; Ivy League students apparently didn't take kindly to being mistaken for attending a non-Ivy. (It was meant in good fun, for the most part.)
With that in mind, I decided against wearing my UPenn t-shirt, and opted for something a little more neutral (I didn't want to be the equivalent of a Glasgow Rangers fan wearing blue, surrounded by Celtic fans wearing green!). In grey and white stripes, I blended in a bit more with the nearly one hundred thousand Penn State fans decked out in blue and white, with face paint declaring their allegiance to their university, or 'school' as they say here in America.
I have honestly never seen anything like it.
The fields and car parks near the stadium were filled with hundreds – I'd venture to say thousands – of cars and trucks and caravans where their owners had set up chairs, barbeques, and games for a day of tailgating. Apparently many of them don't even get tickets to the stadium itself: they come for the atmosphere and the partying, and watch the game from TVs or computers in their cars.
The afternoon was spent mingling and meeting new people, while also drinking American beer and eating American food. We played beer pong with the plastic red cups that are ubiquitous in American films, and played games with names like 'Washers' and 'Corn Toss' that reminded me of childhood Fun Days in primary school (minus the alcohol, of course!).  I attempted to throw an American football, and failed miserably, a result which won't come as a surprise to anyone who has ever witnessed my talent (or lack thereof!) when it comes to sports.
All day there had been a steady stream of people walking past our tailgating patch in the direction of the stadium, and we joined them as evening approached.
I've been to football matches and stadium concerts in Scotland, but this was a different ball game altogether (literally). Even as someone without the slightest knowledge or passion for the sport, I could feel the excitement in the air as we walked out into the bright lights of the stadium and saw a sea of blue and white in the stands.
It wasn't just university students involved, but graduates and alumni, friends and family, and seemingly anyone even remotely connected to the Penn State community, which takes up an entire town. I've never seen this kind of enthusiasm for a sports game before – especially not at the university level. There were even fireworks, for goodness sake!
First onto the field was the Penn State mascot (a Nittany Lion), followed by students running out waving the university flag (there were a fair few boos from the crowd when someone carrying a red flag from Rutgers, the opposing team, tried to get in on the action). Then came my favourite part of the evening: the marching band.
Forget the footballers – in my eyes these students were the real stars of the show.
Dressed smartly in white, they marched in synchronized steps out onto the field, moving and melding to create shapes and words, all while playing their instruments to perfection.  I was impressed.  I was also rather excited to see cheerleaders on the field, and couldn't help but think: "This is just like the movies!"
When it came to the American football though, I was incredibly confused, and peppered everyone next to me with questions. What are they meant to be doing? Why isn't he running with the ball? Why are they starting again?  While I had no idea what was going on, I could judge from the very strong reactions of the crowd whether Penn State was doing well or not. (The reactions of the tiny contingent of Rutgers fans were lost in the roaring tide of white and blue.)
With rain clouds rolling in, we left the stadium early, and found out the final score (Penn State won) the following day. I didn't mind not sticking it out in the bleachers for the entire evening (I've never been the most athletic of individuals, after all).
For me it was more about the overall experience than the game itself, a brief insight into the world of one of America's most popular sports – a world of food, drink, and frenzied support for your team.
Now I'm tempted to check out another all-American sport.  Maybe it's time for a New York baseball game…?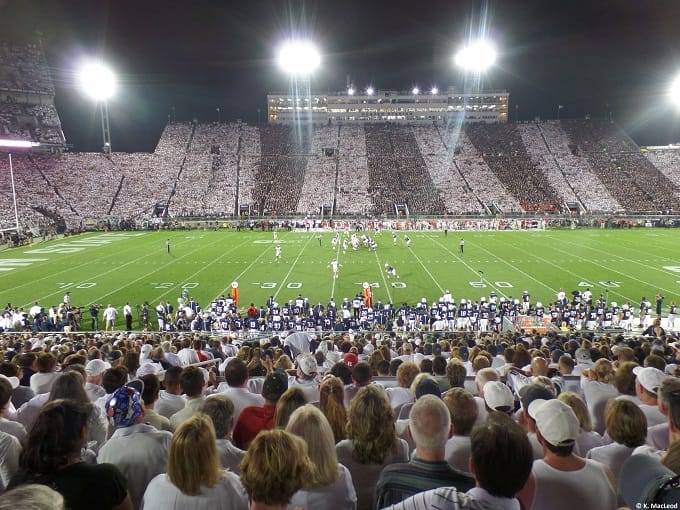 ____________________
Have you ever been to a popular sporting or cultural event you weren't familiar with? What was it like? (Were you as confused as I was with American football?!)
Let me know in the comments below – I'd love to hear from you!
____________________