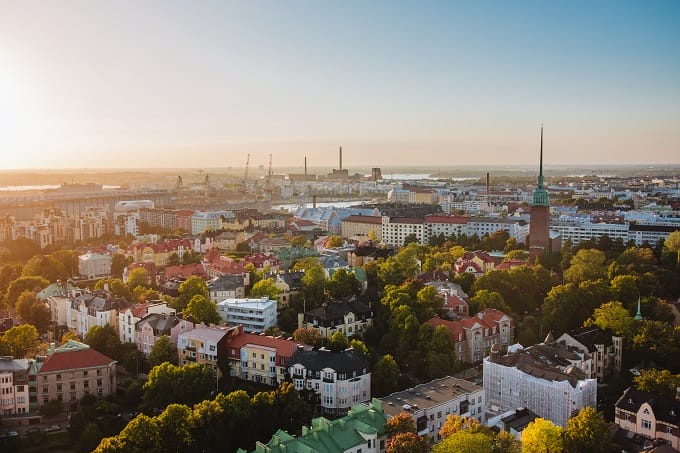 Source: Jussi Hellsten for Visit Finland
The cool Finish capital may not be the most visited of European cities – but that's just one of the many things that make me want to explore its streets.  Here are the seven reasons I want to visit Helsinki (and of course, this list involves plenty of food!).
THE CITY'S MARITIME CHARACTER
Source: Jussi Hellsten for Helsinki 365
There are many little things in life that make me happy, and near the top of that list is being by the sea (as evidenced by my recently declared love for coastal Maine).  It probably has something to do with the fact that, whether in Stornoway or St Andrews, I've spent most of my twenty-something years living less than five minutes from the sea.
Well, hear this: Helsinki is surrounded by the sea on three sides, is bound by nearly 100km of coastline, and is home to 300 islands. In other words, Helsinki is heaven for a born-and-bred islander like myself who now lives an hour from the coast.  I can already envision boat trips and archipelago adventures…
As a Scottish islander, I'm also intrigued by the historical links between the Nordic countries and the sea ports of Scotland, which centuries ago were connected by fishing routes and trading partnerships.  Who knows – maybe there's a Hebridean link to Helsinki somewhere in the forgotten past?
THE URBAN NATURE
Source: Jussi Hellsten for Visit Helsinki
One third of Helsinki is made up of green space, and I hear it's astonishingly easy to navigate the city by foot, bike, or the buses and trams that always run on time (take note, New York MTA!).  I'm really drawn to the idea of a city that's urban and cosmopolitan, but also so open to the sea and close to nature – one that combines the best of both worlds.
I'd love to relax in Esplanade Park in the centre of Helsinki, and set out to discover the likes of Uunisaari Island and the green areas around Töölönlahti Bay, while still being close to the heart of the action.
THE COFFEE
Sources: Jussi Hellsten for Visit Helsinki
When I read that Finns are the heaviest coffee drinkers in the world (and that one of the most prominent scents in Helsinki is that of coffee), I almost laughed out loud.  This is my kind of city!
Forget the fact that I need a coffee in the morning to merely function: aside from that, I'm a self-confessed coffee addict, and I love nothing more than taking half an hour out of my day to simply relax with a well-made cup of coffee in a cafe full of character (and preferably with some chocolate). Now that I know coffee is such an integral part of Helsinki's culture, I simply have to visit!
THE FOOD
Source: Jussi Hellsten for Visit Helsinki
There were times in the not-so-distant past when I was a very fussy eater (I didn't even eat pasta in Italy – what was I thinking?).  But after my year in China, I became more adventurous, and trying local food is now a central part of exploring somewhere new – whether I'm eating sushi in Tokyo, goat stew in Kenya, or farm-to-table creations in Chicago.
Naturally then, food is a big part of why I want to visit Helsinki.  Some Finnish dishes, like roast lamb, or new potatoes and salt herring, are also traditional staples in the Isle of Lewis, so there would be a strange, comforting sense of familiarity to eating these hearty meals in Helsinki.
Then of course you have the famous cold smoked fish, the rye bread, the cinnamon buns, and one I'm particularly interested in trying, the traditional mammi pudding. (Frankly, any dessert where the recipe calls for "lots" of sugar and cream has got to be a good one.)
The Helsinki street food scene is also on the up – something I learned at the NORTH Festival in New York last week – so of course, these fusion foodie bites would also be on my menu, as would be the delights of the city's many markets.
Essentially, I want to go to Helsinki and eat everything.
THE ARCHITECTURE AND DESIGN
Source: Jussi Hellsten for Visit Helsinki
When I visit a city, I like to spend some of the time simply strolling through different neighbourhoods, soaking up the atmosphere (and stopping for a coffee, of course). Where better to do this than Helsinki?
The Finnish capital is a UNESCO World Design City, and held the title of European Design Capital in 2012.  It's home to the highest concentration of Art Nouveau buildings in Northern Europe, and there are a mix of Swedish, Russian, and Finnish influences, representing the various stages of the city's history – everything from Russian Orthodox cathedrals to Nordic minimalist masterpieces.
Style in Helsinki extends past architecture and into daily life too, and I'd love to spend a few hours roaming the Design District, picking up souvenirs that I'll actually wear and use.
THE CULTURE
Source: Sakke Somerma for Visit Helsinki
Thanks to its history, Helsinki's culture is a blend of East and West, in everything from its architecture and food, to location and language.  It's a city that's "laid back, yet at the same time refreshingly active."  Again, Helsinki seems to be a city that encompasses the best of both worlds, in every sense.
And of course you can't talk about Finnish culture without mentioning the sauna (perhaps the most well-known Finnish word used in English).  Saunas make sense in a country where winter temperatures can drop to -30 degrees celsius, but it's also a means of relaxing and relieving stress. It's such an integral part of life here that I feel I couldn't visit without giving it a try – regardless of any British reservations!
THE FACT THAT THE CITY IS A 'HIDDEN GEM' OFF THE TOURIST TRAIL
Source: Niclas Sjoblom for Visit Helsinki
I have a bit of a thing for places that tend to be underestimated: my home in the Hebrides is just one example, and Helsinki is another.  When you think of European city breaks, you tend to think Paris, Barcelona, Berlin; even when it comes to the Nordic countries, cities like Copenhagen and Reykjavik are the ones you read about again and again.
Yet Helsinki is so close to the UK, and (as I've learned from my obsessive travel blog reading) absolutely full of things to do, eat, and see – so much so that I can't help but think that the city should be on everyone else's radar too.  It goes without saying that Heksinki is now on my travel wishlist. Would it be on yours?
____________________
Now that you know why I want to visit Helsinki, you can help me get there!
All you have to do is click right here or on the image below, and 'like' the thumbs up button next to my name – it really is that easy.
Stories My Suitcase Could Tell is in the running to win a trip to Helsinki, and your votes can increase my chances of getting there.  If you enjoy my travel tales, and can spare a few seconds of your day to help me share more suitcase stories with you, this time from Finland, I'd be very, very grateful.  Thank you so much for your support (today and every other day!).
____________________
Update Spring 2016: this competition is now closed. Thanks for your support!