The second-largest city in Canada has so much to offer visitors.
And at just less than 50 minutes away from NYC by air, Montreal is an easy and exciting weekend getaway – so here are six reasons to add Montreal to your travel bucket list, wherever in the world you're travelling from!
THE FOOD
Poutine. Smoked meat. Bagels.  These are some of the most famous Montreal meals, but with a thriving cafe culture and a long history of diverse immigration, there are many more culinary creations to choose from here.
Start your day with a classic French breakfast at Le Cafe Cherrier in the Plateau, where the decor and ambience is so French you half expect to see the Eiffel Tower out the window.  Stop for freshly made tea and cake at the Persian-run Cafe Aunja, decorated with fairly lights and well-thumbed novels, or snack on the huge variety of fresh food at Jean-Talon Market in Little Italy.
For dinner, feast on Portugese chicken and rice or indulge in spicy Chinese food on and near St Laurent Boulevard, a street known to locals as simply 'The Main.'  Cutting across the island of Montreal, The Main chronicles the generations of immigration to the city through its incredible variety of restaurants.  And who could forget the French pastries? Whatever your tastes, you'll find them catered for in Montreal.
THE FRENCH CULTURE
Montreal is the second-largest French speaking city in the world after Paris, and this French culture makes the city a unique one in North America.
While Montreal is mostly bilingual, French is first and foremost; there are even laws about French words being more prominent than other languages on signs and in shops. If you want some European flair but can't cross the Atlantic, then Montreal is ideal for a getaway that will satisfy the most itchy of travellers' feet.
THE ARCHITECTURE
Canada became fully independent from Britain in 1867, and Montreal – and Quebec more broadly – has an intriguing history that swings between French and British influence, one that's evident in the architecture and even the number plates on cars.
18th and 19th century buildings in the Old Port are distinctly French in appearance; many of the neighbourhood's charming streets would not look out of place in Paris.  Others, like in the Golden Square Mile, are reminiscent of Victorian town houses in London's Kensington and Chelsea, with British-sounding street names like Place de Chelsea, Rue Mackay, and Rue Drummond.
The beautiful wrought iron balconies, colourful doorways, and outdoor staircases of the Plateau Mont-Royal neighbourhood are unique to Montreal, and so picturesque that you could walk around admiring them all day!
THE NOTRE-DAME BASILICA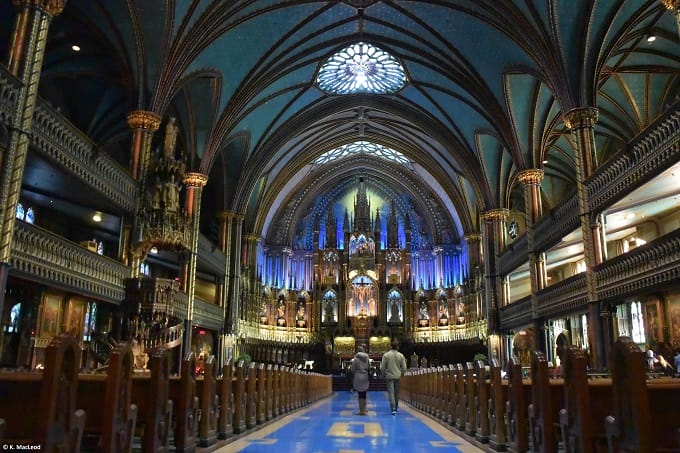 The Gothic Revival Notre-Dame Basilica, located on one edge of the historic Place des Arms in the Old Port, the historic heart of the city, is a reason in itself to visit Montreal.  Built between 1824 and 1829, the Basilica could very well be North America's best-kept secret.
The interior is jaw-dropping: a soaring blue ceiling painted with delicate stars; intricately carved wood; stained glass windows; an organ with 7000 pipes. Free information tours take place every 20 minutes, so time your visit with one to get the full Basilica experience.  It's such a beautiful building that you might even find yourself making a return trip to truly take it all in.
THE METRO
Yes, you read that correctly. The Montreal metro is inexpensive, clean, and timely, and the stations are more than transport hubs. When every stop features art in some form, they're practically public art galleries, featuring everything from murals and mosaics to sculpture.
Add to that the Underground City, a pedestrian network of 20 miles of tunnels featuring restaurants, shops, and cafes that connects to the metro stations.  When winter temperatures can reach minus 30°C, the Underground City is a necessity for getting around town.
THE PEOPLE
Canadian friendliness is something of a national stereotype, and in Montreal you'll discover that it's a well-deserved one. Many urban centres around the world are known for their abruptness and unfriendliness towards tourists: Montreal bucks those trends completely.
Whether you're practising your mangled French, searching for the right destination on the metro, or chatting with a waiter in a cafe, Montrealers will make you feel more than welcome in their home city.
__________________
Have you ever been to Montreal, or would you like to visit? What would you add to the list?
Let me know in the comments, or on Facebook, Twitter, or Instagram – I'd love to hear from you! 
____________________
Want to read more?
A Taste of France in Canada: Exploring Montreal
Visiting Niagara Fall: The Good, The Bad, and the Unexpected
Sailing to Niagara Falls: A Travel Video
____________________