Four!  The blog that I started without much thought – other than the impulse to write somewhere, anywhere  – has developed into something  I could never have imagined, and taken me places I'd never even dreamed it could. So on that note, here are a few practical things I've learned about the ever-changing world of travel blogging in the last four years.
1. A Social Media Presence is Essential
It wasn't until the summer of 2013 – nearly two years after I began blogging – that I set up accounts on Facebook, Twitter, and Instagram.  Actions that took a few minutes one summer afternoon completely transformed my blog.
Until then, I had no idea that there was such a thing as a travel blogging 'community.' All of a sudden I was part of an online world filled with people just like me, people who loved to travel and loved to write – and some of them were even doing this for a living.
Being able to interact with fellow bloggers, even virtually, has been genuinely lovely, and since then I've met many of them 'in real life', like Elaine and David of The Whole World Is A Playground, Kirsten of Kirst Over The World, and Caitlin of Broadside Blog.
The added value of social media is – as tacky as it may sound – self-promotion.  In 2015 there is no excuse to not be on at least one social channel, and whether you like it or not, this is how people will find your work.  Facebook and Twitter are the most popular platform for Stories My Suitcase Could Tell, while for others I know it's Instagram, or Pinterest.  Test them out and see what works for you.
2. Write What You Want to Write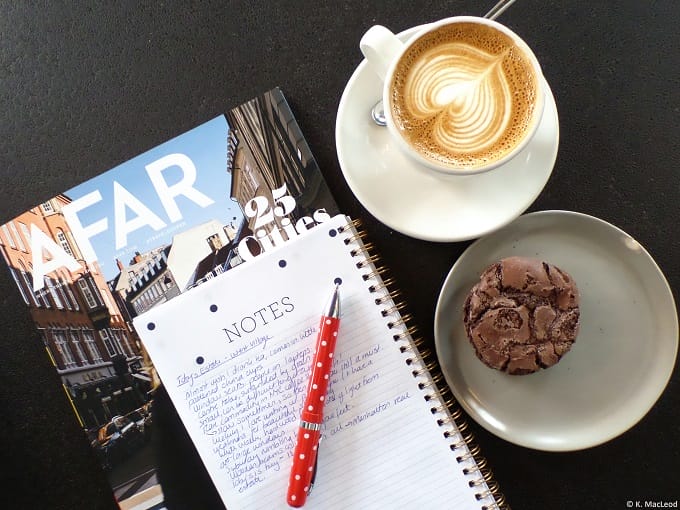 There are countless pieces of advice out there on the internet telling you how to blog, what to write, what to do, what not to do, how many photos to use – the list goes on and on.  Ignore it. Write what you want to write, not what is fashionable or popular.  And those posts that scare you, the ones you're frightened to push publish on? Definitely write them. The stories where you lay yourself bare and push your opinions to the fore are the ones that people will relate to.
I learned this lesson after penning my ode to the Hebrides, and ranting about lazy travel writing.  They might not have fulfilled SEO and Google key word quotas, but they resonated with readers, and that's what matters.  Keep it simple: write what you want to write, and the rest will fall into place.
3. Always Be Yourself
Until I joined the blogging community via social media in 2013, I kept my personal life completely separate from the stories on this blog.  Which, when you think about it, makes very little sense – they are after all the stories MY suitcase could tell!  When I first started blogging, I used only my initials, not my name, and a picture that didn't show my face. (I was a bit wary about online privacy, but in the age of Google, Amazon, and cookies, I've come to accept that internet privacy doesn't actually exist.)
Hiding behind an almost-pen name was a mistake: readers want to see the face behind the words, the voice behind the stories, and once I let people get to know me, Stories My Suitcase Could Tell began to do better and better.  'Being myself'  also opened up the chance for me to write about issues and stories I felt strongly about (see number two!).  You don't have to reveal every detail of your private life, but being yourself will impact your writing as much as your readers' relationship with you.
4. Don't be Afraid to Take Chances
Send that email. Enter that competition. Forget that the others out there have more viewers, longer careers, more professional blog layouts. The moment that changed my blogging career came in December 2013, when I read a blog post by Vicky Flip Flop Travels about entering travel competitions. I took a chance, and entered the Holiday Hypermarket 'Top Travel Blog' competition with a travel tale about Ness in the Isle of Lewis.
My page views exploded, local newspapers interviewed me, and ultimately, 'Ness Notes from the North' won the national competition by more than 1000 public votes.  I took the same chance a few months later with the Cosmo Blog Awards, and almost fell off my chair when they announced Stories My Suitcase Could Tell as the winner – something I could never have imagined when I first started this blog at my kitchen table in the Outer Hebrides.  So take a chance: you never know where it might lead you!
5. Use Your Best Photos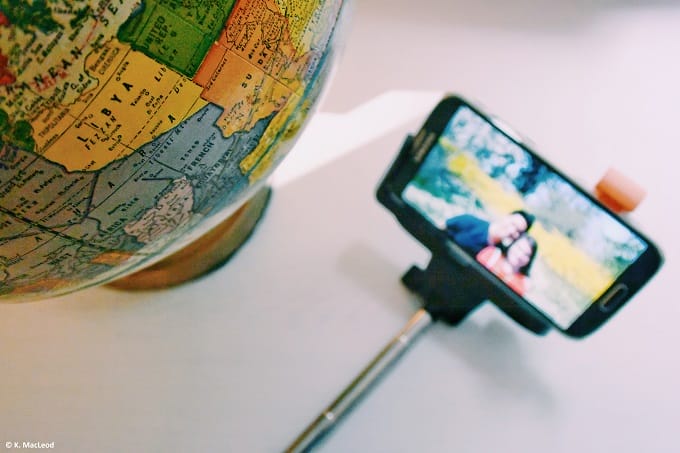 Whether we writers like it or not, we live in a visual world, and blog posts with no photos will not catch anyone's attention, regardless of the quality of the writing. When I revamped Stories My Suitcase Could Tell this summer, I had to add photos to a few of the early posts which had no images at all (not to mention resize every single one of them, because I had no idea that large images slow down websites!).
Although I've recently updated to a Nikon 1 J4 (which I keep safe in my beloved ONA Bowery bag), for most of my blogging life I've used small digital point-and-shoot cameras (and even my phone, for those all-important travel selfies). At some point in the last four years, though, I discovered what is now my secret weapon: Snapseed.
It's a free iPhone and Android app that you can use to edit your photos, and it can make a subtle – or dramatic – difference to your blog images.  It levels the playing field, as you don't have to own the most expensive camera or be a whizz on Photoshop: with just a few swipes, your photos look polished and publishable, and your blog posts will pop as a result.
6. 'Real Life' Interactions are as Important as Online Ones
Yes, I know I just said that Twitter helped me connect with bloggers and brands, and that Facebook is great for sharing stories, but face-to-face connections are still essential (and so much fun!).
It was over coffee in central London that I met the lovely PR girls who helped organise my visit to The Dylan in Amsterdam.  It was at the Cosmo Blog Awards that I met Elaine and David, and Kirsten Powley, who as I mentioned I've kept in touch with since.  It was at WITS that I met a whole host of fellow female travellers, like Mel Hattie and Eileen Cotter.  It was at Travel Massive here in New York that I got to know Marie and Erin, who I look forward to catching up with at each new event.
Having people around you who know what blogging is like – the ins and outs, the ups and downs – is not only fun, but helpful too.  Get away from your computer every now and then and have some real conversations.  You'll feel much better for it.
7. Enjoy it!
At blogging conferences and in online blogging groups, I hear lots of would-be travel bloggers fret that they can't find any inspiration, that they don't know what to write, that they're not getting 'enough' viewers.
Don't beat yourself up about days (or weeks) when you don't have a new post going up, or you haven't shared anything on Instagram in a while.  Try and remember that it's not all about page numbers or Google stats: I wrote this blog for nearly three years with hardly anyone other than my parents and my husband reading it.  Blogging is a lot of work – late nights writing posts, editing photos, social media promotion at all times – so if you're not doing this because you love it, it's going to be hard.
I can't imagine a life without writing, or without travel, and Stories My Suitcase Could Tell lets me indulge in both of these passions.  If you're like me, you're doing this because you love it – so relax and enjoy it!
____________________
Are you a blogger? What have you learned along the way? Are there any tips or tricks you'd add to my list of travel blogging lessons?
Let me know below in the comments, or on Facebook, Twitter, or Instagram – I'd love to hear from you!