Happy New Year!
I don't know about you, but I honestly can't believe January is here already. This year does feel as if it has gone by faster than any other. 2017 has come around so fast, in fact, that I've barely had time to start planning for the year ahead.
One thing I have planned, though, is that next month I'll be on a plane to Scotland – and I can hardly wait! While I had hoped to make a second journey home to the Outer Hebrides last year, it didn't work out, which means it's been almost a year since I've been back.
In the last few weeks I've found myself longing for the islands, and I wholeheartedly blame Finlay J. Macdonald's memoir, Crowdie and Cream, for the cianalas. The book has seen me laughing out loud at the spot-on observations of island life. It can be difficult to explain my relationship to the Hebrides to someone who has never lived there, but safe to say the islands never truly leave you – nor you them.
Let's hope the weather is better than it was when I visited in 2016!
I'll be returning in February with the sole purpose of spending quality time with my family, although I'm sure I will also be eating my weight in Stornoway Black Pudding and Cadburys chocolate (not at the same time, of course). There'll be a few days in Caithness – hopefully a drive or two on the NC500, Scotland's answer to America's Route 66 – and then one final night in Glasgow before I fly back to NYC.
My next planned adventure will take place in April, with a long weekend in Washington, DC. I'll be there to celebrate the wedding of a dear friend, which will also double as a reunion with old friends from our St. Andrews days. The last time we got together was an emotional one, and now that we've all known each other for over a decade, I can only imagine this weekend will be even more memorable. Bring on the celebrations!
After that, there are no travels in my calendar.
In truth, the empty pages are making me nervous, because, for better or worse, I'm the kind of person who needs to have a holiday in their calendar. Without that dose of adventure on the horizon, I feel claustrophobic – I always have. Whether I was looking forward to summer camp as a child, or a weekend away with friends as a university student, knowing there was travel in my future always made me feel settled.
With no concrete plans in the diary for the second half of the year, I've been combing through dreams and goals instead. And so, in the next 12 months, I would like to…
Visit (at least!) one new country
My first iteration of this blog post was like a novel: talking about all the places I want to visit is a never-ending task! In an ideal world, though, I would like to visit at least one new country. There are my big 'bucket list' destinations – places like Cuba, Jordan, Russia, and India – all which I don't really see happening this year. But these are my travel dreams, after all, and if the opportunity arose, I certainly wouldn't be saying no!
A slightly more realistic travel dream is to visit another European country – especially since it won't be long before my EU passport is no longer, and the ease with which I waltzed through immigration in Rome last year will be a thing of the past.
It seems strange that having lived in the UK for most of my life, I haven't yet visited nearby Ireland, or Spain (but somehow managed to see both China and Japan). Iceland is tempting, seeing as it would make for an easy stopover on my trips across the Atlantic, and I keep hearing great things about Scandinavia, and the Balkans, too.
Attend a travel blogging conference
Photo by Lisa Lubin of LL World Tour.
There are countless travel blogging conferences taking place around the world this year, and I'm hoping to attend one of them – I just need to decide which one! In 2015 I attended the Women In Travel Summit in Boston, and 2016 saw me at both the NY Travel Fest and the incredible BlogHouse Philadelphia.
My favourite aspect of these events is not necessarily the content, or the talks, or the workshops: it's the people. There's something special about getting to know people who share your passions, hopes, and dreams, and who can relate to the ups and downs of forging a career in the ever-shifting sands of digital media.
In 2017, I'm debating between WITS in Milwaukee, TBEX North America in Alabama, or TBEX Europe in Ireland. I'm also hoping to attend a more journalism-focused conference, so I'm beginning to research those options as well. Decisions, decisions…
Experience the awesome scale of North American nature
On this side of the Atlantic, I'd enjoy a return to Canada, not only because the country is celebrating its 150th birthday, but because I've only seen it in the throes of winter, and would very much like to experience it – and its famous landscapes – in warmer weather.
I've always loved the idea of visiting Nova Scotia, where a smattering of residents still speak Gaelic; Gros Morne, which looks like something out of a Lord of the Rings novel; and Winnipeg, which is home to an old family connection that would be fascinating to look into.
Here in the USA, my travel dreams remain the same as ever: visiting the Badlands of South Dakota; the prairies and glaciers of Montana; the bear dunes and lakes of Michigan; and the beaches and barrier islands of South Carolina. I don't expect to see all of them in the space of 12 months, of course – but I'd certainly like to visit at least one of these famous spots in the near future.
Combine travel with family and friends
As an expat, I'm in the fortunate (and simultaneously unfortunate) position of having friends and family scattered across countries and continents. From Dundee to Manchester, London to San Francisco, Dubai to Dresden, there are people that mean a lot to me, but who unfortunately I don't see enough of. It would be wonderful in 2017 was the year I was able to arrange a few more reunions. I'll keep my fingers crossed…
Embrace local travel here on the USA's East Coast
Closer to New York City, I want to make a concerted effort to embrace my mantra of 'local travel' and explore more of the surrounding states. In New York State, Montauk, Hudson, and the Finger Lakes would all be easy weekend trips for me, and I want to make them happen this year – especially because they've been on my to-visit list ever since I moved here in 2014. Pennsylvania, New Jersey, Rhode Island and even Massachusetts are full of nearby travel opportunities, too.
Return to the UK (yes, for a second time!)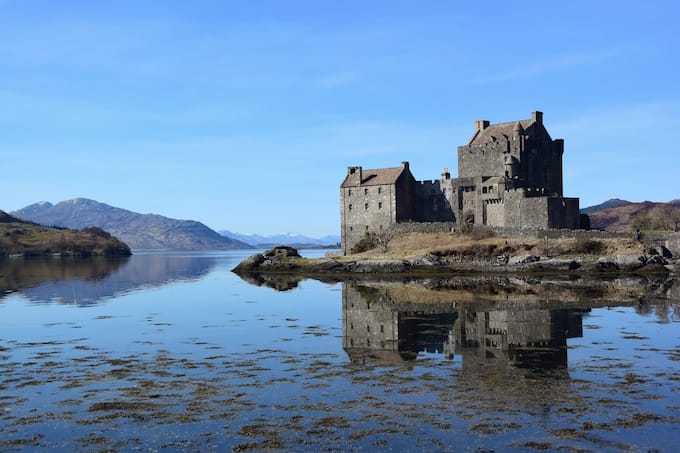 Not only to enjoy my home in nicer weather (let's just say that February is not the best time to visit the Hebrides), and to see the friends scattered across the country that I haven't seen face-to-face in far too long, but also to do a bit of research on a project I'm working on behind-the-scenes this year.
(I'm not quite ready to say more about it yet, but if you want to be the first to find out what this project is when the time does come, get your name on the Stories My Suitcase Could Tell newsletter list! It's where I share my latest posts, behind-the-scenes travel stories, and announce any big blog news before it goes live on here.)
Whether my annual hopes of getting home to the Hebrides twice a year are ever realised is another matter – I said the same thing in 2015, and 2016! – but a travel blogger can dream, right?
So these, for now, are my 2017 travel plans and dreams.
There are many more dreams than plans, but if the last five years of blogging – and life – have taught me anything, it's that you never know what's around the corner. 2017 could be a year of travel, a year of staying still, or one that falls somewhere in between.  Whatever it is, I'm ready for it – with passport, notebook, and suitcase in hand.
____________________
What are your  2017 travel plans and dreams?
Let me know in the comments below – I'd love to hear from you!
____________________
To keep up with my travels in real-time, why not join hundreds of others and sign up to my monthly newsletter?