The harsh reality of life as an expat – especially in the early days – is that loneliness is a constant companion.
It sounds dramatic, but even when you're with a husband, wife, or significant other, it's hard not to feel a little lost when you've been catapulted out of your comfort zone into a new culture without the familiar social support network of friends, family, and colleagues.
I felt that loneliness keenly in my first few months in New York City, and often admonished myself for it. It wasn't until I met fellow expats (online and off) that I realised it's something all expats go through, and it's nothing to feel ashamed of.
You've moved halfway around the world to a new country where you only know one person and can't work? Give yourself a break. It's hardly surprising things will feel slightly off-kilter at first.
So how do you make friends as a new expat?
After almost two-and-a-half years of coffee dates, after-work drinks, and multiple meet-up group events, here's what I've learned works as a newcomer meeting people in a completely new country…
Say yes to everything – even when you don't feel like it.
I can't count the times I've felt like nothing more than staying in, sitting on the couch, and watching TV with Mr. Stories My Suitcase Could Tell – but made myself get up and go to one event or another I'd been invited to.
Sometimes these events are a let-down, where you awkwardly mingle with strangers. But more often than not, you end up having a brilliant evening with likeminded people, making new acquaintances that will eventually turn into friends.
Make the first move.
In a weird way, finding and forming friendships as an expat is a bit like dating. You're not sure if you'll really like each other or not in the long term, but there's only one way to find out – and that's to make the first move.
Reach out to that person you follow on Instagram who lives nearby and seems to share all your interests; go for a coffee and see what happens. Want to get to know the person you keep running into at networking events? Arrange to go for lunch together, one-on-one.
Friendships are formed through sustained, regular contact, and the only way you'll ever even start getting to know someone is to sit down and talk to them. So go ahead: be brave and make the first move.
Take online friendships offline and into the real world.
Thanks to Facebook, Twitter, Instagram, and the millions of blogs out there, most of us have a few "internet" friends we get on well with through tweets, comments, and sometimes emails. As an expat, now is the time to take these relationships offline, and see if you click "in real life."
When my 'online' friend Caitlin – who I had met through her blog, Broadside – found out I was moving to New York City, she invited Mr. Stories My Suitcase Could Tell and I for Sunday lunch. The two of us have met up together countless times since, over tea and cakes, Ukrainian dumplings, and even poetry readings.
The moral of the story? If you've got to know each other online and seem to like each other, there's a good chance you'll have a ready-made friend waiting once you log out of Facebook.
Join meet-up groups of likeminded people.
The first thing you should do as a new expat is join Meetup.com. There are meet-up groups dedicated to just about anything you can think of, and it's a good starting point for introductions to people who you already have at least one thing in common with (books, travel, or even just going out for cocktails!).
If you're involved in the travel industry, joining the Travel Massive community is a must. I've been attending their NYC events for two years now, and have slowly but surely found a wonderful (and welcoming) group of friends and colleagues through it.
(Case in point: after about a year of seeing each other once a month at Travel Massive events, Erin, Marie, Karissa, and I decided to get dinner together – and we've all been hanging out ever since.)
And finally: enjoy it!
It can be easy to focus on the negatives as a new expat, worrying about the fact that you don't really know anyone. But forming friendships takes time – and patience. Keep making the effort, enjoy the experience, and eventually you'll find your tribe.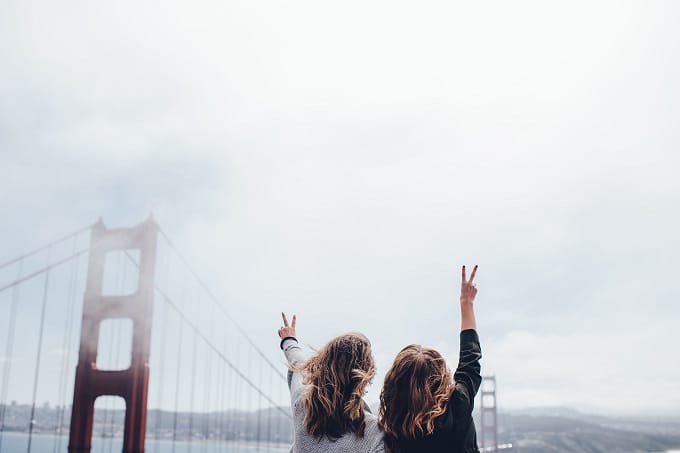 ____________________
Have you ever had a similar experience in a new country, or a new town? Do you have any advice on how to make friends as an expat?
Let me know in the comments – I'd love to hear from you!
____________________ 
Want to read more?
What really happens when an expat goes home?
10 British Foods I Miss As An Expat in the USA
What Does It Mean To Get A U.S. Green Card?
____________________