Some places take a while to get under your skin, requiring return visits or long stays to make an imprint.
Then there are the places that steal your heart straight away, places like the charming town of Chestnut Hill in Pennsylvania. Before my first evening there was through, I was mentally leaving New York City and buying a quaint stone home on the edge of Pastorius Park, a gorgeous green space a stone's throw away from the town's bustling main street.
That's just the kind of town Chestnut Hill is, although technically, Chestnut Hill isn't a town at all – it's a neighbourhood of Philadelphia, the fifth largest city in the USA. This is just one of the many reasons Chestnut Hill is so special: it feels like a lively small town in its own right, a town full of sidewalk cafes, independent shops, and a plethora of flowers and parks, but it's all a quick train ride from the city centre.
Chestnut Hill is literally built on a hill – it's the highest point in Philadelphia – and so is always a few degrees cooler than the downtown area. It was this location, coupled with the plentiful green spaces, that made it the summer escape of choice for wealthy Philadelphians back in the late 1800s. It was – and still is – a city break within city limits. Since then, though, the neighbourhood has fallen under the radar as a tourist destination, but as far as I'm concerned, it's a hidden gem that more than deserves the chance to shine again.
Today, the bulk of the action is still found on the main thoroughfare of Germantown Avenue, although I soon learned the locals never give the street its full title.
In the neighbourhood, the street is known simply as "the Avenue." It was here I dropped off my bags before exploring the nearby area, when I checked into the historic Chestnut Hill Hotel. The building has been around since 1894, and rumour has it that in previous lives the hotel was a Prohibition-era speakeasy, and even a one-time bordello.
While there's no hint of an illicit past these days, the hotel has held on to its history, with various rooms drawing on the past through design. My supreme king room had nods to nature – a big theme in the neighbourhood – with garden-style paintings on the walls, and floral patterns on the lampshades. My favourite part about the room (other than the giant bed, of course) was that it overlooked the Avenue, which I watched slowly come to life over an espresso the next morning.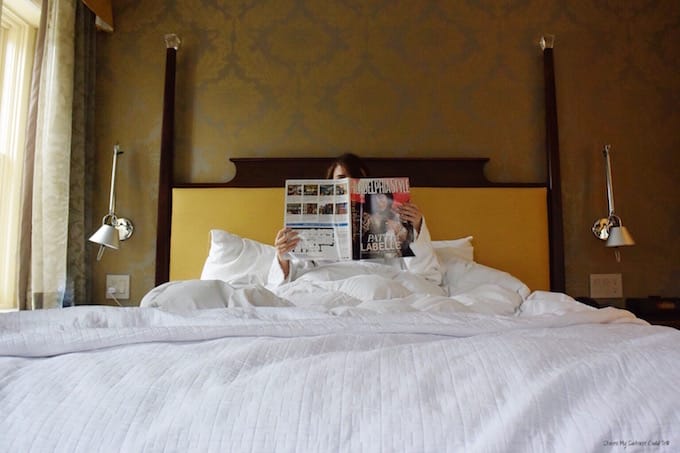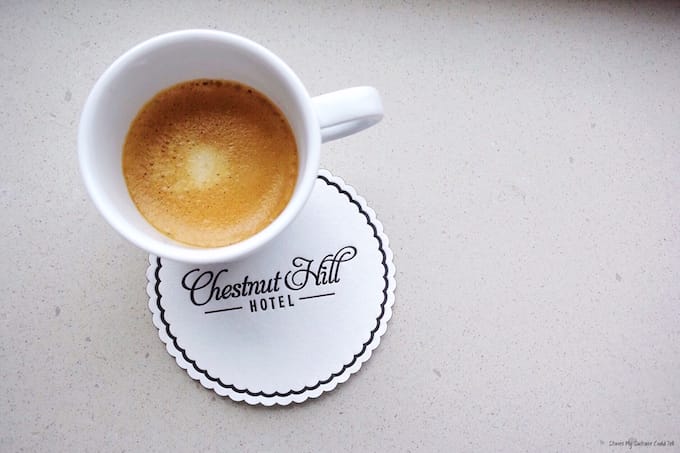 After checking in, I made my way up the Avenue to 3000 BC Spa. Before I jumped head first into my 24-hour tour of the town, some relaxation was in order, and this high profile spa was the place for it.
I'm not sure if you're meant to fall asleep during a facial, but I very nearly did, during my relaxing microblading facial, which I was told is "the red carpet of facials." It certainly felt luxurious, and left my skin so fresh and baby soft I didn't even feel the need to apply make-up for my introduction to Chestnuts Hill's evening social calendar.
For a small neighbourhood, I found that Chestnut Hill has a surprisingly high concentration of excellent food options.
At Paris Bistro, the chef himself came out to talk to us over dinner (which for me was a starter of gazpacho soup, followed by a cheese board, and then an intensely rich short rib in red wine sauce). Evening drinks took place al fresco at El Poquito, a Baja-inspired Mexican cantina, which I absolutely adored, and breakfast the next day was a rather indulgent raspberry scone from Night Kitchen Bakery.
One of the most recent additions to the town's food scene seemed to be becoming something of a community hub; I never passed Chestnut Hill Brewing Company, at The Market at the Fareway, without seeing a crowd of people both inside and out. The entire market space feels made for social gatherings: inside, there's everything from coffee, chocolate, and cakes, to Jamaican jerk chicken and wood-fired pizza, while outside, there's ample seating set in a modern, yet relaxed, environment.
When I wasn't eating everything in sight, I squeezed in some shopping time.
There are over 125 locally owned independent retailers here, and they really bring character to the neighbourhood. I browsed around a gorgeous vintage design store, Isabella Sparrow, and popped into the old hardware shop that still sells absolutely everything you might need, even (still working!) old-school landline phones.
Every doorway and window display on the Avenue had something to entice me inside, and I noticed that in each one, customers talked to shopkeepers with the familiarity that only comes from a small community. It made me smile – you definitely don't get that in New York City!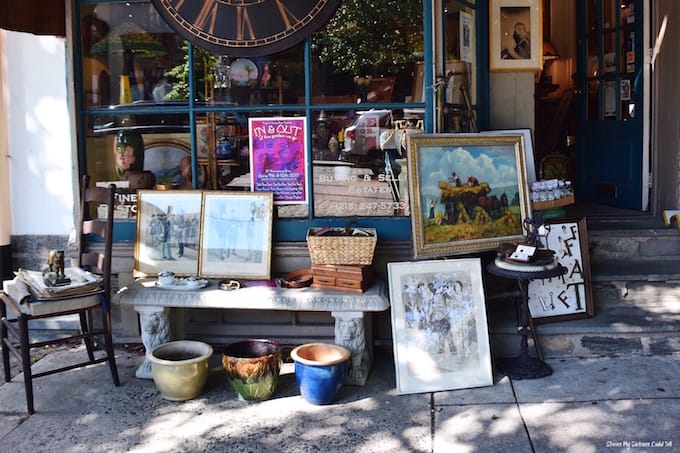 As I strolled the Avenue on my second day in town, I was able to see another big part of the town's personality: it's long-time support of the arts. The Plein Air Art Festival takes place each summer, with local artists setting up on a pre-assigned section of the Avenue to paint what they see in front of them. I had a great time chatting to the different artists (one recognised my accent straight away!) and seeing how they interpreted the scenes in front of them in sometimes drastically different ways.
The festival reinforced what I'd experienced at the Woodmere Art Museum the evening before, where after listening to the most incredible jazz concert, I toured the rest of the museum and learned how Woodmere, and the town as a whole, really supports Philadelphia-area artists.
And then, of course, there are the flowers.
You can't talk about Chestnut Hill without talking about the greenery. Chestnut Hill is known as Philadelphia's Garden District, and as it celebrates its 20th year holding the title, it's easy to see why. There are flower boxes and florists everywhere, small green spaces known as "pocket parks", and the trails and woods of the Wissahickon Valley Park nearby. While I didn't make it to the trails, I did get to spend a morning at Morris Arboretum.
I'm a country girl at heart, so after more than two years of city living, I take any chance I can to get out into nature – and strolling through the 92 acres of the Morris Arboretum in the early hours of a warm summer's day was nothing short of bliss. When I arrived, the Rose Garden was in full bloom, the roses' heady perfume infusing the air and causing everyone who came across it – myself included – to exclaim in delight.
The Arboretum is part of the University of Pennsylvania, and works to promote "an understanding of the relationship between plants, people, and place." While I didn't have enough time to really delve into the educational aspect of the gardens, I did get to recharge simply by being there: breathing in the flowery scents, listening to the whispering of leaves and the trickle of streams, and really being present in the moment.
What tied all these Chestnut Hill experiences together, though – the food, the art, the flowers – was the strong sense of community.
Chestnut Hill is the kind of neighbourhood where families and businesses have been around for generations, and where friends and neighbours stop to talk to each other on the street, in line for their morning coffee, or at one of the many local events that take place throughout the year.
It's difficult to put into words, but the feeling of community that permeates the place is something I didn't realise I had been missing since I left the Outer Hebrides, and something I hadn't found in the USA until I visited Chestnut Hill. I felt instantly at home in Chestnut Hill, touched by the welcome I received, and awed by the obvious pride that everyone here has in their neighbourhood.
As I boarded the train back to New York City, I knew I'd return to the Avenue. I left a little bit of my heart in Chestnut Hill, and I'll need to go back and get it.
____________________
NEED TO KNOW
How do I get there? From Philadelphia's Center City, Chestnut Hill is a 25-minute drive, or a 30 minute train journey on SEPTA Regional Rail. (From NYC, I took an Amtrak train to Philadelphia's 30th Street Station, and an Uber to the door of the hotel).
Where should I stay? I stayed at the Chestnut Hill Hotel (which I can highly recommend – the staff were so friendly, and the hotel itself is lovely), but there's also the Silverstone B&B, and of course a selection of Airbnb apartments as well.
____________________
How do you feel about visiting small towns on your travels? Have you ever been to Chestnut Hill, or would you like to visit?
Let me know in the comments – I'd love to hear from you!
____________________
A huge thank you to the Chestnut Hill tourism team for inviting me to visit, and to everyone I met for welcoming me with open arms!