Sunday in Lewis and Harris has quite the reputation.
In 2009, the Financial Times called the island "the last repository of stern and overwhelming Presbyterianism in Britain." The Telegraph has referred to it as an "extraordinary outpost of Sabbatarianism." The Guardian recently claimed that local religious attitudes ban "work and play on Sundays on religious grounds"
It seems no article or TV programme on the islands can be published without a mention of Sunday, with it always referred to as "the Sabbath," a phrase I've personally never heard anyone other than a minister use.
The way the island Sunday is often portrayed in the media could give you the impression that there is absolutely nothing to do here on the seventh day of the week – and that if you dared attempt any kind of 'fun', you'd face the wrath of hardline, church-going islanders.
In 2017, however, that's simply not true.
As someone who grew up in Lewis in the Nineties, it wasn't true for me back then, either. I spent my Sunday mornings at Sunday School in a pair of jeans, and my Sunday afternoons at the play park with friends, where the gates were not locked, and the swings were not chained. Sunday here is not a black or white, either-or situation.
Maybe it was the case in days gone by – historically, the island has been traditionally Presbyterian – but we are living in the 21st century, not the 19th. When it comes to reporting of any kind on the Outer Hebrides, though, you could be mistaken for thinking otherwise; as I've written before, old-school stereotypes still abound.
While it's in no way as extreme as the stereotypes suggest, Sunday in Lewis and Harris is still unique in some ways.
The majority of shops still close their doors. Some people go to church, and some people don't. No public buses operate, but the airport and ferry terminal are open. Flights and ferries come and go throughout the day, taking people to and from the Scottish mainland.
Quiet Sundays with limited shopping hours are common in other parts of continental Europe, and even parts of the USA, but for some reason it causes a frenzy when people learn it happens in these Scottish islands. The double-standard has always mystified me.
Personally, I love the fact that Sunday in Lewis and Harris means guaranteed family time – none of us will be working – and that we can relax and spend time together, maybe over a traditional Sunday roast with Yorkshire puddings (my favourite), or on a walk on the beach or a scenic drive to another district.
For visitors to Lewis and Harris, though, the mixed messages can be confusing.
What's open? What's closed? Where can you eat? What can you actually do on a Sunday?
The answer is: "more than you might expect."
For starters, no-one is going to go hungry. Most of the fast food takeaways are open, and If you're looking for Sunday lunch or an evening meal, there are plenty of sit-down options available too. Restaurants like HS-1, The Boatshed, Eleven, Solas, and the Harbour View Restaurant are all open in Stornoway. Outside of the town, you can enjoy a meal at Doune Braes Hotel on the West Side of Lewis, or at the Temple Café in Harris, located right by the beach.
If a full feast isn't what you're looking for, snacks and other essentials can be bought at Engebret's Filling Station (where you can also fill up your car with petrol), and at the Blackhouse Bakery, both in Stornoway. Coffee and light lunches are available at the café in the recently renovated Lews Castle, and you can even – gasp! – enjoy a drink at the bar overlooking Stornoway Harbour.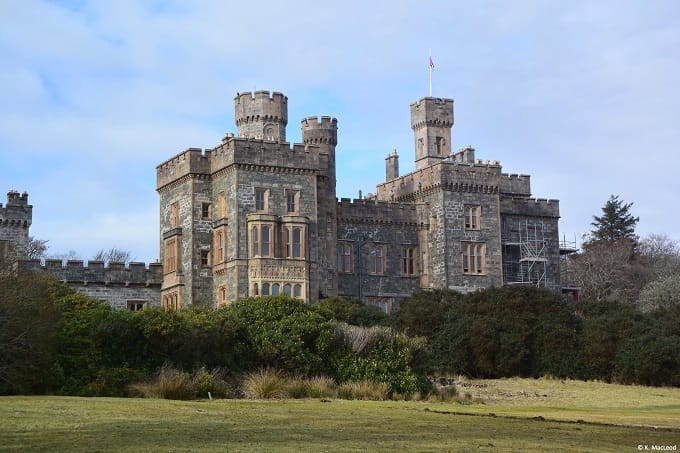 After you've had your fill of food and drink, you can go outside and explore the place you've come to see. You can do that with a walk through the leafy Lews Castle Grounds, designed and planted in the 1850s, or through the Aline Community Woodland, also part of the Hebridean Way. You can hike up through the Harris hills, or take it easy with a stroll on one of the many (many) beaches, some of which have been voted among the best in the world.
And if the weather isn't cooperating, as was the case when my Sunday walk on the beach was recently thwarted? Return to the Lews Castle, pull up a chair in the meticulously restored 19th century ballroom, and spend a while listening to some beautiful acoustic live music, organised weekly by local musician Neosa.
For me, the idea of Sunday in Lewis and Harris is simple.
Whatever your religious inclinations – whether you've never stepped foot in a church, or sit in a pew every week – Sunday here is a day for relaxing. In fact, I'd venture to say that it's relaxing in a way that's difficult to find elsewhere.
Elsewhere (and I speak from experience), it can be tempting to leave all your weekly chores and food shopping until the last minute – or in other words, until Sunday, leaving little time to recharge before the alarm goes off again on Monday morning before work.
To anyone who happens to be visiting Lewis and Harris on a Sunday, I say this: make the most of it. Make the most of a day where the pace is slower, and doing nothing isn't frowned upon. Whether you do that by sleeping in and lounging around your holiday rental in your pyjamas, taking a walk on a quiet beach, or going out for a leisurely coffee or Sunday lunch, the choice is entirely up to you.
Enjoy a relaxing Sunday in Lewis and Harris, and then go out and let everyone else know they were wrong about it all along.
____________________
Have you ever experienced Sunday in Lewis and Harris? Let me know in the comments below – I'd love to hear your thoughts!
____________________
More stories from the Outer Hebrides:
21 Must-Have Travel Experiences in the Outer Hebrides
The Outer Hebrides Travel Guide
On Travel Writing and Stereotyping the Outer Hebrides
____________________