Where are the best restaurants in Lewis and Harris?
Where to eat in Lewis and Harris is a question a lot of visitors ask, and one I'm always happy to answer. (As you know, the food is one of the things I miss most about no longer living in the Outer Hebrides!).
Whether it's the fresh plain bread from Stag Bakeries (voted Scotland's best!), the meaty Stornoway Black Pudding, or the fresh-off-the-boat seafood from the likes of Islander Shellfish, there's a wealth of high quality food and drink to be had in the Outer Hebrides, in everything from road-side food trucks to sit-down restaurants and traditional pubs. With an almost-pristine environment like this, it's hardly surprising.
But how do you choose where to go with limited time? You take a leaf from my book, and use this guide to where to eat in Lewis and Harris! These are my favourite places to eat, the places I go to again and again, and in many cases have been eating at for most of my life: I can personally recommend each and every spot on this list (and will be adding to it as I find new favourites, too!).
So here, in no particular order, are what I think are the best restaurants in Lewis and Harris (not to mention the food trucks, cafes, and pubs, too!)
____________________
HS-1
For me, HS-1 (named after the Stornoway post code) is a staple; it's always one of my first options in Stornoway for a meal out, whether that's an impromptu long lunch because the rain has ruined our plans for the day, or a leisurely catch-up dinner with friends.
The restaurant's wide windows offer great views of the Castle Grounds, and the atmosphere is modern and laid back. While as a creature of habit I always go for one of the wraps (chicken in a delicious murgh makhani curry sauce, yes please!), there is a wide selection of options to choose from, from bar-style burgers and pasta, to more elaborate menu choices like the Stornoway Black Pudding Tower (another personal favourite), or a bowl of fresh island mussels.
Take your pick, grab a table by the window with view of Lews Castle, then sit back, and enjoy!
Where? Cromwell Street, Stornoway.
Find them on: their website.
Eleven
Everyone who knows me knows I love a good roast dinner, and if you're not lucky like me, and able to sit at my parents' kitchen table for the famous MacLeod Sunday roast, then Eleven is your best bet for this very British staple.
The restaurant on the ground floor of the Caladh Inn in Stornoway is family friendly (there's even a small play area for children), and offers a carvery lunch or dinner. They also host regular 'themed' dinner evenings, where you can book in advance to enjoy an evening of food from elsewhere – maybe Mexican, Nepalese, or Indian.
(If a roast dinner is a bit too much for you, though, don't worry: there's an a la carte menu, as well as plenty of other rotating buffet options too, like salads, curries, and pastas.)
Where? 11 James Street, Stornoway.
Find them on: their website
The Thai Cafe
Tucked away on a Stornoway side street, The Thai Cafe looks unassuming. But step inside, sit down, and eat, and you're transported to south east Asia.
Here you'll find Thai curries of all flavours (and spice levels), noodle dishes galore, and all sorts of starters and side dishes. (Don't miss the crispy won tons!)
The small BYOB restaurant can get busy, though, so make sure to book ahead, or – if you're out of luck with a table – get a takeaway instead.
Where? 27 Church Street, Stornoway.
Find them on: Facebook.
Church Street Chip Shop
Now that I don't live in Scotland, my first meal when I step off the plane is always a fish supper – and the fish and chips from Church Street Chip Shop soothe my cravings every time.
And it's not just fish here, either. You can get black and white pudding, chicken, sausages, steak pies… basically anything you could want from a local chip shop!
While there are a few tables and chairs here, most people take their food to go. If the weather is nice, I can highly recommend driving out to Cuddy Point in the Lews Castle Grounds and enjoying your fish supper with a view of the harbour.
Where? 6 Church Street, Stornoway.
Find them on: Facebook
Taste n' Sea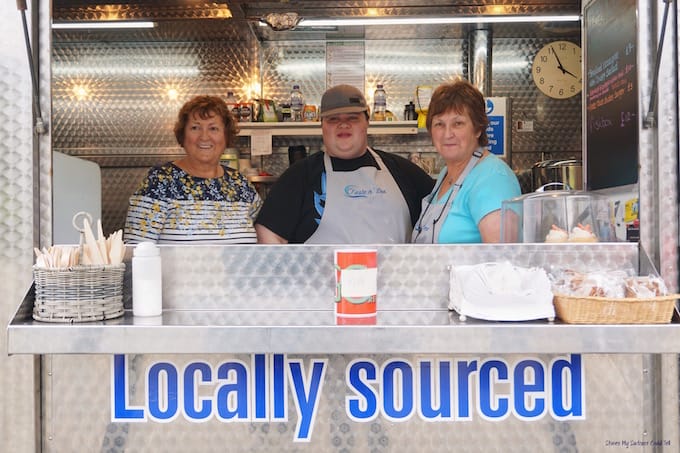 One of the most recent additions to the island food scene is this seafood-focused food truck on the border of Lewis and Harris, and it's quickly become a firm favourite with me!
The chefs at Taste n' Sea turn out everything from fish cakes and lobster quiche, to traditional herring in oatmeal and langoustines. There are also special "seafood boxes" that are filled to the brim with a variety of fish, accompanied by coleslaw and salad. (If you're anything like me, you'll want a taste of everything!) But don't just take your food to eat in the car on the way home — this is one of the best views in the islands, so (if the weather permits) make the most of the Hebridean scenery and enjoy your food alfresco.
(Don't forget to enjoy the music too. When I visited, there was everything from Skippinish to Peat and Diesel playing, so you'll get a true island experience here!)
Where? Bowglass, Isle of Harris.
Find them on: Facebook.
Croft 36
Whether you're staying in Harris or just driving through, you need to make a stop off at Croft 36. Tucked away in a little shed by the side of the single-track road is a treasure trove of freshly made food: soft rolls of homemade bread, dressed crab, fluffy quiches, soups, scones…
It's all paid for through the honesty box in the corner, and you'll find prices listed on the wall. I always think I'll save whatever I've bought until I get home, but I've usually succumbed and eaten it by the time we reach the main road again…!
Where? 36 Northton, Isle of Harris.
Find them on: their website.
The Butty Bus
If you're getting the ferry from Leverburgh in Harris to Berneray, then you have to stop at the Butty Bus.
Parked on the pier is an old bus that's been transformed into a mini kitchen that churns out Scottish breakfast sandwiches for early risers (think bacon, sausage, black pudding, and an egg, all on one roll) and fast-food options like burgers and soups for those turning up later in the day. (Mr. Stories My Suitcase Could Tell was a big fan of the breakfast sandwiches!)
Where? Leverburgh Pier, Isle of Harris.
Find them on: Facebook
Crust Like That
There probably aren't many places where you can say you enjoyed your pizza by the peats, but in Lewis, you can! The team at Crust Like That serve up delicious Neapolitan-style pizza from a converted shipping container in Achmore. Menu options include "Straight Outta Stornoway" (which features the iconic Stornoway Black Pudding), "The Crofter" (chilli oil makes an appearance), and "Gaelic Bread" (a white pizza with roasted garlic oil and basil). In good weather, your food can be enjoyed outside with views of the surrounding moorland, but if it's raining, take my lead and just get started on those fresh pizza slices in the car instead.
Where? Achmore, Isle of Lewis
Find them on: their website.
The Isle of Harris Distillery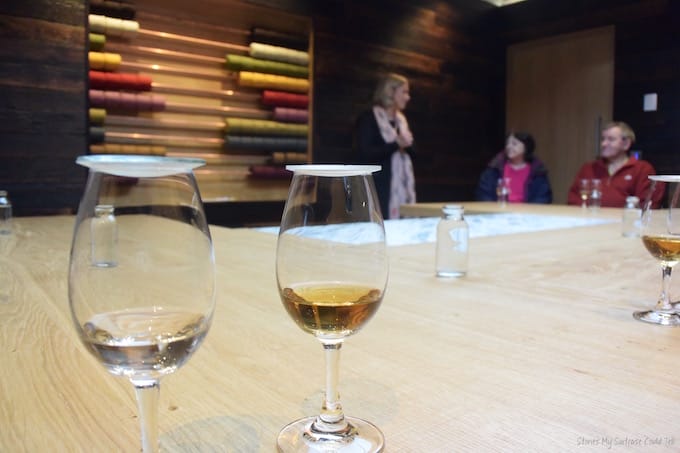 While the main purpose of any visit (or mine at least!) to the Harris Distillery is to stock up on that delicious sugar kelp Isle of Harris Gin, the canteen on the ground floor of the distillery offers plenty to keep your tastebuds happy.
With soups, sandwiches, coffees and teas, there's plenty to whet your appetite – but my own favourite has to be the freshly baked scones with jam and cream.
Where? Tarbert, Isle of Harris.
Find them on: their website.
The Machair Kitchen at Talla na Mara
The headquarters of the West Harris Trust are hard to miss: the modern wooden building juts stylishly out of the ground just across from the beautiful Nisabost beach in Harris.
But it's more than a community trust office; it's also home to creative studios, an art gallery, and a brilliant cafe and restaurant, The Machair Kitchen (which also caters for weddings, if you're in the market for a venue.) While I've only tried the scones and jam myself (you might be sensing a theme here), they also do everything from seafood and steak to soup and sandwiches, all with one of the best views in the island included!
Where? Nisabost, Isle of Harris.
Find them on: their website.
Delights
When I lived at home in Lewis, I was in Delights six days out of seven (yes, really!), popping in for a cappuccino before work and taking a break during the Saturday food shop with my Mum over tea and cake.
This Stornoway gift shop has a tiny coffee shop tucked into the corner, and it has some of the best coffee I've ever tried. As for the baking, it's impossible to choose between all the delicious options that arrive freshly baked each morning: Victoria sponge, heavy with jam and cream; the apple pie, still warm from the oven; the Scottish tray bakes that range from Turkish delight treats to my own favourite, the Malteaser slice; the crumbly oatcakes waiting to be smothered in butter…
There are only three tables in Delights, so if it's busy when you arrive, take your coffee and cake to go, and find a spot by the harbour to tuck in!
Where? 18 North Beach Street, Stornoway.
Find them on: Facebook.
Blue Lobster Cafe
Perched on the edge of Stornoway harbour is another gift shop-come-cafe, with lots of lovely trinkets to peruse (it's almost like stepping into someone's very stylish living room), and a selection of tasty cakes to enjoy with a hot drink at the wooden counter overlooking the harbour and Castle Grounds.
Where? Perceval Square, Stornoway.
Find them on: Instagram
An Lanntair
The local arts center of course has galleries, stage shows, and a cinema, but it also offers a bar, cafe, and restaurant overlooking Stornoway Harbour.
Whether you're popping in for a coffee, a cocktail, a lunch date, or a dinner with friends, An Lanntair's got you covered. (In fact, it was at An Lanntair a few years ago that I discovered my love of a good G&T, thanks to delicious sloe gin they had on the cocktail menu at the time.)
Where? Kenneth Street, Stornoway.
Find them on: their website.
The Harbour Bar
On the first floor of The Crown Inn you'll find dark walls decorated with antlers, Harris Tweed accents, and old maps of the Outer Hebrides, all overlooking comfortable leather chairs and a well-stocked bar.
The last time I visited, there were over 80 varieties of gin on offer, so if you're a G&T fan like myself, it's well worth a visit. (On a side note, the building is owned by the same company as The West Highland Bar I visited on the Isle of Skye, and you can definitely see the design similarities.).
Where? Castle Street, Stornoway.
Find them on: their website.
Lews Castle Whisky Bar
If you're looking for a sophisticated location for a quiet drink, the Whisky Bar at Lews Castle fits the bill. Whether you prop yourself up at the sleek bar, or make yourself comfortable in one of the high-backed armchairs by the windows, it's the perfect place for a spot of conversation over drinks with friends — and if you time your arrival right, you might just be serenaded by the sounds of the grand piano from the restored ballroom next door.
Where? Lews Castle, Lews Castle Grounds, Stornoway.
Find them on: their website.
____________________
And there you have it: my guide on where to eat and drink in Lewis and Harris!
(And of course I'll be updating it as and when I find new spots to add to my list of the best restaurants in Lewis and Harris.)
Where are your favourite places to eat and drink in Lewis and Harris? Let me know in the comments – I'd love to hear from you!
Please note: while this post was originally published in 2019, it was updated in 2022 to reflect openings (and sadly closures) at some locations.
____________________
If you enjoyed this, you might like:
The Outer Hebrides Travel Guide
14 Useful Things to Know Before Visiting the Outer Hebrides
A Mini Travel Guide to Stornoway, "Capital" of the Outer Hebrides
____________________