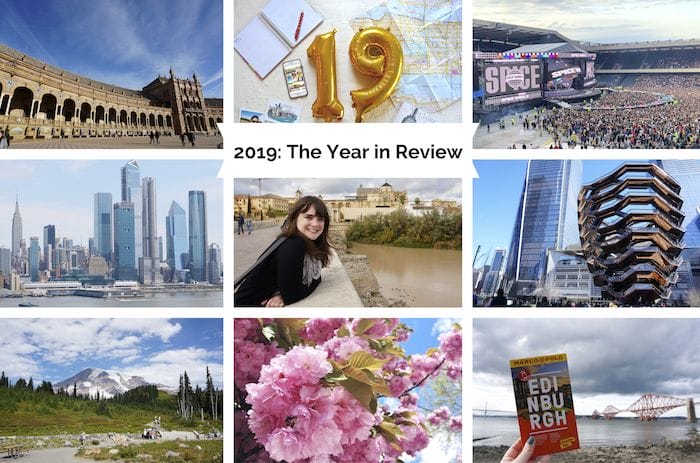 I always love reading annual review posts in magazines, newspapers and blogs. There's something comforting, almost nostalgic, about taking stock of the year that's been. And this year, of course, there are the added "decade in review" articles to enjoy, too. (Although I've read most of them thinking "How can that be 10 years ago when it only feels like two?!").
I can't believe the end of the year is here already – I feel as if I only just wrote the 2018 version of this blog post! – and yet here we are, at the approach of another new year. The Year in Review is always a fun blog post for me to write, where I can look back on the year that was and share my travel highlights with you.
These round-ups always surprise me. Seeing everywhere I've been laid out in black and white makes me realise just how lucky I am to be able to see the world; going through the books I've read reminds me of all the moving stories I've been immersed in; and reflecting on my writing over the course of 12 months helps me prepare for the new year ahead.
So here it is: my 2019 in review!
2019 in Travel
Rochester, New York | May
Starting a new 9-5 job in January 2019 meant that I didn't leave the NYC area until May. By the time I left the city for a weekend upstate in Rochester with Marie of One Carry On and Erin of 10 Miles Behind Me, I was desperate for a break. (Let's just say I won't be making the mistake of working without a break for five months again!).
We flew north on Friday evening, and back to New York City early in the morning before work on Monday, giving us two full days to explore the beautiful Letchworth State Park, browse the local food market and shops, and taste some locally brewed beers by the river. It was lovely to spend a weekend somewhere new with two dear friends – we spent a long weekend in the Finger Lakes together a few years ago – and I hope we'll squeeze in another girls trip in 2020!
The Outer Hebrides, Scotland | June
For me, nothing beats getting home to the Outer Hebrides, and in June my chance finally arrived.
My time at home this year was different, because I was only home for one week (not the usual three), and because I knew with certainty I wouldn't be able to get back for another visit until next year – and what that meant was a whole a week of relaxation.
There was fresh fish at 40 North and Taste n' Sea, Stag bread every day (if you know, you know!), and plenty of cakes from Delights. Peat and Diesel were the talk of the town, there were even more craft gins on the shelves than usual, and I had lots of catch ups with family and friends. The sun even came out on our last day, and when that happens, there's nowhere better on earth!
Edinburgh, Scotland | June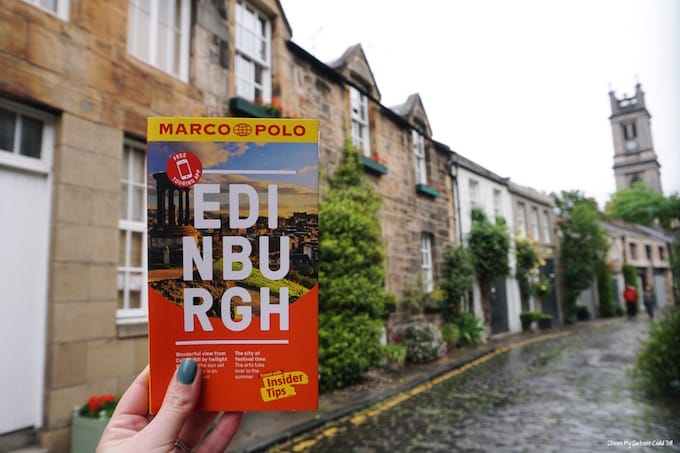 I've already written about my day in Edinburgh on the blog, and despite the absolutely pouring rain, my brother, best friend, and I had a brilliant time. As I said at the time, we managed to enjoy our time in the city despite the relentless rain, squeezing in time at the Grassmarket, the Royal Mile, Princes Street Gardens, and even a quick dash into the National Museum of Scotland.
Spice Girls Tour, Edinburgh, Scotland | June
Let's be honest: this event deserves an entry all of its own! At the end of our day out in Edinburgh, the three of us made our way to Murrayfield Stadium for the Scottish date of the Spice Girls reunion tour. Thinking of it now, six months later, my memories are ones of pure, unadulterated joy: singing at the top of my lungs (and I never sing), dancing non-stop with two of my favourite people in the world, to the songs of the very first band I ever loved, with the skyline of one of my favourite cities just visible over the top of the venue seats. Saying I was happy is quite the understatement!
Minneapolis, Minnesota | June
We flew to Minneapolis for a weekend early in the summer to celebrate the wedding of one of Mr. Stories My Suitcase Could Tell'a childhood friends, and it was a truly lovely weekend. Despite the heat, we managed to explore some of downtown Minneapolis before the celebrations and partying began, and I loved the city just as much as I remembered from my first visit back in 2013.
Asbury Park, New Jersey | August
After staying still for the first five months of the year, Mr. Stories My Suitcase Could Tell and I decided we needed to make the most of the summer weekends with some local adventures, and we found ourselves in Asbury Park, on the New Jersey Shore, one sunny Saturday in August.
We'd been once before, in the cold, early days of spring 2015, but this time the town seemed transformed: a busy boardwalk with families stocking up on ice cream, bustling restaurants and shops, and a beach full of sun seekers. We opted for a very American brunch at the beautifully designed Modina, and then spent the afternoon reading in the sun on the sand. Perfection!
Central Pennsylvania | August
Later on in August, Mr. Stories My Suitcase Could Tell and I went out to Central Pennsylvania to visit family who run a gorgeous Air BnB, and we had a wonderful weekend relaxing in the garden watching the birds, enjoying a night cap by the camp fire, and going for an early morning stroll by the creek. The absolute highlight, though, had to be my first ever American drive-in movie theatre experience – I felt like I was in the movies myself, sitting in the bed of a truck watching a film!
Seattle, Washington | September
I had never understood people's enthusiasm for the Pacific Northwest of the USA until our September visit to Seattle. I loved our week there, and not just because we had so much fun with Mr. Stories My Suitcase Could Tell's family, but because I fell in love with Seattle. It has all the benefits and options of a big city, with lakes, mountains, and forests to escape to right on its doorstep. (Mount Rainier National Park might just be one of the most beautiful places I've been in the USA.)
If I could magically move the Emerald City a couple of time zones closer to the UK, it's a place I could almost see myself living in… but eight hours of a time difference is a bit too much for me, so I'll have to settle for a return visit!
Seville and Madrid, Spain | November
A relaxing week in Spain was exactly what Mr. Stories My Suitcase Could Tell and I needed after he spent six weeks in a leg immobilizer after knee surgery in late September. While the weather wasn't quite as sunny as I'd hoped it would be, our time there this November was blissfully relaxed.
We slept in; strolled through cobbled streets lined with orange trees; visited historic sites like cathedrals, mosques, and palaces; and ate as much jamón Ibérico as we possibly could (washed down with local wine, naturally). Now that I've visited Spain twice, I can say with certainty that it's a country I want to return to again and again.
New York City | All year round!
Throughout the year I managed to get out and about in New York City too, visiting a few new-to-me locations – like Pier 17, Stone Street, Hudson Yards, the Time Out New York Market, and Domino Park in Williamsburg – and going to unique experiences like a folk concert featuring Julie Fowlis at Carnegie Hall (thanks to the generosity of Steve and Nancy!), the National Trust for Scotland Gala, and the annual Tartan Week celebrations.
And then, of course, there are always the trips you dream of early in the year that that don't come to fruition.
But with my first corporate office job came limited time off, so travel had to be planned with military precision. With 18 days annual leave, I managed six different holidays and a few more day trips – and with four days left to roll over into 2020, too!
2019 in Writing
2019 was a busy one for my writing. First, there was all the writing that comes with a day job in marketing and publicity: things like press releases, pitches, marketing materials, and social media captions, calendars, and adverts.
But outside of my day job, I also wrote 31 newspaper articles (on everything from new apprenticeships for young people in the Outer Hebrides, to an interview with Scotland's National Chef); created daily social media updates for another brand; and wrote the copy for a well-known Scottish author's website.
And then, of course, there were blog posts – far fewer than I would have liked, but as many as I could write, edit, format, and organize photos for with everything else on the go. 2019 saw 11 blog posts published on Stories My Suitcase Could Tell, with the most popular being Where to Shop in New York City, 21 Must-Have Travel Experiences in the Outer Hebrides, and my guide to the Outer Hebrides. (Maybe I'll make one of my 2020 New Year's Resolutions to get more blog posts out of the drafts on my phone and to the point of publication!)
2019 in Reading
Since 2019 was the year I started working at Penguin Random House, it was a year of more books than I could have ever dreamed of! (It's no exaggeration to say the books are beginning to take over our apartment…)
After reading 73 books last year, I upped my annual reading goal to 80 for 2019. I managed to read 68 books this year, and although I didn't meet my 2019 goal, I'm still happy with all the brilliant books I read. For me, my annual reading challenge is more of a reminder to pick up a book and enjoy one of my favourite hobbies rather than any kind of "competition," and in that sense, it was a success.
(In case you're looking for recommendations, a few of my favourite books this year were Ordinary People by Diana Evans; Circe by Madeline Miller; Next Year in Havana by Chanel Cleeton; The Salt Path by Raynor Winn; and Expectation by Anna Hope.)
And on that note, here's to 2020!
There are, of course, too many great memories, travel and otherwise, to fit into one blog post. Although they don't make it online, the personal moments – the laughs, the weddings, the catch-ups over coffee – are even more memorable than the big adventures.
Thanks to my friends, family, and all of you who read these suitcase stories, 2019 has been a great one. Happy Hogmanay, all the best for the New Year when it comes – I'll see you back here in a new year, and a new decade!
____________________
What have been your highlights of 2019? Let me know about your own year in review – I'd love to hear about what made 2019 memorable for you!