Everywhere you go in Lisbon, there are trams.
They're chugging up steep hills in historic Alfama; slicing through public squares in Chiado; gliding along parallel to the river heading out to Belem. And everything you read about Lisbon will tell you take a ride on Tram 28.
I wasn't sure Lisbon's Tram 28 was worth our limited time in the city. After all, how much fun could a simple tram ride be? As it turns out, quite a lot of fun!
My husband and I arrived in Lisbon on a late Wednesday afternoon, and after some research, made riding Lisbon's Tram 28 our first activity the following morning.
We sauntered down from our hotel in Alfama to Praca Martim Moniz, and hopped on Tram 28 without any trouble, despite the horror stories of queues and elbow-to-elbow riding experiences.
On a midweek morning, locals outnumbered tourists, which is unsurprising given this is public transport. An elderly gentleman with a walking stick boarded near the beginning of the route, in Graca, refusing any offers of a seat, and a woman with handfuls of shopping bags joined further along the journey, looking grateful for the rest.
From our position on our polished wooden seats behind the driver, it was fascinating to watch as he steered the tram using just one single lever, and a pedal on the floor. The doors snapped open, folding in half on their central hinges, and flung closed again with surprising force. It felt a bit like being on a ride at a theme park, as the tram sped up and slowed down on a what felt like a whim, and squeezed between buildings that didn't seem far enough apart to accommodate its size.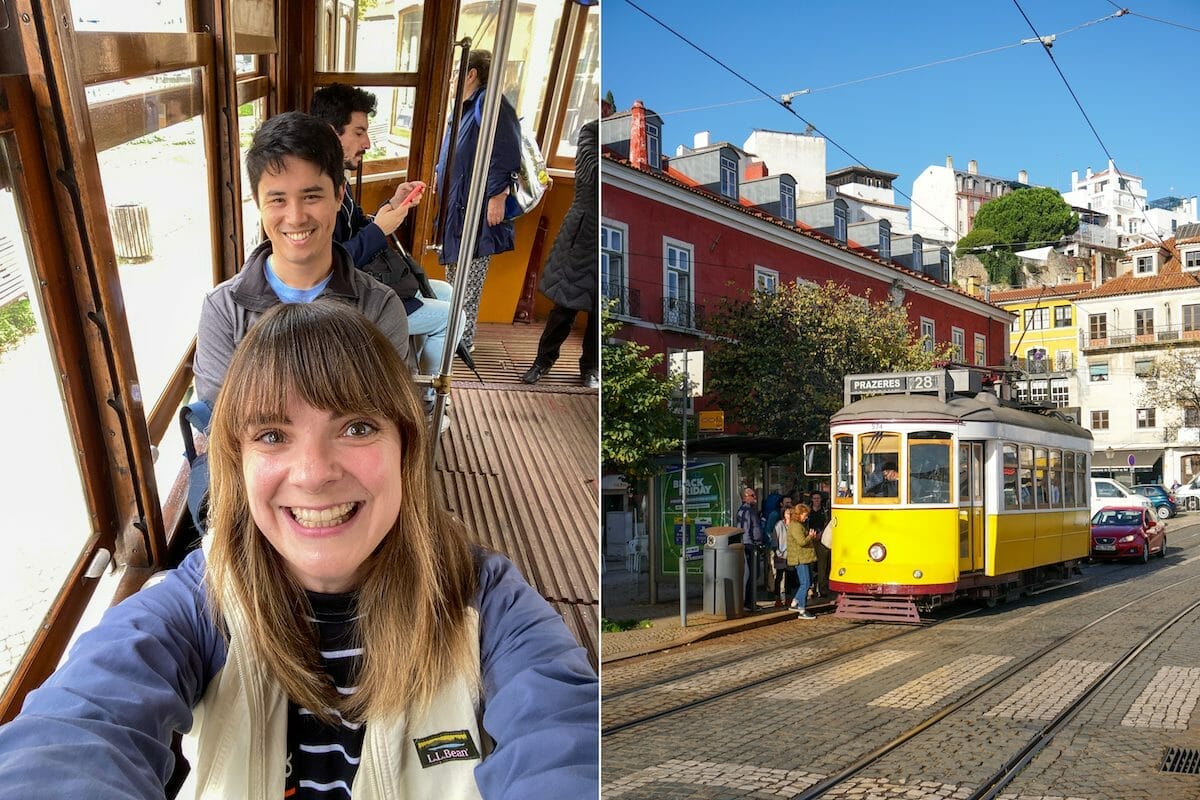 The appeal of Lisbon's Tram 28 is not just its historic appearance, but also its route, which passes through some of the city's most iconic neighbourhoods, like Alfama, Baixa, and Chiado.
We rode the tram to the end of the route at Campo de Ourique – and joined the short queue to board the next one that would take us back the way we had come. This time, we snagged prime solo seats by the window, and I slid mine up (with some difficulty, thanks to the heavy original wooden frames) and delighted in seeing and hearing the city rush past next to me.
From our elevated perch, we caught glimpses of city life from neighbourhood to neighbourhood: a grocery store here, a second-hand bookshop there, locals enjoying a coffee (or watching the football) at a snack quiosque in a park. For me, it felt like the perfect introduction to the city.
We rode the Tram 28 line on our first morning in Lisbon, but everywhere we went over the next few days, we spotted their characteristic yellow exteriors.
On an early morning solo excursion to get coffee, I flattened myself against a wall as a tram came gliding down the street, the spires of the Sao Vicente Monastery peeking above the rooftops behind it. At the Portas do Sol quiosque in Alfama, we lingered over pastries and heard the tell-tale jingle of the trams' old bells as they stopped and started across the street. Later, as we wandered back down the hill from the castle, we witnessed a tram traffic jam outside the cathedral, where a tram, multiple cars, a bus, and people all converged at one intersection.
Although trams were first introduced to Lisbon at the start of the 20th century, the electric trams the city is famous for date from the 1930s. I was fascinated to learn they're still in use because those impossibly narrow streets and steep hills can't accommodate the more modern trams you see elsewhere in the city. Only four routes, including the Tram 28 line, use historic vehicles; the rest are modern, like the one we took from Praca do Comercio, Lisbon's historic square, to Belem, stopping off at the artsy LX Factory in the Alcantara neighbourhood on the way back.
If you're not keen on walking up and down the city's seven hills (my fitness tracker informed me we had climbed the equivalent of 35 floors on just one day in the city), then Lisbon's trams are an essential form of getting around.
But it's not only about necessity.
A ride on Tram 28 is a must-have experience in Lisbon, a great introduction to the city, and a whole lot of fun. Truth be told, I'd do it all again next time.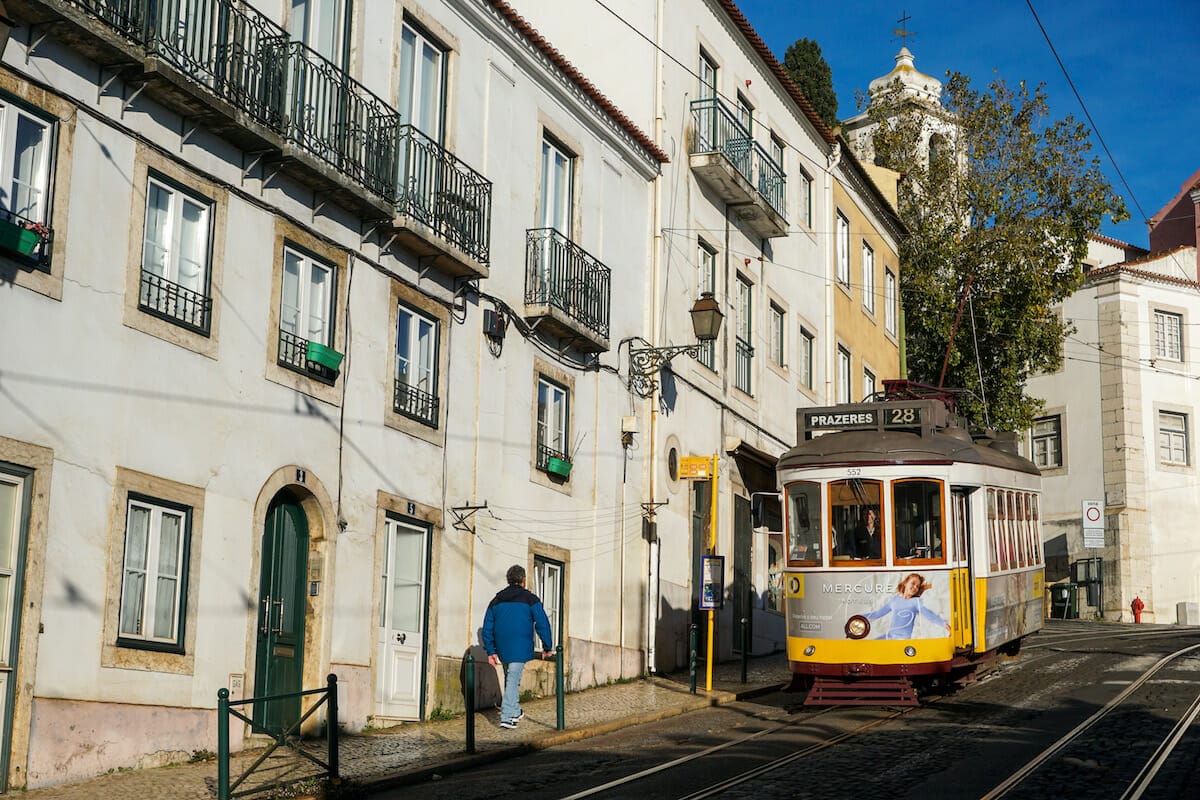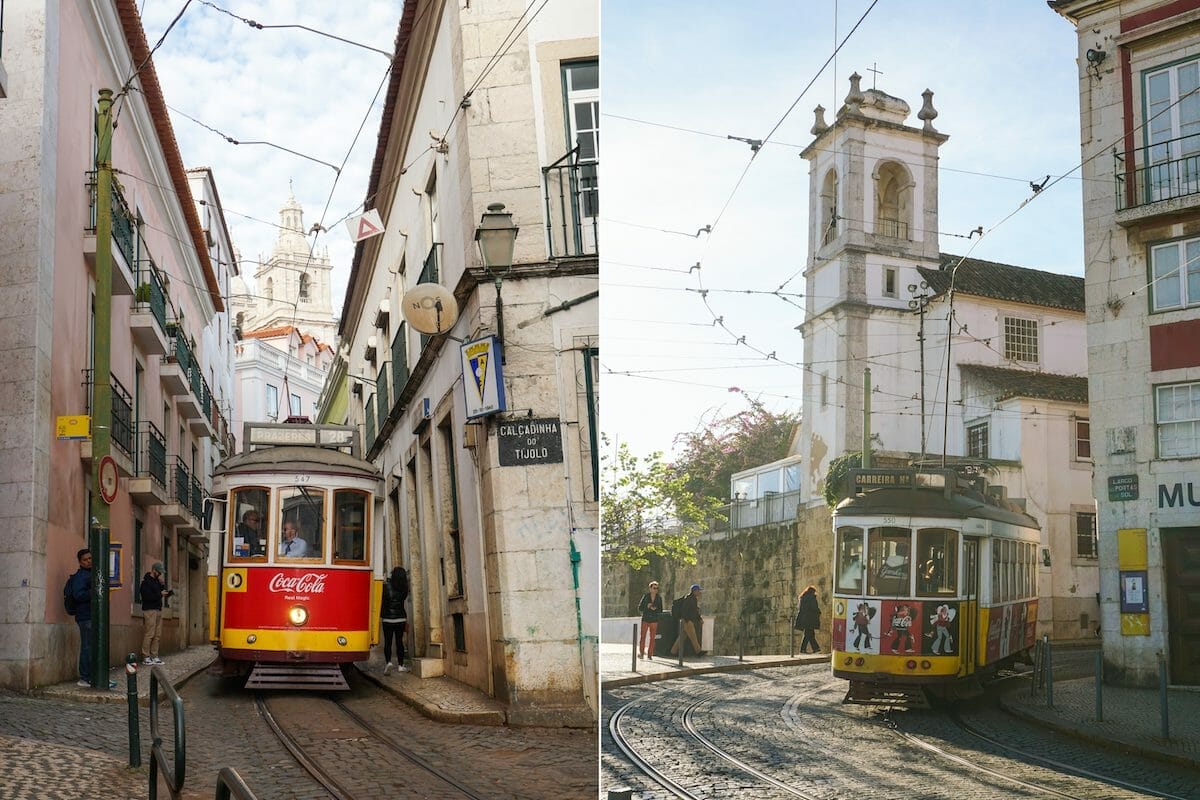 ____________________
NEED TO KNOW
How much does it cost?  €3 at the time of writing, and you can pay in cash on the tram, but your best option is to get a day-pass Viva Viagem ticket (from any metro station), which means you can hop on and off public transport as many times as you like. (Especially handy if you're travelling the whole route of Tram 28 and back again, like we did.)
Where can I find Tram 28?  The Tram 28 route runs between Martim Moniz, near the centre of Lisbon, out to Campo de Ourique. It stops at multiple locations along the way, so if you don't want to start at either end of the line, simply look out for the trams marked "28" or "28E", and get on at any of the marked stops.
When's the best time to ride?  We got to the tram stop at about 9.45am on a Wednesday morning, and there were only a handful of people waiting in front of us, so we all got on the first tram that arrived and had plenty of space to sit. By the weekend, though, every tram that passed us was jam-packed with no standing room, and there were queues everywhere along the route – so it's a good idea to get to your desired stop as early as possible.
Should I worry about pickpockets?  Pickpockets are going to be a risk in any busy, touristy location, and while I have to admit the prominent warnings everywhere online about Tram 28 did give me pause for thought, it wasn't something we had to worry about, as our tram was relatively quiet. Exercise the same caution you would in any busy city, and you'll be fine.
____________________ 
Have you ever travelled on the historic trams in Lisbon, or would you like to? Let me know in the comments – I'd love to hear from you!