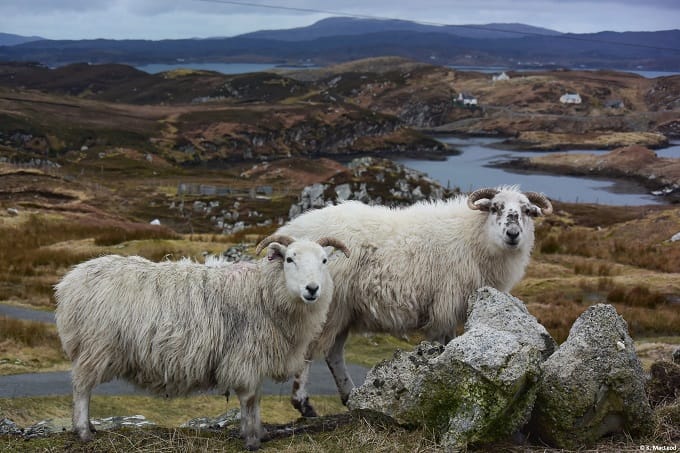 The beaches can hold their own against the sands of the Caribbean, and the rocky scenery could easily double as a backdrop shot from Lord of the Rings.
Welcome to the Outer Hebrides – also sometimes referred to as the Western Isles – a beautiful island chain lying 30 miles off the north-west coast of mainland Scotland.
These islands span roughly 130 miles, home to a population of 26,000 people.  But don't make the mistake of assuming their location at the edge of the Atlantic means they are at the edge of society.
On these shores you'll find spectacular scenery; a vibrant and unique culture that blends Gaelic tradition and current trends; endless outdoor activities; and some of the freshest farm-to-table food around.
So come and discover them for yourself. To help, I've collected stories on the islands I call 'home' into categories that will help you dream of, and plan, your island adventure.
What to do (a few highlights)
Where to eat and drink
Where to stay
Travel inspiration
Travel videos
Personal thoughts
How to get there
By Ferry
The Outer Hebrides are served by the Caledonian MacBrayne ferry service, on which you can travel as a foot passenger, or with a car. Depending on which island you are travelling to, timetables and costs will vary. Be aware that adverse weather can delay or cancel the service altogether, especially during the winter months, and that in the busy summer season, you will almost always need to book your ticket in advance.
By Plane
Daily return flights operated by Loganair arrive in Stornoway from Benbecula, Glasgow, Edinburgh, and Inverness multiple times a day; an additional flight service operates five days a week between Southend, near London, and Stornoway. Loganair also operate return flights to Benbecula from Glasgow and Stornoway, and to Barra from Glasgow.
Get social!
I love promoting these islands – an often overlooked and misrepresented tourist destination – to a wider audience, and that includes on social media.
Feel free to share your photos on the community Instagram account (don't forget to use #lovetheouterhebrides), email me to get added to the group Pinterest board, or find more resources on my Outer Hebrides Twitter list!
Want more? See the full selection of travel stories and tips on the islands by clicking through to the Outer Hebrides archives.