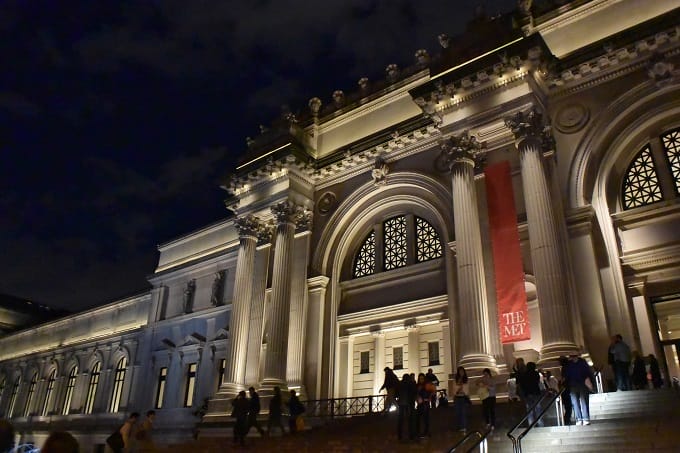 Museums have secrets, you know.
Juicy ones.
I wouldn't have believed it myself, if I hadn't gone on a Museum Hack tour. Quite frankly, I'll never look at a museum in the same way again, knowing what hides behind the dry placards of names and dates and materials.
My husband and I weren't quite sure what to expect when we turned up at the Metropolitan Museum of Art for our VIP Night Tour – but we knew it would be different, not least because the Museum Hack website describes the experience as a "highly interactive, subversive, fun, non-traditional museum tour."
It was hilarious from the get-go. Being guided around the 2 million square foot building by our guides Kate and Anna felt like wandering around with friends – friends who happen to be very knowledgable, and very funny.
We were introduced to the oldest piece of intentional art on show in the building: a stone carving of a woman with, shall we say, a sizeable derrière.
We saw a giant krater (a type of drinking bowl) from Ancient Greece – when the Greeks filled it with wine, you knew the party had started.
Standing next to a statue of a well-built Ancient Greek athlete, we learned that the Olympians used to compete naked (and a few other eyebrow-raising anecdotes besides). Ever wondered why these statues are missing certain x-rated body parts? Now you will – but you'll have to take a Museum Hack tour to find out!
As Kate told me when we sat down to our glass of wine mid-tour (yes, this museum tour involved wine!), the idea behind the Museum Hack template is that if you can get people to laugh first, it's then easier to educate them. You think it would be a natural concept – education through entertainment – but very few institutions combine the two, at least not for anyone over the age of 12.
To make things even more interesting, Museum Hack tour guides don't tend to be art history experts; they're more likely to be trained educators or theatre graduates.
They find the idiosyncrasies of the museum that intrigue them and make them laugh, and then share them with visitors. (Chances are these same quirks will make you laugh too; my cheeks were sore from giggling for three hours straight at theatre-grad Kate's comments.)
Our tour was also interactive, in the best of ways.
Take the European painting section – probably one of the most popular in the museum – where we did things a little differently (are you sensing a theme here?).
We were asked to wander around for a minute, and snap a photo of a painting that called to us. Next, we had to pair up with someone else in the group – preferrably someone we didn't already know – and make up a love story between the subjects of the two paintings. It was, as you can imagine, hilarious. (My elite female bullfighter, who I named Emily, fell tragically in love with poor banjo-playing 'Pablo' that another tour member had chosen.)
One thing I really loved about Museum Hack was that the tour introduced me to rooms and exhibits I would have bypassed by myself, and gave me a new way to look at the displays I'd seen countless times before.
Arms and armory? Not my thing. Or so I thought until I learned the personal history of its first curator, Bashford Dean. He insisted he needed a forge to fix any problems with his collection, so at one point, there really was a working forge under the floor of the Met. It still exists, but for obvious reasons, it's no longer operational – you wouldn't want all those priceless pieces of art going up in accidental flames.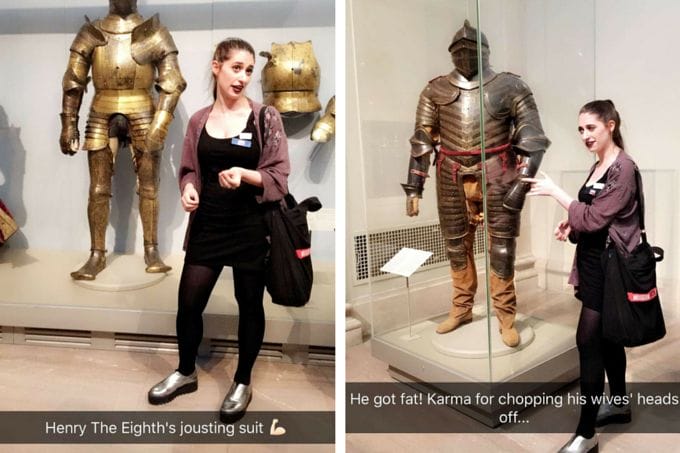 We were there for three full hours, but I didn't even look at my watch once – I was having way too much fun.
The Museum Hack Tour gave us a history lesson with the blood, guts, and sexy bits of the past left in. It was a great way to spend a Friday night – and a brilliant way to get a light-hearted look behind the scenes of one of the world's most famous museums.
____________________
NEED TO KNOW
How much does it cost?  The Metropolitan Museum of Art Tour costs $89, and includes admission to the museum as well as a glass of wine during the tour.
How often does it run?  This specific tour runs on Friday and Saturday, and meets in the entry hall of the Museum, which is located on 82nd Street and 5th Avenue.
____________________
Do you like visiting museums? Would this type of tour make you more likely to visit?
Let me know in the comments – I'd love to hear what museum fans (and non-fans) think of the Museum Hack tour concept!
____________________
And finally: a huge thanks to Museum Hack, who invited me and Mr. Stories My Suitcase Could Tell on their VIP Met Tour. As always, all opinions, words, and inappropriate laughter are entirely my own.