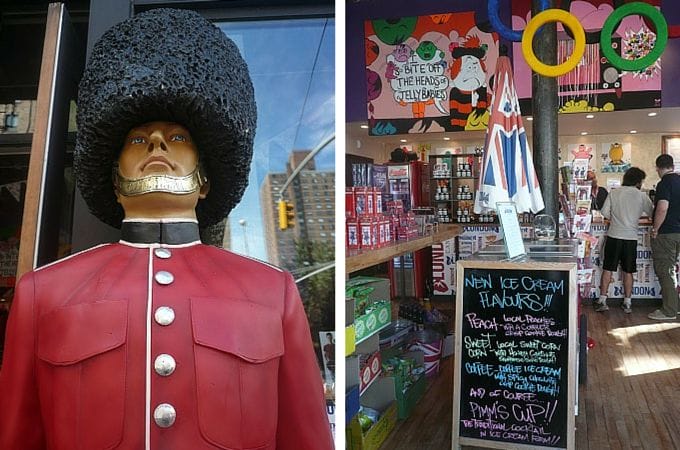 Homesick?  Not me.
It's never been an issue, not even aged eight when I went to camp on my own for the first time. I was too busy making friends and munching on midnight feasts to even call my poor parents and let them know I had arrived safely.
Yet there is always one thing I miss when I leave the country: chocolate.  While I adore American food – burgers, bagels, buffalo wings – I tend to take issue with their chocolate bars.  There is nowhere better than Britain to be a chocoholic, with everything from Cadburys to Digestive biscuits to tempt your tastebuds.  Hersheys just can't cut it for me, so on this side of the pond my intake tends to be more savoury.
Until now.
This week I located The London Candy Company on Manhattan's Upper East Side.  Even at home this place would be 'candy' heaven.  Two Royal Guards stand to attention outside on 94th and Lexington.   The brick walls inside are adorned with comic book images from British classics like The Beano, and Olympic Rings hang from the ceiling.
There's a Union Jack fridge filled with home favourites, and an entire wall dedicated to Cadburys chocolate.  The bunting gives off a British vibe, fitting in with a summer of success that has taken in the Jubilee, the Olympics and now a top tennis player.
I was there the day after Andy Murray won the U.S. Open, and staff at The London Candy Company were proudly telling their patrons that the British Consulate had ordered a gift basket of goodies to present to the player on his arrival.  Clearly, I had come to the right place, and decided to join in the celebrations in a suitably Scottish manner: with a Dairy Milk and a refreshing bottle of Irn Bru.
Home 'sweet' home indeed!
____________________
Update 2015: Unfortunately, the London Candy Company is now closed.