When I sit down to plan my travels, one of the first things I research is the food.
Where are the best places to eat? The coolest cocktail bars? The farmer's markets where locals shop? In the last ten years, I've transformed from a notorious fussy eater into someone who will try (just about) anything once, and food has become a major part of travel for me. Spending a weekend in Ottawa, then, meant I was looking forward to trying some of the Canadian capital's culinary delights.
Where were the best places to eat in Ottawa?
From farmer's markets to fine dining, my brother and I ate a lot, and we ate well. Thanks to new restaurants and initiatives like Savour Ottawa, which encourages the city's restaurants to use local products, Ottawa's reputation as a culinary destination is starting to take hold, and we were able to jump right into the middle of it.
So if you're looking for ideas on where to eat in Ottawa, here (in no particular order) are eight foodie spots in the city that we both loved (and where we may have struggled to share at…!).
1. Fairouz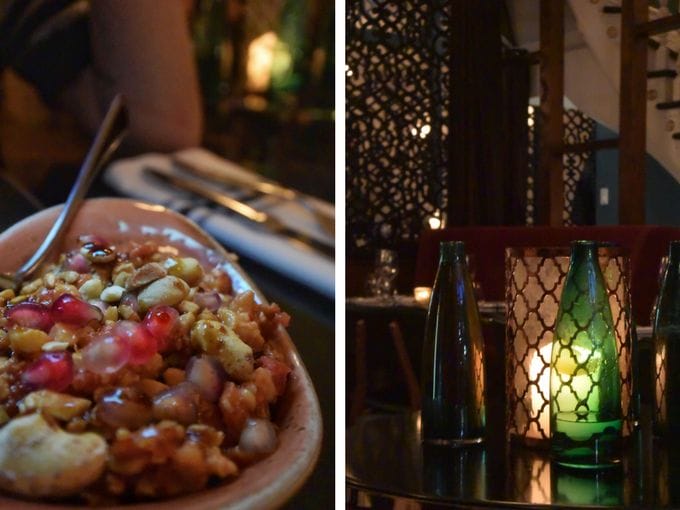 A luxurious old mansion in the capital's Somerset Village houses one of Canada's best restaurants, Fariouz, which, in the words of its menu, offers diners a "journey through the modern Middle East." What my brother and I found there during our weekend to Ottawa was sumptuous décor – all turquoise walls, atmospheric candlelight, and elaborately carved screens – and even more sumptuous dishes.
Using local ingredients, Executive Chef Walid El-Tawel recreates the flavours of his childhood in a dinner menu divided into "Dips," "Grazing," and "Sharing." Well, my brother and I did share – but honestly, we enjoyed it so much we each wanted the plates all to ourselves!
From a Muhammara dip made with cashews and pomegranates that tasted unlike anything I've ever encountered, to a juicy Ghormeh Sabzi lamb sirloin with stewed vegetables, everything we tried at Fairouz was – without exaggeration – delicious. To give you an idea of how much I enjoyed it, let's just say it's definitely a contender for one of my "best meals ever!"
Where?  343 Somerset Street West, Somerset Village.
2. The Albion Rooms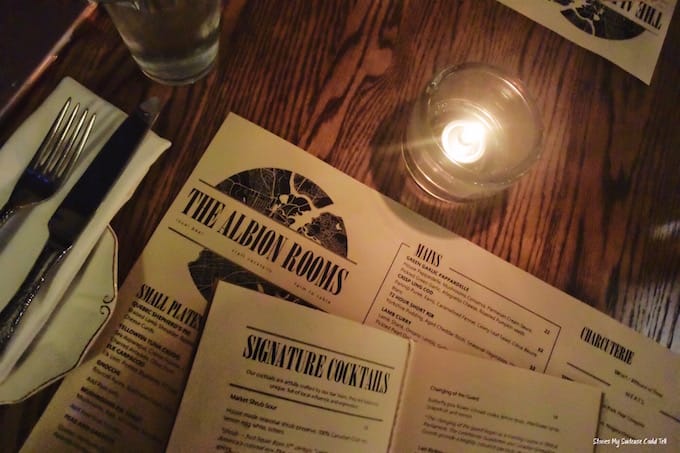 This isn't your typical hotel restaurant; in fact, if I hadn't known in advance, I would have never guessed that The Albion Rooms is part of the Novotel Ottawa. We entered under a canopy of sparkling outdoor lights, past a chilled-out bar where cocktails were being whipped up, and up a set of stairs to the modern-yet-classic dining room.
The atmosphere on a Saturday night was bubbly, with friends and family out for dinner, couples on dates, and even a birthday party clustered around a long table in front of the open kitchen. As a member of the Savour Ottawa initiative, The Albion Rooms highlights regional growers, producers, and artisans on its contemporary menu – a menu my brother and I sampled plenty of!
We started with a Charcuterie board, featuring smoked boar terrine from Ontario, pastrami duck breast, and prosciutto from Niagara, before moving onto a sharing plate of mushrooms and foie gras on toast. (I've already written about how I accidentally ate most of the smoked boar before my poor brother even got a look in…) My main dish consisted of a 72 hour short rib, and – wait for it – a homemade Yorkshire pudding (aka a meal made in a heaven for a British expat).
Where? The Albion Rooms restaurant is located at 33 Nicholas Street, inside the Novotel Ottawa.
3. Sidedoor
I'll be (embarrassingly) honest: having lived in China for a year, I can be a bit of a food snob when it comes to Asian-inspired restaurants. As a result, I wasn't sure what to expect from Sidedoor, a relaxed, modern restaurant tucked down a side street in the Byward Market neighbourhood, which takes its inspiration from South East Asian street food.
Well, whatever expectations I had were blown out of the water. My brother and I were there on a Sunday evening, which meant choosing dishes from the pared-down (but oh-so-delicious) "Sunday Sessions" menu.
Our picks? The shrimp Vietnamese pancake that was perfect parts spicy and sweet; the Chinese greens with golden garlic that almost took me back to the restaurants of Tianjin; crispy fish tacos that we almost ordered a second portion of; and sweet and sour pork spare ribs with pickled chilli and sesame.
Paired with crisp local white wine and a relaxed, bright setting (part of the roof here is completely glass, giving the restaurant an airy feel), we left Sidedoor more than satisfied (and with a to-go box of the mini doughnuts that Sidedoor is famous for).
Where?  18B York Street, Byward Market.
4. Byward Market
Byward Market, one of Canada's oldest farmer's markets, gives its name to the surrounding neighbourhood as well as the market square where the market is held 363 days a year, come rain or shine.
Whether you eat here or not, it's definitely worth strolling through the stalls, shops, and market building to see the wide variety of food on offer here. After all, the market has been here since the early days of the city's history – the street plan was even laid out by the same Lieutenant who constructed the nearby Rideau canal.
My brother and I made sure to try the famous 'Beaver Tails' (hand-stretch, deep fried wheat dough with, in our case, lashings of Nutella on top), and enjoyed giant sandwiches from Italian speciality store, La Bottega Nicastro.
Where?  Byward Market Square, Lower Town.
5. Le Moulin de Provence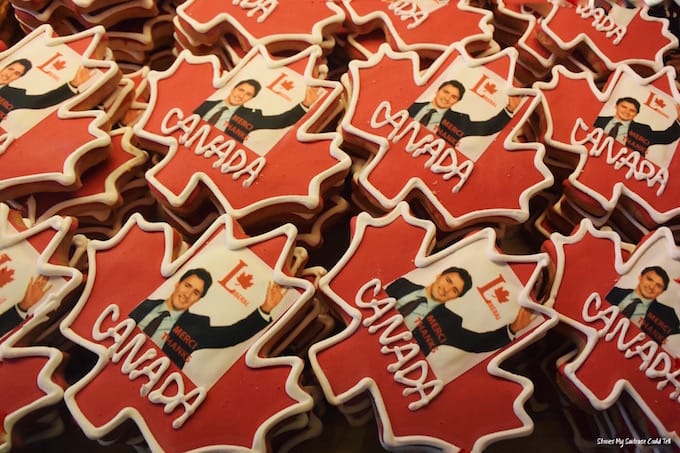 This inconspicuous bakery in a corner of the Byward Market building is something of a mecca for tourists, and it's all because of their maple-lead shaped, Canada-emblazoned cookies – or "Obama cookies," as they're now known.
Le Moulin de Provence has a huge selection of pastries, cakes, and lunch snacks, but it's the bright red cookies that Obama was photographed with during his visit to the Canadian capital in 2009 that have made it famous.
Naturally, my brother and I absolutely had to try them, although we opted for the even more touristy "Trudeau cookies," which feature photos of the Canadian Prime Minister instead. Is it touristy? Yes, of course – but it's good fun, so don't miss out.
Where?  The original Le Moulin de Provence can be found at 55 Byward Market Square, and a second location is now open at 30 Metcalfe Street.
6. Art Is In Bakery
You can smell Art Is In Bakery before you see it: the warm scent of freshly baked bread guides you into their bustling café, situated in a former industrial space just a few units down from the bakery itself.
Art Is In Bakery is run by classically trained pastry chef Kevin Mathieson and his wife Stephanie, and has been in operation in some form or another for 10 years. We arrived just after the lunchtime rush, but we were still able to catch a glimpse of the tantalising fresh pastries on the counter before we went to see their famous bread being made behind-the-scenes.
They're renowned for their bread here, and it was easy to see (and taste) why. And if you can't make it out to Centre City Avenue to visit the café for the freshly made food, you'll probably spot the Art Is In Bakery baguettes and loaves at farmers markets and restaurants throughout the city.
Where?  250 Centre City Avenue, Unit 114, Hintonburg.
7. Beyond The Pale Brewing Company
Due to the rather extravagant amounts of food we were eating on a daily basis, my brother and I didn't end up trying many bars in the city – but we did experience Ottawa's growing craft beer scene, at Beyond The Pale Brewing Company.
The brewery began with two friends experimenting with making beer in their basement back in 2012; the company now has its own brewery and tasting room in the Hintonburg neighbourhood, which we visited on a C'est Bon Cooking Tour.
The beers have quirky names that make them stand out, both at the bar and in your memory long after you've left. My favourite was the popular Pink Fuzz, where hops and the tartness of grapefruit complement each other nicely; Aromatherapy, what we were told is the Beyond The Pale version of "an East Coast IPA," was another popular one.
The tasting room is spacious, and I could definitely imagine stopping by for a drink or two with friends after brunch next door at Art Is In Bakery.
Where? 250 City Centre Avenue, Unit 106, Hintonburg.
8. Stella Luna Gelato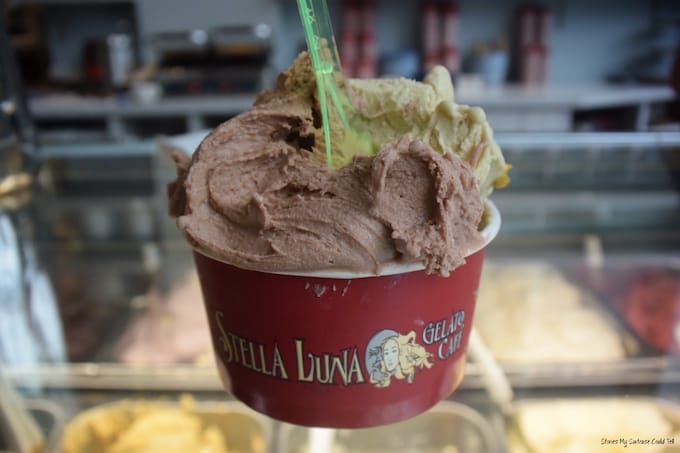 The story behind Stella Luna Gelato is so sweet, I wasn't sure if the gelato itself could live up to it – but oh, it does. Having thoroughly tested every gelato I came across in Rome in 2016 (I racked up four to five cups of the stuff in a day), I can confirm that the gelato at Stella Luna is the real deal.
Tammy, the owner of Stella Luna, met her future husband the day she arrived in Rome, when he pulled up next to her on a moped and asked her to go to the movies with him; they've been together ever since, and Tammy fell in love with Italian gelato along the way, too.
My brother and I visited the newer Hintonburg location – designed in a brighter, atrium style that aims to put customers in mind of a European café – and learned how Tammy returned to Italy to study under gelato masters in Bologna, before creating Stella Luna (now named Canada's best gelato, and in the top three in North America).
For something sweet during a stay in Ottawa (and if you're anything like we were, you'll need it with all the extra meals you'll be eating), you can't go wrong with Stella Luna. My personal tip? Go for the pistachio and chocolate hazelnut!
Where?  1130 Wellington Street in the Hintonburg neighbourhood, or 1103 Bank Street in Old Ottawa South.
____________________
Have you ever been to any of these Ottawa restaurants? Where would you add to a list of the best places to eat in Ottawa?
Let me know in the comments below – I'd love to hear from you (and to add any tips to my list for my next trip to the city!).
____________________
Our trip to Ottawa was organised by Ottawa Tourism as a competition prize, so I want to say a huge thanks to the team in Canada for putting together an amazing itinerary for us!