Mao Zedong claimed that a man is not a real man until he has conquered the Great Wall of China.
(Disney must have heard the news, as "I'll Make A Man Out of You" was one of the main sing-a-long songs in their 1998 movie Mulan.)
One of the modern wonders of the world, the Great Wall has been around for 2000 years and has morphed from its original incarnation as a line of defence and sometime-traffic highway to become China's number one tourist attraction.
I could say I 'climbed' the Wall when I first arrived in China in August 2010, before I began my year of teaching English, but that would be misleading.  Slightly worse for wear after an introduction to the Beijing bars, my new friends and I fought through pouring rain and pushy tourists to walk along the smoothly restored Bādálĭng section of the old fortification.
It was exciting for the simple reason that it was 'The Great Wall.'
Deep down, I was a little disappointed – and not just because most of my photos were of umbrellas.  It felt far from authentic, refurbished to the point where it could have been a Mulan-style Disney replica.
Six months later, the arrival of two university friends meant it was time for The Wall, Take II.  And this time I really did have to climb.  After driving up into the foothills north of Beijing – passing a man leading a camel along the way, as you do – we arrived at Mùtiányù.
It was a thrilling sight: the Ming Dynasty Wall, complete with watchtowers, snaked along the mountain top.  Even in the distance tumbled-down remains of watchtowers could be seen.  An unstable-looking cable car carried us up to our starting point, where we began our exploration of this ancient architectural marvel.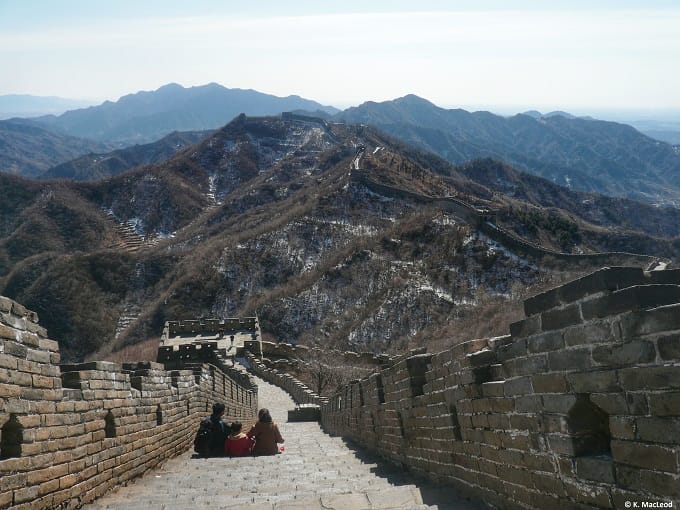 At first we ambled along under the smog-free, sunny sky (a novelty in northern China) passing only a few fellow tourists and a bride having her pre-wedding photo shoot.
Then 'climb' became the operative word, with steep inclines and hawkers offering temptingly over-priced chocolate bars at the top of each new height.
We took the requisite jumping photos, peace-sign poses and profile pictures before beginning our final ascent to the last 'official' watchtower; the wall continues, but you venture past the final gate at your own risk (which we did).  I think the three of us thought we were on the verge of collapse, but when we climbed (some might say crawled) onto that last platform, the view made it all worthwhile.
It was hard to believe we were really there, standing on a site known the world over, built by hand from stone, wood, and earth, thousands of years ago.  Thanks to those rare blue skies, we could see the wall stretching to the horizon, rising and falling across the mountains.
Climbing the Wall was an incredible experience, and no less spectacular the second (and third) time around.
Many tourist sights in China failed to live up to the hype (I'm looking at you, Tongli), but this wasn't one of them. There's a reason it's a 'bucket list' location for so many people: the Great Wall of China really is 'great', in every sense of the word.
 ____________________
Have you ever climbed the Great Wall of China, or would you like to?
Let me know in the comments below – I'd love to hear from you!