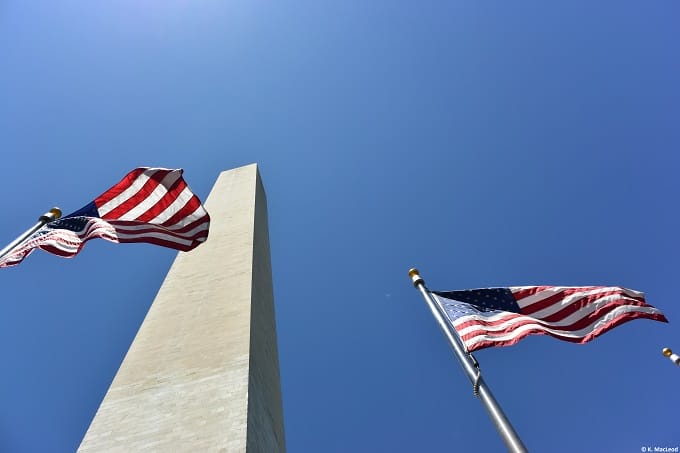 Let me tell you a little secret: I'm a politics junkie.  If there's one thing I'm as passionate about as travel and writing, it's politics and current affairs, whether local, national, or global.  So when the opportunity to spend a long weekend in Washington DC with an equally politically-obsessed friend came up, I jumped at the chance.
Memorial Day Weekend fell at the end of May, and the weather in America's capital was perfect: sunshine, blue skies, and just a hint of a breeze to keep the humidity at bay.  As the epicentre of American policy making, I expected politics to be everywhere in DC, and I wasn't disappointed.
Hopping on and off the Capital Bikeshare bikes, we passed government departments here, embassies there, and sites of political history everywhere.  From the top of the Washington Monument we were greeted with panoramic views of the city, and a bird's eye view of the Mall.
We battled the crowds congregating at the Lincoln Memorial, and took our time strolling around the Tidal Basin, location of the Martin Luther King and FDR memorials.  Of course, no visit to DC would have been complete without a visit to the White House, where we headed at sunset. (Unfortunately, Obama didn't come out to greet us.)
Political sensibilities satisfied, it was time to see what else DC had to offer – which as it turns out, is a lot. I had expected the politics and the history.  What I didn't expect was to discover a city with so much open space and greenery, one easy to traverse by foot and by bike, and one full of bright pops of colour, from the boldly painted row houses to the late spring blooms.
We breakfasted on bagels while sitting in the sun in Dupont Circle, and indulged in gelato in the quaint, historic streets of Georgetown.  We spent an evening in the up and coming Navy Yards neighbourhood, where we dined at Bluejacket, a brewery and restaurant housed in a renovated industrial building.
It was the perfect place to catch up over delicious food and  even tastier craft beer 'flights' – a customisable collection of mini samples of beers and ales.  By sheer coincidence, my favourite tipple was one named 'The Suitcase' – talk about appropriate!  More food was consumed during brunch the next day (everyone loves a bottomless mimosa), and we even squeezed in a quick visit to the quirky Adams Morgan neighbourhood before it was time to leave.
In just two days, I was hooked.  Washington DC looked nothing like the dark, almost sinister city represented on House of Cards (one of my favourite TV shows), or indeed anything like the city I visited for one freezing winter day five years ago.  Washington DC was nothing short of delightful, a city that – if I'm being really honest – I could even imagine myself living in.  Now, if that's not a resounding endorsement and recommendation to visit, I don't know what is!
____________________
Have you ever been to Washington DC, or have you discovered an unexpected side to a destination, at home or abroad?
Let me know in the comments below – I'd love to hear from you!