It's one of those classic, only-in-New York scenes.
Little green row boats glide along the Lake in Central Park, being propelled by smiling couples, laughing friends, and parents watching over excitable children.
The Lake is the second largest body of water in Central Park, situated roughly in the middle of the famous 843 acres of green space. It stretches from the Loeb Boathouse on the east bank, past Bethesda Terrace, under the classically romantic Bow Bridge, and over to the edge of the Upper West Side.
The sight of people happily rowing their way around The Lake is a common one in the warmer months in New York (and a frequent extra in famous film scenes).
Strolling leisurely around The Lake and engaging in a spot of people-watching is a popular activity, but despite this being my most-visited part of the park, I had never taken to the water – until this autumn.
Admittedly, my historic aversion to athletic activity was probably the reason for my having never jumped into a row boat, but this time I had a willing sidekick, in the form of my husband. He gamely took on rowing duties, as I sat back and enjoyed the view of Central Park's autumn colours from a new vantage point (with a little bit of help with directing thrown in).
I had always wanted to go on a Central Park row boat, and the reality did not disappoint.
After climbing ungracefully into the boat, we floated serenely under Bow Bridge – avoiding any collisions – and out into the larger part of the lake, where we encountered a goose, some ducks, and even a turtle (we may be in a city, but it's a city unlike any other!). The view of midtown Manhattan from the boat was beautiful, the collection of old and new towers overlooking the changing leaves and glistening water.
For $15 you get the boat for an hour, and that was just the right amount of time for us to reach the west side of the Lake and get back to the boathouse. We both thought that it was a great price for such an iconic Central Park experience, and it's a unique idea for a date, a family day out, or just some fun with friends.
And next time we go boating in Central Park, we'll indulge in brunch at the boathouse too…!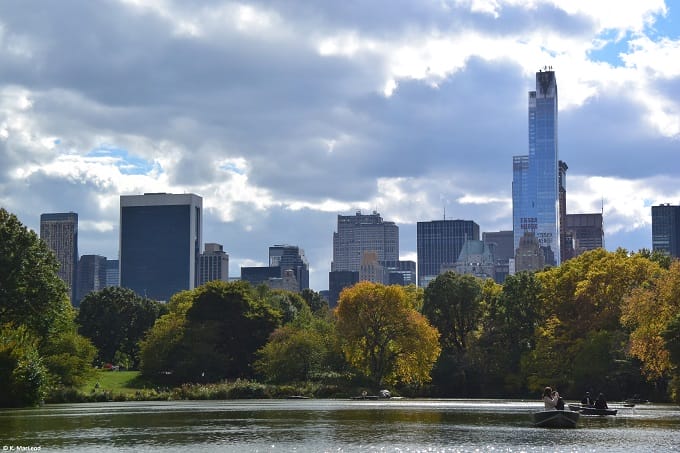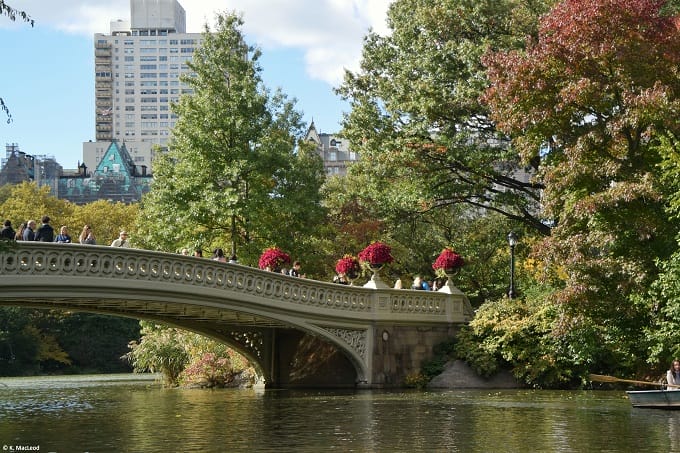 NEED TO KNOW
Where can I go boating? The boat rental counter is next to the Loeb Boathouse in Central Park; you'll find it between 71st and 78th Streets.
When is it open? 10am-6pm, April-November, weather depending.
How much does an hour on the lake cost? $15 cash (plus a refundable $20 boat deposit).
____________________
Have you ever gone boating before, or would you like to go boating in Central Park? Let me know in the comments – I'd love to hear from you!