"What are the chances you'd ever meet someone like that, he wondered.  Someone you could love forever, someone who would forever love you back?  And what did you do when that person was born half a world away?"
These are the thoughts of Park, one of two central characters in Rainbow Rowell's beautiful book about teenage love, Eleanor and Park.  For many people, old and young, the question about what to do with this chance – this choice – across borders and countries and continents is a real one.
In an increasingly interconnected world where it is easier than ever to travel, work, or study abroad, it's only to be expected that there will be people who meet, click and maybe fall in love, temporarily or long term.  But when it's time to move on, there's that question Park asks: what do you do?
Some travellers choose goodbye, seeing the situation as short-term and sealing the relationship off as a happy memory from a remarkable place.  Others find themselves in the situation of Park's parents, who he's thinking of when he questions the chances of love.  They can't bear to say goodbye, so they don't, and instead begin the emotional journey that is a long-distance relationship.
I should know.  I'm one of them.  Our long-distance relationship started at a street food stall in China: two expats (one British, one American) meeting coincidentally in a country of more than 1 billion people.  The relationship took us from Tianjin to Tokyo, via Shanghai, Las Vegas, Edinburgh, and Stornoway.  It's what took me to America time and time again, saw me shed tears at airports more times than I can count, and finally, it's what brought me, at the end of last year, to a new life here in New York.
So what happened after I arrived?
Reader, I married him.
It wasn't that simple of course.  Moving to America is a complicated process, filled with reams of paperwork, countless security checks, and tedious medical exams.  Most couples have maybe a year to plan their nuptials; we did it in four weeks, in one of the biggest, busiest cities on the planet, an experience that taught me more about New York, America, and life in general than it did about wedding planning.
My belief in the fact that we live in a very small world indeed was reaffirmed in the little town of Kearny, New Jersey, where my father and brother went to hire kilts for the big day.  One of the owners, an elderly woman from Glasgow, had lived in Lewis for six months in the Fifties; the shop they run offers potato scones, lorne sausage, and Irn Bru, as well as kilt hire. (I left with an empire biscuit, but I'll return for those potato scones).
Back in New York, I learned the hard way that Sex and the City had lied to me, when I spent two long, cold days trudging the length and breadth of Manhattan in search of wedding shoes, and again when we spent ten days searching for four matching ties (which we eventually located in different department stores strewn across the state).  It was a surprise to find that, in one of the world's shopping meccas, locating what you're looking for is not as easy as Carrie Bradshaw makes it seem.
Our patience was tested when what was expected to be the snowstorm to end all snow storms hit two days before the wedding, redirecting flights and delaying the arrival of family and friends.  The predicted three feet turned out to be little more than three inches, but the city had already shut down.  I couldn't help wondering how those in a frenzy would have coped with a winter night in Ness (answer: probably not very well).
In the end, the snow didn't make a difference (other than forcing me to arrive at the venue in cowboy boots, in order to protect those hard-won shoes!).  It was a perfect evening that passed in a flash, filled with our nearest and dearest, and touches of home: a Harris Tweed bouquet made in Ness; boxes of Luskentyre tablet flown in to be used as favours; a New York piper who learned to play Caledonia in a mere 24 hours, so a favourite Scottish tune would accompany me down the aisle.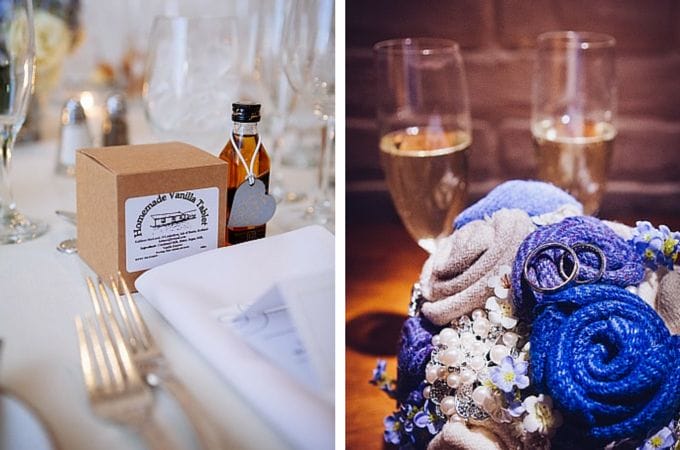 Now that our whirlwind of a wedding is over, it's time to truly start this new life in America, time to adjust to cultural differences, language barriers (they do exist!), and driving on the 'wrong' side of the road.  As I've learned before – in St Andrews, Philadelphia, Tianjin – starting somewhere new is always a mixture of ups and downs until you find your feet, a bit of a rollercoaster ride until what at first seems strange becomes second nature.
With my partner-in-crime, I'm ready for the next lot of suitcase stories, here in the States and wherever else the wind blows.  And I hope you, the readers of these suitcase stories, will join me too, for the next chapter, of travel, love, and life!
____________________
Header image by Death to the Stock Photo  |  Wedding photography by Le Image, Inc