"This is a city of shifting light, of changing skies, of sudden vistas. A city so beautiful it breaks the heart again and again."
I've always loved this quote about Edinburgh, written by author Alexander McCall Smith. It seems to capture the Scottish capital's character, it's multiple personalities, architecture styles, and layers of history, all in one fell swoop.
But I wasn't prepared for the author's words to be quite so accurate on my recent day trip to Edinburgh. "Changing skies" ended up being something of an understatement: they went from blue to threatening in minutes, and sent our itinerary out the window.
I was in the city with my brother and best friend from secondary school, a whole day spread out in front of us waiting to be filled with fun. As a natural planner (I'm known for my to-do lists), I'd read my new Marco Polo Edinburgh guidebook and had our day all mapped out.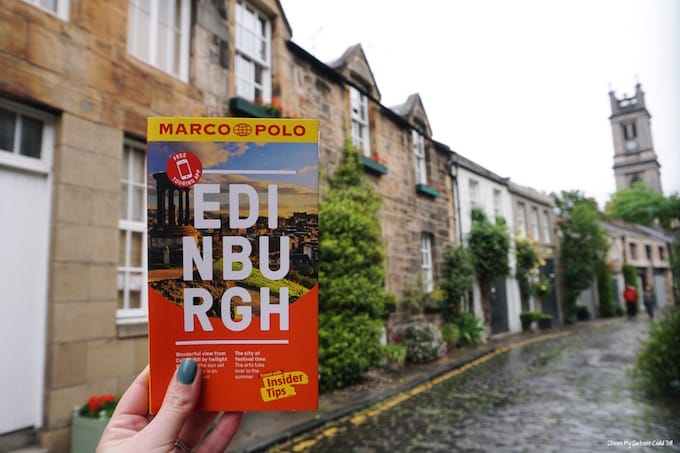 We'd start at the Grassmarket, bustling with independent shops and boutiques, where we'd stop for a coffee and cake at Lovecrumbs before heading up the beautiful Victoria Street on our way to the National Museum of Scotland and the Royal Mile.
We'd walk over the Bridges to Princes Street, the main shopping thoroughfare, and climb Calton Hill for the best elevated view of the city, before making our way to the Leith Waterfront for lunch at one of the trendy restaurants and seeing where the afternoon took us from there. Stockbridge, Morningside, Dean Village – the city was ours for the taking.
In the end, though, we'd barely crossed one item off my carefully planned itinerary when the heavens opened.
Alexander McCall Smith's description of Edinburgh's "changing skies" ended up being a little bit too accurate for my liking. And that's the thing about travel: you can plan all you want, but you need to be ready for the unexpected, to change plans at a moment's notice, and (try) not to let it get to you. That's especially true in Scotland, a country where you can experience four seasons in a day.
While I can't pretend I wasn't disappointed at missing out on my favourite view of Edinburgh from Calton Hill, we did enjoy our time in the city despite the relentless rain – and I was thankful for the guidebook stashed in my bag, not to mention the overpriced tartan umbrella I bought from a touristy corner shop.


Luckily, this is a city that doesn't require you to cross off the "must-see sights" to experience its atmosphere.
Edinburgh is one of those cities where simply wandering from one street to the next yields another surprise, yet another view of McCall Smith's "sudden vistas." We saw gothic spires and steep medieval staircases on one side of the city and neatly ordered Georgian townhouses on the other. Everywhere we went we seemed to see the famous 12th century Edinburgh Castle, perched on top of an extinct volcano. There were winding streets, cobbled lanes, and stories hiding around every corner.
It was in the Grassmarket, once home to both the city's cattle market and the public gallows, that we stopped for snacks. We made a quick dash into the National Museum of Scotland to avoid the rain and see the city from its rooftop garden, and then ventured into a very damp Princes Street Gardens, with its spectacular view of the Castle.
There was a walk through the soaked crowds on the Royal Mile (which is the exact length of an old Scottish mile, and connects two Royal residences); a stroll through the upmarket Stockbridge neighbourhood during a break in the rain; and a hearty pub lunch at The Conan Doyle on Picardy Place, where the pub's namesake, the author Sir Arthur Conan Doyle, was born in the 1800s.
Rain or shine, it seems, Alexander McCall Smith's description of Edinburgh hits home.
This beautiful city of shifting light, sudden vistas, and changing skies stirs something in everyone who visits. The next time I go on a day trip to Edinburgh, though, I hope the skies don't change quite so dramatically…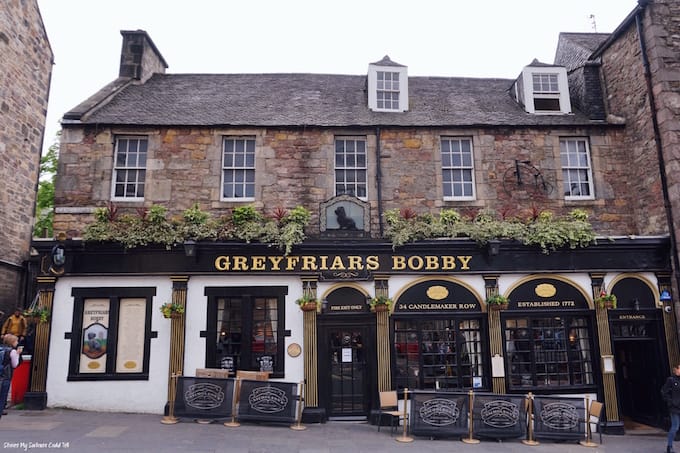 ____________________
NEED TO KNOW
How do I get there?  Plane, train, or automobile: as Scotland's capital, Edinburgh is easy to get to from across the UK and Europe, and there are direct flights from the USA, too. Edinburgh's one-way streets and parking costs are notorious among drivers, though, so if you do drive into the city like we did, make sure and reserve a space in advance somewhere central like Castle Terrace Car Park.
What's the best way to get around?  Edinburgh is a relatively compact city, so I recommend walking as much as possible (although be warned there can be plenty of steps and steep streets with all those hills – we clocked in 23,000 steps in just one day!). Alternatively, buy a day ticket for the excellent bus service to explore outside the city centre, or try out the new trams.
Where should I stay?  With family and friends in and around Edinburgh, I've rarely had the need to book accommodation in the city, although I have stayed in this lovely Grassmarket Airbnb (before Airbnb existed). The Marco Polo Edinburgh guidebook has a good section on accommodation at a whole range of prices (and let's be honest, if I had an unlimited budget, I'd be booking myself into The Balmoral!).
____________________
Have you ever gone on a day trip to Edinburgh? Or have you ever had your travel plans ruined by the weather? Let me know in the comments below – I'd love to hear from you!
This post is sponsored by Marco Polo, but as always, all opinions, words, and frustration at the Scottish weather are entirely my own!