It's the stuff that movies are made of.  The American road trip is something of a legend, an almost-myth set down on screen and paper, like Thelma and Louise and On the Road.  More recently the lure of the highway has been documented for us Brits by home-grown favourites such as Stephen Fry and Billy Connolly.
This summer the only camera following me was my own, as I took to the road (but not the wheel!) over the Labour Day long weekend.  Our trip took us from Tucson in Arizona's Sonoran Desert to the bright lights of Las Vegas and back again.  As holidays go, it was a highlight, not only of my summer but my travels in their totality.
A night in Flagstaff was followed by breakfast in an all-American diner – complete with red booths and impossible portions – on the famed Route 66.  Next was a detour south to spy Sedona's red rock formations against a sunny blue sky, before we arrived at my most anticipated stop: the Grand Canyon.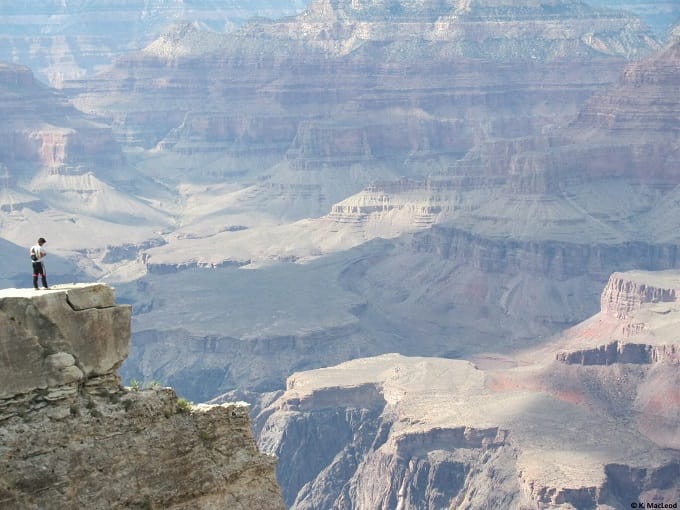 As clichéd as it sounds, the view from the edge really does take your breath away; I don't think I have ever seen anything quite so awe-inspiring.  A few hundred photos and a spectacular sunset later, we set off on the seven hour journey with our faithful TomTom to Boulder City, the Hoover Dam and Las Vegas.
Here there was a roller-coaster on top of the Stratosphere tower. A shark tank in our pool.  Casinos galore.  Hotels masquerading as pyramids, treasure islands and kids' castles.  It may be known as Sin City, but my overriding impression was of a Disneyland for adults – and one well worth a visit.
Road trip verdict? A soaring success.  The next time I want to hike the Canyon – and up my winnings, of course!
Stories My Suitcase Could Tell Recommends:
Drink: Mix Lounge, atop the Mandalay Bay Hotel.  Reasonably priced drinks with a priceless view.
Stay: The Golden Nugget.  The pool (with a swim-up bar and slide through a shark tank) says it all.  Try blackjack in your bathing suit or "swim" with the sharks.