Whatever the weather, wherever the destination, you'll find me wearing a pair of jeans.
Sailing to St Kilda, climbing the Great Wall of China, cycling around Amsterdam: jeans have been my clothing of choice for them all.
Naturally, then, I love the idea of jeans that can withstand the elements, which is exactly what the denim legends at Wrangler have come up with for their new winter collection. I was intrigued when the team got in touch, and when I discovered that the 'Born Ready' denim range was also part of a campaign to inspire people to find everyday adventures close to home, I was hooked.
There's an entire Born Ready Adventures website dedicated to local travel, filled with interactive maps curated by British adventurer Alastair Humphreys. Although he's cycled around the world, walked across India, and rowed the Atlantic, it was for his encouragement of local travel – 'microadventures' – that earned him the title of National Geographic Adventurer of the Year. (His book on Microadventures has been on my to-read list for a while.)
On the Wrangler site, local travellers in the UK can pick and choose from set adventures outside London, Manchester and Edinburgh, or create their own using Alastair's video tips as inspiration. If I was in Scotland, I would have definitely enjoyed the bike ride from Edinburgh to Musselburgh, and I've already tackled the climb to the top of Arthur's Seat, where you're rewarded with a beautiful view of the Scottish capital below.
Being here in the USA meant I had to create my own everyday Born Ready Adventures, so I decided to pack my new jeans for our week-long stay in Tucson, Arizona.
Once my husband and I arrived, I pulled on my Wrangler 'Courtney' jeans, slipped into my trainers, and set out to explore the Arizona desert on foot. Whether you're in the heart of the city or not, the sky in Tucson always feels vast, changing dramatically above the slopes of the mountains that surround the city and the miles of cacti found at its edges.
The area is a popular one for hiking and climbing, so it seemed a good location to road test my new Wranglers. As it turns out, these skinny jeans are surprisingly tough when it comes to tackling the desert elements.
Our first hiking spot was Sabino Canyon, part of the Coronado National Forest just north of Tucson. But this isn't a forest in the regular sense of the word: this is a forest of towering cacti, standing watch over hikers and adventurers as they tackle the various trails through the park.
We saw all varieties of cactus, spotted desert birds and a baby javelina, and luckily managed to avoid any encounters with the mountain lions that roam the canyon. It was tiring – I discovered that desert hiking is altogether different to the miles of city walking I do in a week – but most of all, it was invigorating.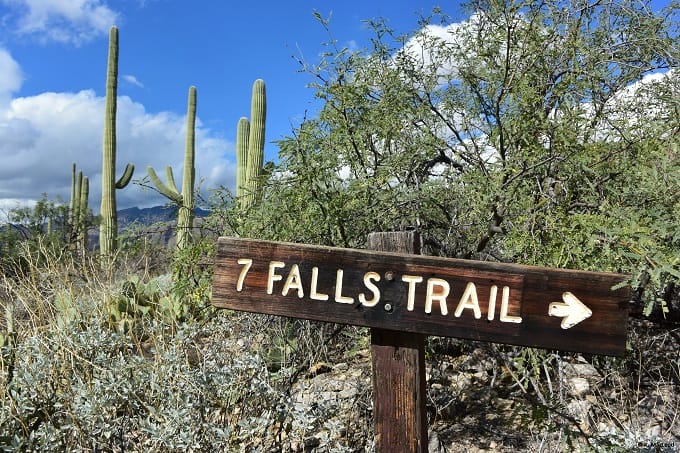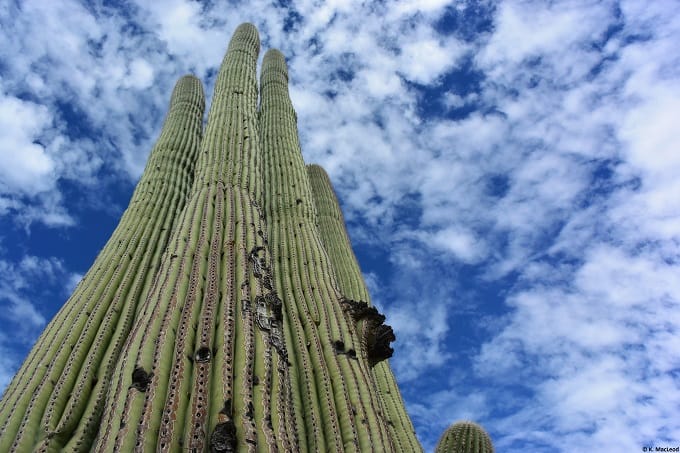 It was so invigorating, in fact, that we decided to get our hike on again the next day.
As the afternoon wore on, we made for Gates Pass, not far from the famous Saguaro National Park.  A short but steep hike left us at an old hut and viewing spot, where the desert stretched endlessly before us, offering the chance to watch the sunset completely uninterrupted.
As the sun went down, the sky lit up in startling hues of pink, orange, and gold. (With almost 300 days of sunshine a year, it's hardly surprising that Tucson is well-known for its beautiful sunsets.)
Water from the river wash, dust from the desert trails, jumping cactus barbs: my skinny jeans held up through it all, and were surprisingly comfy to hike in too (I suppose there's a reason why the stereotypical cowboys always wore Wrangler jeans!).
Desert hiking aside, what I love about these jeans is that as a pair of dark skinny jeans, I can wear them on both everyday outdoor adventures and for meet-ups in the city.
I found they were just as appropriate for dinner and drinks at North, a modern Italian restaurant in Tucson's upscale Foothills neighbourhood, as they were for tackling the early stages of the tricky Seven Falls trail in Sabino Canyon.
My experiments with desert hiking confirmed my long-held belief that small-scale, local travel adventures are just as enriching as far flung adventures. So whether you hike in the desert in Arizona, walk on the moors in the Outer Hebrides, or escape the bustling confines of the Big Apple, why not try out your own Born Ready Adventures? (And don't forget to let me know how you get on!)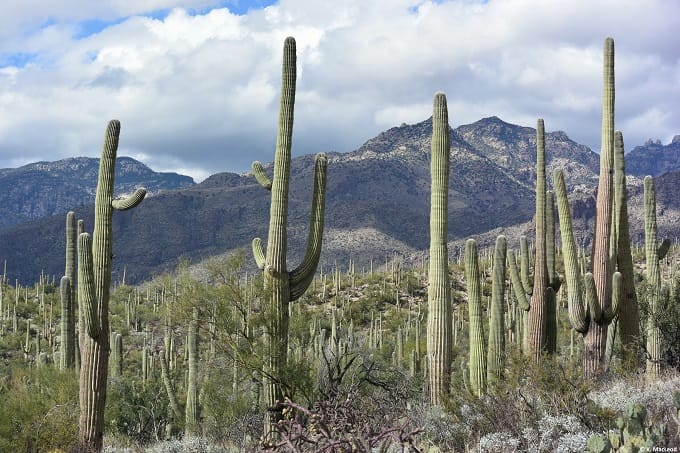 ____________________
What do you think of the idea of microadventures? Have you ever gone hiking in a desert, or would you like to?
Let me know in the comments below – I'd love to hear from you!
Thanks to Wrangler for sending me a complimentary pair of Born Ready Courtney jeans to try out.  As always, all opinions – and adventures! – are entirely my own.