The week I spent under the Tuscan summer sun was my first away with friends.  Having just finished our first year at university together, we elected to let off steam in the medieval Italian hilltop town of Barga.  It wasn't your typical student summer holiday: it was better.
We stayed in a villa on a wide, tree-lined street – home to the family of one of my friends – and spent our days exploring the narrow, winding streets of the charming town that calls itself 'the most Scottish place in Italy.'
At the end of the 19th century and after the World Wars, around half of the population of Barga emigrated, with many setting up shop on Scotland's west coast.  A few generations later family members have moved back: summers see Scottish weddings and festivals celebrated on a regular basis, and even fish and chips make an annual appearance.
As one might expect from a week in Italy, food (though not fish and chips) played a large part in our plans.  I remember drinking red wine on a balcony overlooking the rooftops; dipping bread in olive oil for the first time; avoiding pasta like the plague (I was a picky eater in those days) and making up for it by gorging on the generous helpings of gelato to be found at the top of one of the town's steepest streets.
Barga is perfect for a local and authentic Italian experience, but there are Tuscan tourist sites within driving distance too.
We posed for the obligatory photos at the Leaning Tower of Pisa, but on the whole the city was something of a let-down.  A hearty Pisa lunch of gnocchi does stick in my mind; perhaps it was the first step in my path to pasta appreciation.
Despite the disappointment of Pisa, our experience of Lucca was lovely, even in the morning rain.  The old city is surrounded by tree-topped Renaissance walls, and inside them are a maze of alleyways, side streets and beautiful buildings.
There were few cars to be found, and instead people ambled or cycled through the city streets.  Must-see sights were the Piazza Anfiteatro (a circle of medieval apartments built on an ancient amphitheatre) the Duomo Di San Martino, and the cityscape as seen from the top of the Torre Guinigi.
My Tuscan trip was fantastic, and the first of many foreign adventures with friends.  I want to experience Italy again – to see the art of Florence, the canals of Venice, the Colosseum in Rome – but also to make up for all the fantastic food I missed out on the first time round.  Pile on the pasta!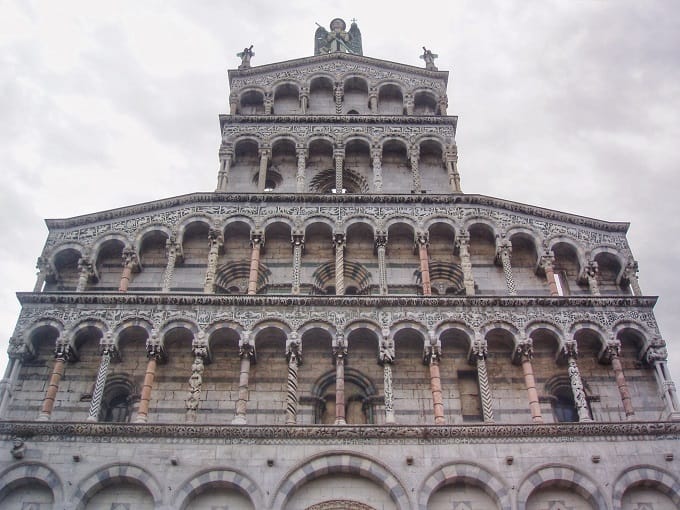 ____________________
Have you ever gone on a holiday with friends? What was it like?