How do you show your love for your significant other? Some buy chocolates and flowers, while others offer breakfast in bed or go out on dinner-dates. Then there are the growing number of couples across the globe who are demonstrating their devotion with love locks.
Couples are attaching these padlocks, inscribed with their names and an important date, to famous bridges around the world before ceremoniously throwing the keys into the river below as a symbol of their everlasting love.
No-one is quite sure how it started.  Some say Italy, others Hungary, and many attribute the initial inspiration to the Italian novel Ho Voglia di Te by Federico Moccia – but whatever the trend's origins, it's taking hold in tourist spots from Paris to Prague.
Paris, that most romantic of cities, is perhaps the place most famous for its love locks.  I knew this before I arrived for my winter visit to the City of Light, but I was still shocked at the sheer number of love-locks clinging to every inch of the Pont des Arts.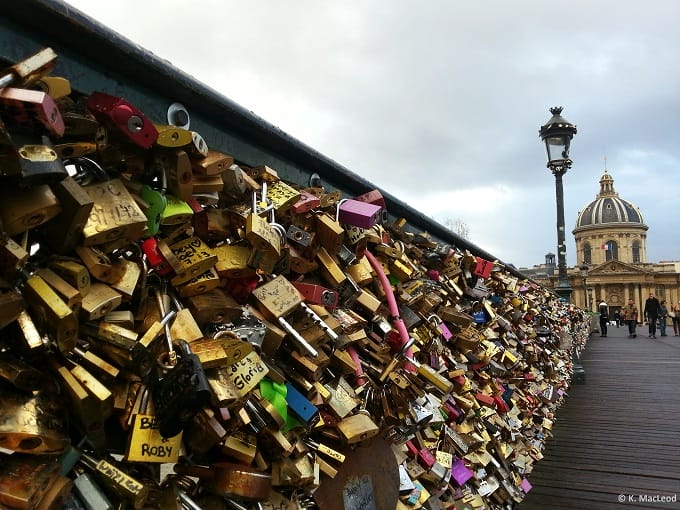 They were everywhere.  The bridge railings were completely invisible behind the mass of metal, and a few industrious individuals had even set up stalls on the bridge selling padlocks and permanent markers to tourists. Reading the inscriptions, some in pen, others engraved, made me wonder (somewhat cynically) about how many of these lovers are still together. Has their love lasted as long as the locks?
On the Pont de l'Archevêché near Notre Dame, there were more demonstrations of devotion, drawing visiting eyes downwards, away from one of Europe's most beautiful buildings. I even spied some love locks off the typical tourist path, on the Canal Saint-Martin in the north east of the city.
New York City has taken the trend to heart too.  When I crossed the Brooklyn Bridge last summer, I spotted maybe four or five love locks in total.  By November, they had multiplied, in number, size and location, hanging from railings and lampposts, perched precariously over the busy road below, and lounging on the bridge's benches.
This permanent public display of affection is clearly popular with couples.  But those who fear for their favourite national and international landmarks are organising a lockdown on visiting lovers.
Locals in Rome complained the locks were a form of vandalism, leading to their removal from the Ponte Milvio; padlocks have also been cut off the Ha'Penny Bridge in Dublin and the Charles Bridge in Prague.  In Paris, a campaign is currently underway to have the love locks forcibly removed from the walkways over the Seine.  Started by two ex-pats, the 'No Love Locks' petition has been signed by nearly 2000 people, with Parisians citing everything from structural integrity to safety concerns as reasons to ban the practice.  A 2012 article in the New York Times claimed the city's residents see the padlocks as an insult to the very idea of love, as "at the heart of love à la française lies the idea of freedom."
To counteract this, 'Love Picking' has become popular among love lock devotees: it involves removing, preserving and relocating locks to locations where they can displayed without damaging public property or breaking local laws.  It's already happened in Moscow, where dedicated 'love lock trees' have been built on Luzhkov Bridge to accommodate amorous tourists.
Personally, I'm on the fence about it all.  I was amazed by the amount of locks on the Pont des Arts, which when seen en masse are almost beautiful, but less enamoured with the ones at Notre Dame, one of my favourite spots in the French capital.
Whatever you're views on love locks – romantic, cheesy, or destructive – you can't help but be impressed by the scale of the trend that's locking symbols of love onto tourist sites around the world.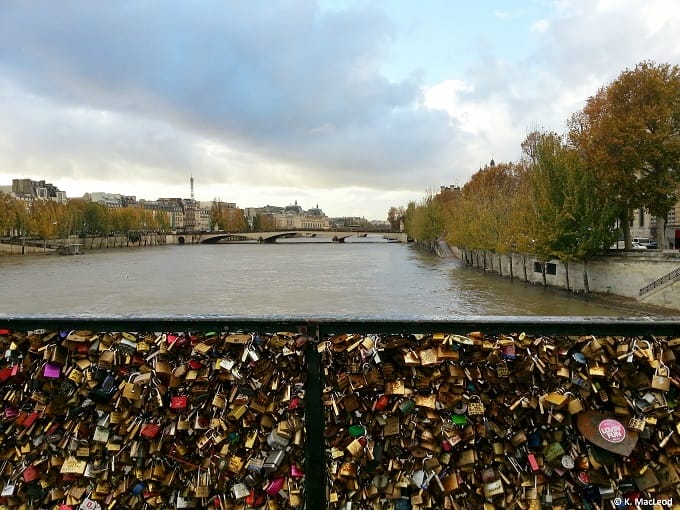 ____________________
Have you seen any love locks?  What do you think – are they romantic, or ruining city landmarks?