After a 28km drive from the Kenyan coastal town of Diani – much of it slow and deliberate due to the weather-beaten red earth road through the rainforest – we reached Footprints Children's Home.
Located in Shimba Hills, among palm trees and lush greenery, Footprints offers a refuge for orphaned children and a school for the local community.  Founded in 2010 by Kerry Watson, a former Thomson Holiday Rep from England, Footprints is literally life-saving for the children who call it home.
Each visit to Footprints Children's Home helps directly support the orphanage, as everyone is asked to make a donation of 2500 Kenyan Shillings (around £20) to cover the cost of transport and help run the home.  We also enquired in advance about what they needed most in terms of supplies, and so brought large boxes of basic foodstuffs like maize flour, salt, sugar, and rice – not forgetting sweets, of course, which George, the youngest at four years old, was delighted to see.
On arrival, eight of us Thomson holidaymakers sat on the wooden benches in the small dining room as Patrick Wanjala (known as Uncle Patrick to the 19 children who live there) explained the origins of the home and how the children, aged four to 18, came to live there.
The stories were a struggle to hear.  From the children whose parents died within two days of each other, to the child who was born as a result of her teenage mother's rape, all had an extremely difficult start in life.  Many of them had suffered malnourishment; one was covered in dog bites; another had parasitic worms in his feet that made walking almost impossible.  But since arriving at Footprints, the children's lives have been totally transformed.
Although the orphanage officially opened in 2010, it took Kerry three years of hard work prior to this before Footprints became a reality.  Having volunteered in a remote Kenyan village in 2007, Kerry returned a year later with the goal of building and sustaining a home for children who had been orphaned or abandoned,  and who "lacked even the basic needs of shelter, food, water, education, security and a sense of belonging to family life."
She personally purchased an acre of land, employed local builders, and worked with the community, village elders, and churches to identify the children most in need of help, as well as hire housemothers and fathers.  While the lack of running water and electricity presented challenges (Footprints now uses a generator where necessary), the orphanage opened in April 2010 as a home to Footprints' first five children.
We were given a tour of the buildings, passing a playground and fruit trees to reach the classrooms, which were constructed in 2012 as the beginning of Footprints Academy.  The school provides a quality education for both the orphanage children and those from the surrounding villages – some of whom walk up to 10km one way to get here.
Two of the younger classes stood up and enthusiastically sang a welcome song for us – complete with actions – while the older students explained what they were studying.  Next stop were the dormitories, with brightly decorated bedrooms, where each child has their own bed (many with cuddly toys propped on the pillow) and their own shelf to keep their belongings.  The small living area had couches (home to more cuddly toys), above which a colourful animal mural brightened up the room.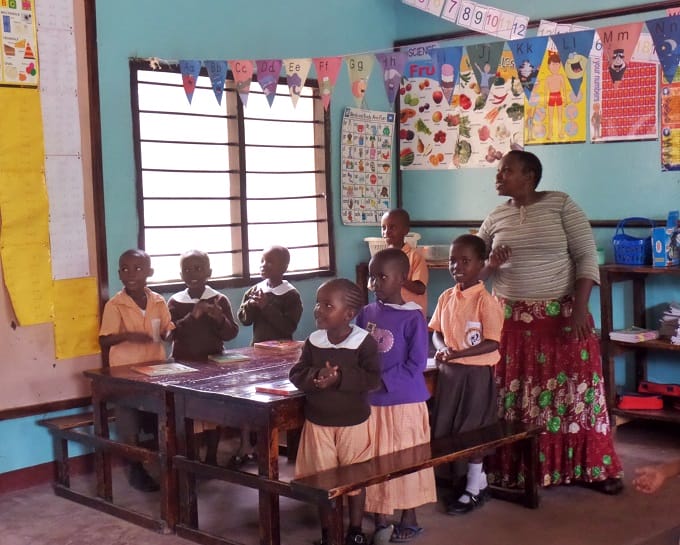 Many of the clothes, shoes and toys we saw in the living areas were donated by people in the UK, and it is with the generosity of charitable donations that Kerry has been able to make such a huge difference in the lives of these children.  During the week we visited, in fact, Kerry was back in the UK, working on raising more money for the home.  From the food on the table to the school books and the buildings themselves, everything has come from fundraising, donations and sponsors.
On the day we visited, four of the youngest girls were playing by the side of a building, a short distance away from where the older students were taking part in lunchtime sports. Dotty and Tumaini, two of the Footprints children, along with their friends from school, were playing a game of 'fishing' – poking leaves in a puddle with sticks.  I was quickly invited to join their ranks, with Tumaini proudly showing me her 'fish', and Dotty looking for a 'dolphin.'
As soon as I took out my camera, I was surrounded by the girls and their friends.  Little heads and hands crowded around and on top of me: one holding my hand; another stroking my hair; all of them clamouring excitedly for the camera, which I showed them how to use.  My heart melted.  They were so happy and enthusiastic, so warm and welcoming.
Something about Dotty's smile, from her shy one in the classroom to the giant grin that accompanied her excited explanation of what she and her friends were 'fishing' for, tugged at my heartstrings.  I remembered Patrick saying that although she was very upset when she first arrived at Footprints, she now has a smile that is almost impossible to miss.  All the children at Footprints are like this: happy, smiling, confident in their environment – a far cry from the terrible conditions and situations in which they spent their early years.
Visiting Footprints Orphanage was a truly humbling experience.  I left with a lump in my throat, overwhelmed at the generosity and dedication of the adults caring for these wonderful children; even writing this has brought tears to my eyes.  Thanks to the incredible efforts of 'Mama Kerry' and her co-workers here in Shimba Hills, these children now have food, education, and a future.  Perhaps most importantly, they now have not just a roof over their heads, but a loving and caring home.
____________________
If you would like to help the children at Footprints, there are a number of ways – big and small – in which you can support the orphanage.  Every penny donated goes directly to where it is needed most.
Donate by text (UK only):  Text FOOT01 £2 / £5 / £10 to 70070 (e.g. FOOT01 £5)
For the full range of support options, and to find out more about Footprints, check out their website here, and find them on Twitter at @FootprintsKenya