Amsterdam is known for both its history and its hedonism, home to all manner of 'highs.'
But the high you should be looking for in this city is High Wine, just one of the unique dining experiences found at the The Dylan, the luxury boutique hotel that overlooks the Keizersgracht canal in the trendy 'Nine Streets.'
Forget afternoon tea: High Wine is a new take on an old tradition, created by the team at The Dylan's Michelin-starred Restaurant Vinkeles. They wanted to give their guests something extra based on good service and great food and wine, and so introduced High Wine in 2009.
At High Wine, four wines are carefully selected by Sommelier Marco Ijpma, and served with four amuse style bites prepared by Executive Chef Dennis Kupiers.
A French term that translates literally as a "mouth amusement", an amuse-bouche is a small portion of food usually served to whet your appetite; here at The Dylan it introduces diners to the type of wine and food pairings they can expect at Vinkeles.
High Wine is served in the lounge, or if the weather allows, the central garden. As winter was most definitely arriving in Amsterdam, I settled onto a suede sofa by the fireside, where I was brought a bottle of sparkling water and a bowl of olives before my High Wine experience began.
The lounge strikes the right balance between cosy and chic, with low leather couches and chairs, all in dark, chocolate colours that fit in with the wood panelled walls and floors. It's a comfortable space, one where I can sit happily eating alone; an informal business meeting can take place around a table laden with bar snacks and laptops; and couples and friends can hunker down in a corner with cocktails and light bites.
The first course surprised me.
Let me be blunt: I usually hate salad. It's simply not something I've ever truly enjoyed – until now, that is. This salad – a celeriac salad with walnuts, apple, and poached chicken breast – was incredible.  o incredible that I could have eaten an entire large bowl of it (which will come as a surprise to anyone who knows me). Pairing it with a crisp white wine from France (Mas de Bressades 'Cuvee Tradition', Costières de Nîmes) further brought out the freshness of the dish in front of me.
Next up was a glass of Joostenburg 'Family Blend' from Paarl in South Africa. Refreshing and sweet, but with a slightly sharp aftertaste, it was balanced out nicely by the flavours on the plate.  The 'risotto' made from pearl barley had more bite than a traditional risotto, and so paired perfectly with the soft, sautéed codfish, accompanied by pumpkin, tomato, and a creamy young garlic sauce. I had to remind myself to be polite and not devour it all immediately.
A red Domaine Chapoton from the Côtes du Rhone in France filled my third glass, while a wooden board bearing thinly sliced Black Angus bavette steak, chunky fries, a French bean salad, and a dainty pot of Béarnaise sauce arrived.  The steak was perfection (rare, of course), and I enjoyed the salad so much I finished it before the fluffy fries.
The fourth and final course annihilated all previous expectations of what cheese and crackers should be. A soft cheese, Ėpoisses, flavoured with the North African spice mix Ras el Hanout, was served with a thin, sharply crisp cracker, and complemented by Blandy's, a Madeiran wine not dissimilar to Port. The Blandy's was both sweet and spicy, with a lovely aftertaste, and an excellent addition to the cheese plate.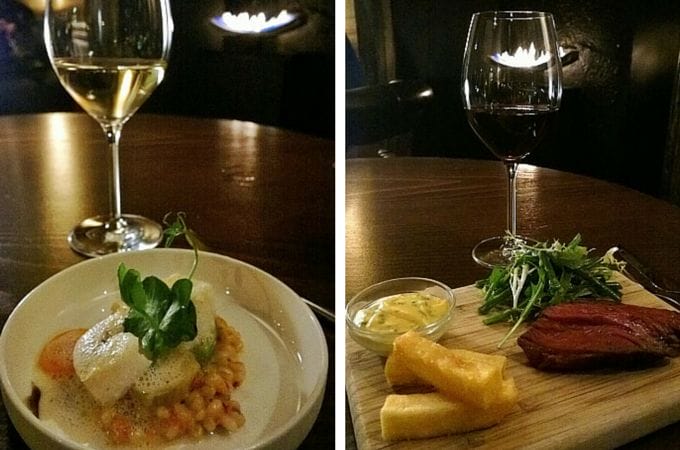 While I'm not a food critic, it seems to me to be an even greater achievement to take something we all know and love – steak and chips, for example – and demonstrate just how layered and interesting these foods, flavours and textures can be.
The wine choices were equally impressive; never before had I appreciated how the choice of wine can make or break a meal, and the staff were more than helpful in explaining the decisions of each pairing.
I fear that High Wine at The Dylan Amsterdam may have spoiled me for life. Every time I eat cheese and crackers, or even a simple chip, I'll be comparing them to the perfect plates that were placed in front of me by the fireside in Amsterdam.
My dining delights didn't end there, however, as I decided to indulge a little more, with a speciality cocktail created by the staff at Bar Barbou and a selection of light-as-air macarons.
I could have had a cocktail created to suit my tastes – Sweet or sour? Gin or vodka? – but opted instead for a Gintrix, one of four seasonal cocktails available exclusively at The Dylan. With Hendrix, St Germain, lime, mint, and soda, it was almost like an older, more edgy glass of Pimms: refreshing and fruity, but with a good bit of bite.
After a day of cycling and exploring, and evening of fine food and wine, I slept more than soundly in my large suite overlooking the Keizersgracht.
As the sun began to break through the mist over the canals the next morning, I was ready for even more food (and in need of a strong coffee). The Dylan offers bed and breakfast packages, and morning meals are served in Restaurant Vinkeles.
This is where bread was baked for the poor and destitute of Amsterdam, when the building belonged to the Regents of the Catholic Church, and the oven doors set into a long brick wall are now a centrepiece of the restaurant. The windows onto the garden leave the room lovely and bright, a welcoming sight first thing in the morning.
As well as the well-stocked breakfast buffet, there was the choice of eggs and toast, bread, fruit and different drinks (I opted for a lovely little cappuccino). On top of my perfectly cooked scrambled eggs and toast I heaped plenty of smoked salmon, added a small bowl of pineapple on the side, and sipped some freshly squeezed orange juice. It was a wonderful start to the day, and fuel for my last few hours of exploring the city.
I've already decided I'll be returning to see more of Amsterdam, and when I do, you'll find me at The Dylan, dining on the delicious food and drink. Make mine a codfish risotto…
____________________
Have you ever tried anything like 'High Wine', or would you like to? Let me know in the comments below – I'd love to hear from you!
To find out more about what I got up to in Amsterdam, you can take a peek inside my room at The Dylan Hotel, found out how I got knocked over by a cyclist on my first day in the city, and the moving experience that was visiting the Anne Frank House.
Many thanks to the team at The Dylan Hotel for hosting me while in Amsterdam. As always, all opinions – and food obsessions! – are entirely my own.