Rumour has it there are more bikes than people in the Netherlands, and after spending 36 hours in Amsterdam recently, I can easily believe it.  The bikes were the first thing I noticed: in fact, the first thing that happened to me after stepping out of my hotel was a collision with a cyclist.
It hurt, but it felt almost like a welcome, an initiation into a city unlike any other I've seen.  Where else am I going to get hit by a bike by the side of a canal, outside the gorgeous 17th century houses that line its edge? Only in Amsterdam.
When you come from a country where cars are the prime mode of transport, it's difficult at first to wrap your head around the fact that bikes are the big deal here.  I saw bikes chained in rows three-deep alongside canals; parents balancing toddlers and babies in sturdy-looking carts above their front wheels; flowers adorning bike baskets; and not a single helmet anywhere.
As someone who is not especially enamoured with driving, I adored Amsterdam immediately for the simple fact that pedal power rules the roads.  Add stunning architecture, picturesque canals, and more museums per square mile than any other city on earth, and you know you're somewhere rather special.
After my bicycle mishap, I made my way along the Prinsengracht in the fading afternoon light, amazed at each new bridge, each new row of charming canal homes.  Their style is distinctive, dating from the Dutch Golden Age, a period of "unprecedented prosperity", when Dutch trade, art, and science were among the most acclaimed in the world.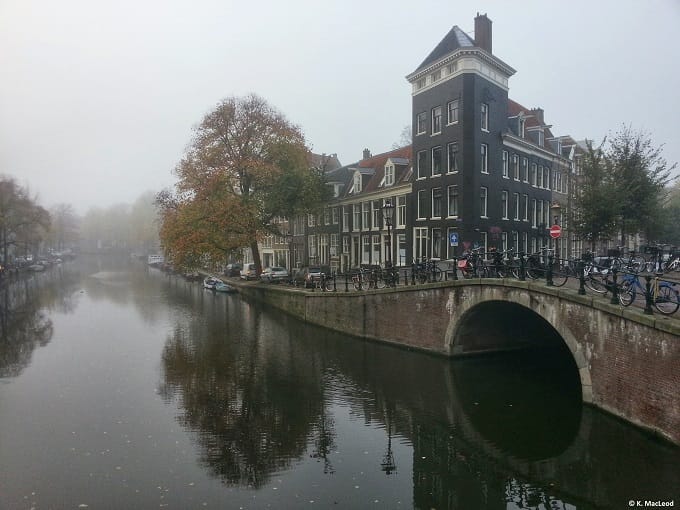 When I emerged from the Anne Frank House (my first stop in the city), it was early evening, and dark, offering an entirely new vantage point from which to view Amsterdam's Nine Streets.  Wandering around in search of some dinner, I was able to glimpse the envy-inducing interiors of some of these canal homes, many with impeccable, Scandi-style interior design.
But why were these home owners letting passers-by like me peer in on living rooms and kitchen preparations?  It's a habit that some say hails from the Reformation era, when the country was transitioning from Catholic to Protestant.  Open curtains laid everything bare, a way of proclaiming 'I have nothing to hide.'
Eventually, I left the open windows behind and settled on a small, cosy-looking pub on the corner of two canals for a bite to eat.  Once inside, I ordered a selection of what seemed like Dutch antipasti – local cheeses and sausages – and sat at the bar, listening to the ebb and flow of Dutch chatter around me (and nursing my bruised leg).
After my bike incident, I decided the next day that if you can't beat them, join them – and so set off on a bike hired from The Dylan, feeling that little bit more like a local.  Fellow blogger Frankie Thompson had plied me with a long list of foods to try while in Amsterdam, her adopted city, and it was on her recommendation that I pulled the brakes outside Winkel 43, a small cafe at the edge of the Jordaan.
Perched on a stool at the counter, I ordered the apple pie as instructed – it was barely 10am – and a coffee to accompany it.  It arrived quickly, with a thick just-crisp crust, warm apples, and full of flavour.  This was no ordinary apple pie, but the most amazing apple pie I have ever eaten.  The reputation Winkel has of serving the best apple pie in Amsterdam (if not the whole of the Netherlands) is well founded.
Fuelled by food, I cycled through the quirky streets of the Jordaan, the old working class area, with autumn leaves floating to the ground in front of me.  I got lost among the gorgeous Nine Streets, completely confused as to where I was, but content with the scenic streets spreading out around me in every direction, early morning mist creeping around corners.  I pushed my bike alongside the Bloemenmarkt, the world's only floating flower market, and wandered through the Albert Cuyp Market, where stalls selling fresh fish stand next to those offering clothes and handbags.
To reach the Oude Kerk, Amsterdam's oldest building, I cycled through the infamous Red Light District.  It was quiet in the daytime, looking a little run down and featuring quite a few Irish Pubs – a sure sign that tourists aren't far off.   There weren't many others in the area searching for the 13th century church, because inside, under the soaring wooden arches, I was one of the only visitors, my footsteps clicking on the flagstone floors.  The Oude Kerk is also home to a lovely little garden and coffee shop (and your €7.50 ticket to the church provides you with a discount in the cafe).
It would be wrong to visit Amsterdam without entering at least one of its many museums, so I steered my bike towards the Museumplein, cycling under the archways of the Rijksmuseum as a busker serenaded passing cyclists with his saxophone; it felt like something out of a film.  After finally finding somewhere to lock my bike, I decided on touring the Van Gogh Museum.
Recently reopened after a seven-month renovation, the museum building itself is modern and angular inside, with letters and photos on display in addition to Van Gogh's many paintings, illustrating the life story of one of the country's most famous artists.  Crowds gathered in front of his legendary paintings – the sunflowers, his one-eared self portrait – but it was interesting to see other examples of Van Gogh's work, like a dainty-looking blue and white rendition of Japanese cherry blossom.
After only a brief encounter with the city, Amsterdam had me in awe.  How had it taken me so long to visit this charming city that feels more like a relaxed, picturesque town?  From the canal houses to the never-ending number of bikes, the best apple pie ever to a delightful stay at The Dylan, I fell in love with Amsterdam more and more with every step taken, each street explored.
It may have been my first time in Amsterdam, but it certainly won't be my last.
____________________
Looking for more stories from Amsterdam? The check out my review of The Dylan hotel, my take on dinner at Vinkeles, and what was an emotional visit to the Anne Frank House.
Have you ever been to Amsterdam, or would you like to visit?