Near the Canadian border, down a narrow road lined with warnings to watch out for moose, is the town of Grand Lake Stream.  Add no phone service and limited internet access to the rural location, and you have a truly off-the-grid holiday destination.
Perched on the banks of the stream with the same name, Grand Lake Stream is a magnet for fans of fishing, hunting, and kayaking (the area even has its own unique version of the canoe, a 'Grand Laker').  Camps and cabins line the lake, ranging from well-equipped lodges to back-to-basics rentals without electricity.
The town's population swells in the summer, with visitors and part-time residents returning to summer homes.  I stayed in one of the latter (home to relatives of my American cousins), and spent a blissful three days doing nothing more than eating, drinking, and enjoying the peace and quiet that comes from being in woods by a lake in what felt like – in the best way possible – the middle of nowhere.
After a few months of city living, being surrounded by wildlife was a joy.  Every morning started with the sight of a family of ducks waddling up onto the shore.  As we talked and read in the shade of the deck, hummingbirds whizzed past to feast on the sugary water being dispensed from the bird feeder.  Squirrels and chipmunks scurried through the trees, and a suspicious-looking snapping turtle stopped us in our tracks on a walk through the town.
The highlight came on our last evening, when we took to the pontoon boat, dog and all, for a sunset cruise of the lake.  As if speeding through the glassy water with the wind in our hair, wine in our glasses, and the sun gently glowing wasn't enough, we saw three bald eagles – three!  Two perched near nests on trees, and a third flew overhead as we sailed back to the house. I was thrilled at spotting my first bald eagle, and (as cheesy as it sounds), delighted to end my Grand Lake Stream experience with such an all-American sighting.
Going off the grid might seem nerve wracking to those of us used to constant digital communication, but going without internet access and phone service in this wild corner of Maine was the perfect way to while away a few days. If you're fed up of Facebook notifications and incessant emails, I recommend making your way to Maine – or indeed anywhere remote – to disconnect with technology, and reconnect with nature.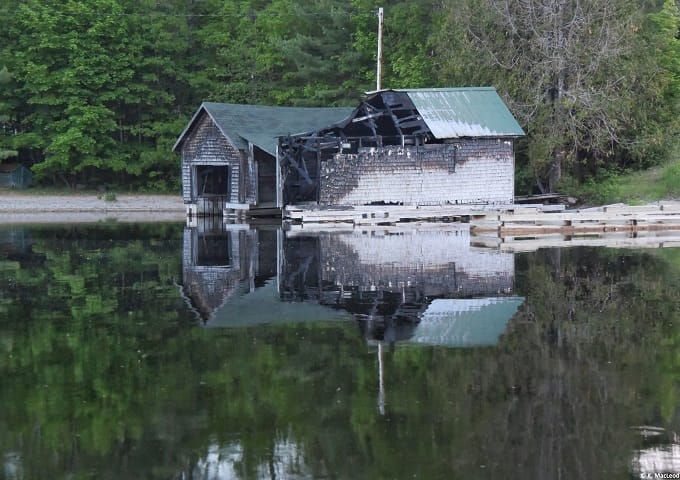 ____________________
Have you ever had an off-the-grid experience? Do you like to disconnect on holiday?
PLUS: Here's what happened the last time I cut out technology while travelling.