The view in front of me – the Brooklyn Bridge illuminated against the twinkling skyline of Lower Manhattan – was an exact replica of the one that had graced the apartment wall in Scotland, a mirror image of a scene I had idly dreamt of from the living room couch.
I was on a sunset boat cruise of New York City's famous harbour, and seeing the view I had admired on rainy Edinburgh afternoons made me stop to think: "I'm in New York City!"  Of course, I've been here for nine months now, but that moment on the Hornblower Cruises yacht was a 'pinch me' one, the sort of moment where the magnitude of your new reality dawns on you, bringing it all into focus.
It was the last stop on a leisurely sail that had taken us, a group of 100 travel addicts, from the East River to the Hudson, and out to the Statue of Liberty, all courtesy of Travel Massive's New York Chapter. The views were incredible from the start: it was the first time I'd really seen New York City from the water, and viewing it from that angle made me appreciate the scale of this iconic skyline even more.
There was One World Trade Center, standing tall above the rest. We picked out other landmarks as we rounded the southern tip of Manhattan: Battery Park, the Staten Island ferry, Governor's Island, Jersey City, and the Empire State Building further ahead.  Evidence of the harbour as one for work as well as play was everywhere, as tug boats chugged along next to old-fashioned sail boats, the commuter ferries hurrying between them.
The highlight for me, though, was cruising up to the Statue of Liberty just as the sun began to sink low in the sky. Appropriately, this was when 'Empire State of Mind' could be heard through the speakers, bringing a smile to more than a few faces, mine included.
While Lady Liberty isn't quite as large as postcards and movies may suggest, she is one of New York's most recognisable sights. I got snap-happy with my camera, and then remembered to put it down, savouring the moment (and my complimentary G&T!).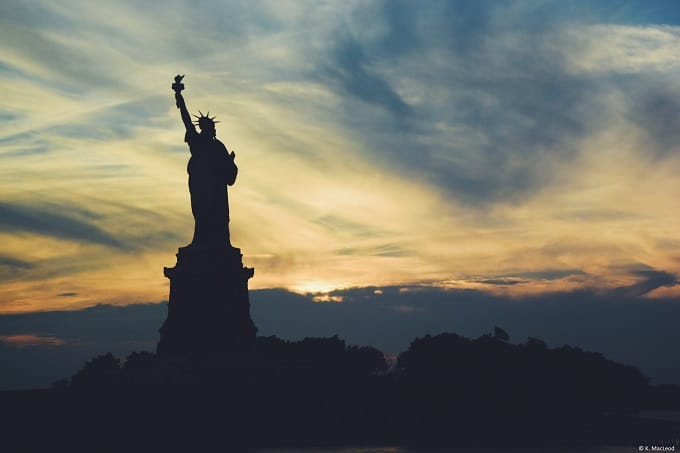 Yes, it had been a little over eight months since I arrived with four suitcases, two items of hand luggage, and an American visa in my passport, but something about the setting of the boat cruise, and that perfect view of the Brooklyn Bridge, left me in awe at the way the world works.
If you had told me on my first visit to New York, or even while sitting in Edinburgh, that seven years later I'd be back here – living here, married, working as a writer, bonding with fellow bloggers on a sunset cruise around the city – I would have laughed.  And yet here I was – here I am!
It was a lovely evening, full of laughter with new friends and chats about upcoming travel plans.  Although I've taken the free Staten Island Ferry as a tourist, and used the commuter ferries once or twice, the dedicated cruise was a different experience altogether, offering the time to truly drink in the spectacular views.
For an alternative view of New York City, take to the water: I can't recommend it enough!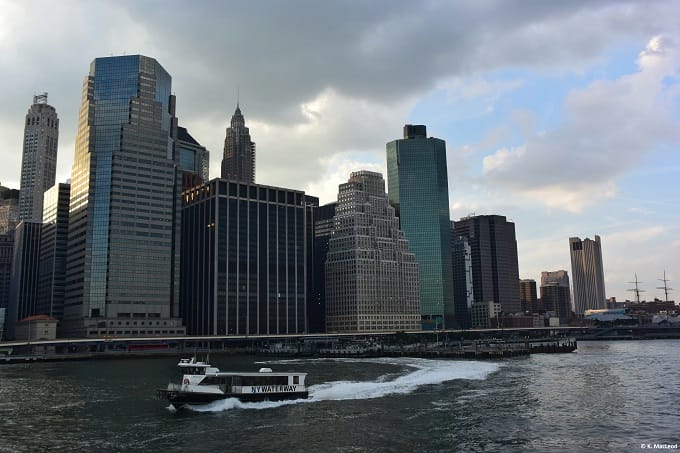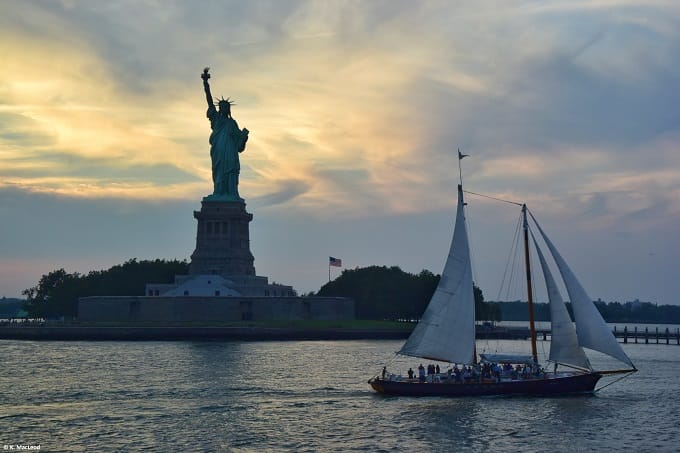 ____________________
Have you ever been on an NYC boat tour, or sightseeing cruise? Would you like to go on one? Let me know in the comments below – I'd love to hear from you!