As I settle into the swing of 'real life' across the pond, here are some of the good, the bad, and the tongue-in-cheek things I've learned during the early stages of expat life…
1. There are times when you will get homesick.
I was never the child that got homesick at sleepovers or summer camps.  Quite the opposite – I was the child who didn't want to go home again.  However, as an expat, no matter how much fun your new life abroad is, there will be times when you feel that twinge of homesickness.
The times when your university friends reunite at weddings, your younger brother graduates, and your best friends' babies grow older and you're not there to see it. The days when you just want to get a breakfast roll in your local cafe and have a good old yarn with your parents (and everyone else there that knows you too – I'm looking at you, Cafe Roo!).
There are times when you'll go weeks, maybe months, without the pangs of homesickness, and then they'll hit you out of the blue – perhaps when you hear the first bars of a memorable song, or see something you know someone close to you would love.
You'll miss the everyday moments as much as the milestones, but for better or worse, that's just part of the expat deal.  Be thankful for the miracles of Skype, WhatsApp, and Snapchat, and work on building those frequent flier miles.
2. You have to put yourself out there.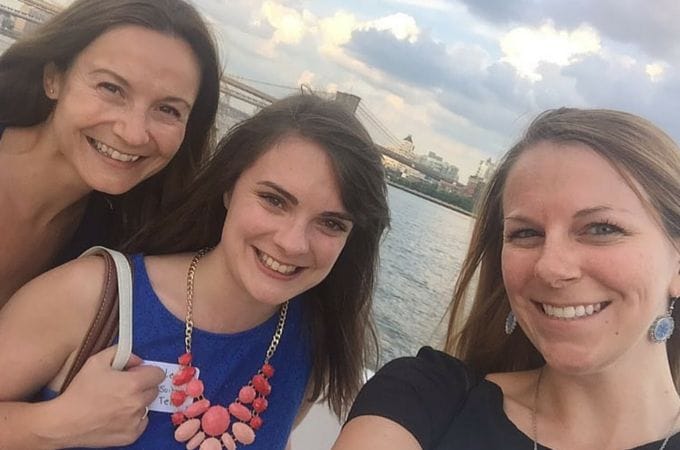 With Marie of One Carry-On and Erin of A Hell Love A Town (who took the selfie!) at July's Travel Massive event.
This one may be different for younger expats, but by the time you're in your mid-to-late twenties, most friendships are set in stone.  My own closest friends date from childhood, university, and my time in China; that's a span of five to almost thirty years, and you can't expect to recreate that closeness in a few months.  As one expat said in a recent Wall Street Journal survey, "It takes time to make friends, as compared to acquaintances, and it can be exhausting."
It can be exhausting, but you need to make the effort: my motto is to say "Yes" to (almost) everything, and I've met some lovely people as a result.  Accept invites to dinners and parties.  Go for coffee and cookies with a new friend.  Find events catered to people who share your interests.  Make the first move and reach out to people you might have met fleetingly, but would like to get to know better.
I'm a big fan of Travel Massive, which brings together travel addicts once a month to mingle with cocktails and canapés; I've kept in touch with the WITS community after discovering them in Boston; and I'm all signed up for The Pin The Map Project's travel-themed dinner series.  I am however still on the hunt for a good book club to join – if you know of one in my area, get in touch!
3. The culture will be different, and you will have to either adapt to, or accept, the differences.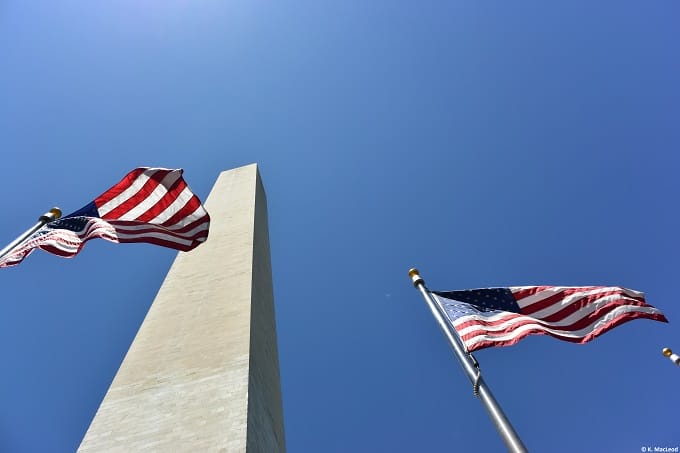 I first learned this lesson in China, where nearly everything I'd ever thought was 'the way to do things' was turned on its head.  Queue jumping, spitting in public, staring at strangers, navigating 'guanxi' – it was a shock initially, but I soon learned to accept it, and even became an expert queue jumper (a habit I had to break when I found myself back in Britain, where skipping the queue is viewed as nothing less than a heinous crime).
In the US, I expected things to be relatively similar to the UK, but the more time I spend here the more I see the differences between British and American culture.  (For example, queuing, or should I say, 'waiting in line', is not quite as stringently required here.)
Attitudes towards politics, healthcare, gun control, holidays, and even how we eat our food can be very different on either side of the pond.  Even our common language can at times cause confusion! Some things I've adapted to (I'll admit to using the term 'pants' for 'trousers' more than once), and others I have to simply accept, and politely disagree with if the topic is ever raised.
4. You will get frustrated by government bureaucracy.
My unfortunate encounters with the US government could fill a book (and one day, when the paperwork and interviews and pointless meetings are over, they might just do that).  Many people assume that moving to America with a visa means it's a quick, easy, and painless process, but getting through customs at the airport is just the start.
While I'm still waiting on that elusive Green Card, I can now – almost a year later – collect my mail from the Post Office without being questioned about where I really live, join the local library, and get stuck into work.
Compare that wait with the mere seven days it took for the UK government to renew my British passport from the other side of the world and send it back again, and you'll get an idea of why the visa and Green Card process causes so much frustration.
5. Your accent will become a hot topic of conversation.
People (both those you know, and those you don't) will comment on your accent.  The kind of accent you have, the lack of your original one, the adoption of a new one – nothing is off the table.   I've had family and friends in Scotland claim that my Leodhasach accent is on the verge of disappearing, yet the mere act of opening my mouth to speak in the States can still cause a minor disturbance.
The most recent example of this took place in a high street clothes shop. Did I need any help, the gushing sales assistant asked? I said yes, and the response was immediate.  "Oh my God, are you British? You're British! Brilliant!"  The entirety of the following 15 minute conversation took place with the girl talking to me in a fake British accent.  It was interesting, to say the least.
Pronunciation is a minefield too. I have to introduce myself to new acquaintances as 'Kaydee', as I've learnt that to say 'Katie' is to invite at least five minutes of puzzled expressions and attempts to decipher my name (I've been called Casey more often than you might imagine).  And then there's the list of different words we use for the same things: it's long enough for a blog post of its own!
6. You will become more patriotic – about your home country.
I don't think I'm ever prouder to be Scottish and British than when I'm in America.  Living outside your home country gives you the chance to view it from afar: it allows you to take stock of both its good and bad points, and I've found that on the whole, absence makes the heart grow fonder.
Evidence includes the two Union Jack themed mugs in our kitchen; the multiple Hebridean paintings and postcards on our walls; my increased appreciation for the NHS every time I receive a dentist bill; and my far more regular use of Gaelic words and phrases.
(The latter is most likely a result of no-one being able to correct my appalling grammar, although my brother and I had a great time conversing in Gaelic on the streets of NYC recently, confounding shop owners and customers alike.)
7. You will eat a LOT of food.
Maybe this doesn't happen to all British expats in America, but it's certainly been true of my experience so far, as I've written before.  While there are British foods I occasionally bemoan the lack of, like Cadbury's chocolate and potato waffles, I have to say that I'm thoroughly enjoying indulging in the variety of food available here in the NYC area.
Think freshly fried Chinese dumplings, crisp Japanese tonkatsu, hearty Cuban empanadas, sweet Maine blueberry pie, leisurely city brunches, and of course, the mighty burger. I love that Americans will put anything on a sandwich: my current favourite is the chicken parm, where a breaded, fried chicken breast is put on a baguette or hoagie with tomato sauce and mozzarella cheese.
Now that I think about it, I'm lucky that I live in the New York City area, where I can walk miles without noticing – otherwise I'd be in need of a new, larger clothes collection in no time!
8. You will have amazing experiences.
Yes, you might get homesick, and have to deal with unexpected cultural mishaps, but you will have truly wonderful experiences too.  For me, obviously, the big plus about America is being in the same place as my husband (more on that here and here), but living in a new country also means plenty of new places to explore.
In the past six months I've ventured through Washington D.C., Pennsylvania, New Jersey, New York, Massachusetts, Maine, and Illinois; despite that, my American bucket list gets bigger by the day.  Moving to the US has allowed me to reconnect with family and friends on this side of the pond.  I've had the chance to meet writers I admire, and bloggers I've been following for years.  I've attended a talk by my favourite author, Chimamanda Ngozi Adichie; seen movies being filmed on the street; gone to rooftop launch parties for iPhone apps; and eaten more food from the four corners of the globe than I ever have before.
While expat life does eventually become like everyday life elsewhere – peppered with chores and trips to the grocery store – it's still an adventure.  Life abroad will surprise you when you least expect it.  Embrace it!
____________________
Have you ever lived in another country? What did you learn from it?