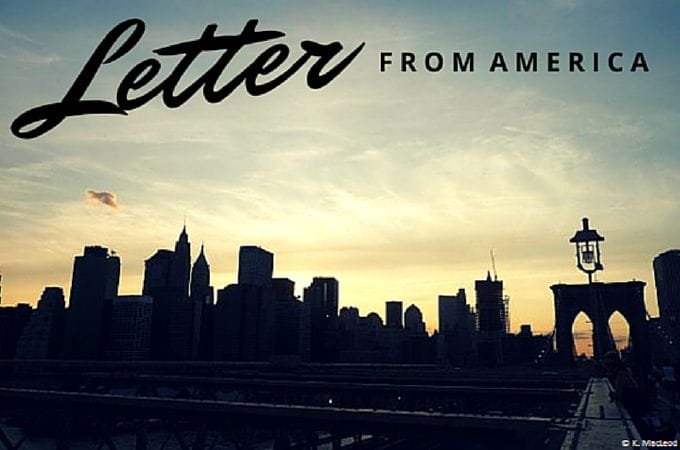 A big part of Stories My Suitcase Could Tell is encouraging 'local travel', the idea that if you treat your hometown like a tourist for a day, you'll likely find there's more to it than meets the eye.
I did that for the last few years, on the island in the Outer Hebrides where I grew up.  As a journalist for the local newspaper, I was one of the first to find out what was happening – and was pleasantly surprised to find that there was always something going on: a political rally, a book festival, a great gig. In fact, I fell in love with island life all over again as an adult (there is truly nowhere more beautiful than Luskentyre beach) and I'm now a convert to treating every day like an adventure waiting to happen.
But in case you missed the news, I've moved.
After countless legal forms and reams of paperwork, I've upped sticks and crossed the pond, swapping the Hebrides for life by the Hudson River on the east coast of the USA.  Since childhood I've travelled at every opportunity – on Brownie Guide Camps, school exchanges, holidays with friends and family, studying abroad in Philadelphia, working a world away in China – and that's not going to stop because of a change of address.
So you can still expect to see stories on this blog from wherever my wanderlust takes me next, but as well as the usual travel tales, you'll be seeing a new side to Stories My Suitcase Could Tell.  I'll be giving an insight into what ex-pat life is like for a Scot in the States, a Brit in the Big Apple: the ups and the downs, the differences and similarities, and the cultural collisions that occur as I navigate the next chapter of suitcase stories.
Moving to America is a whole new adventure for my suitcase and me, and I hope you'll come along to see where the journey takes us next!
____________________
To keep up with Stories My Suitcase Could Tell in real time, and find out more about moving to America, why not follow along on Facebook, Twitter, or Instagram?
____________________ 
Want to read more?
My Translation Troubles As A British Expat
What Happens When An Expat Goes Home?
10 British Foods I Miss As An Expat in the USA
____________________