New Orleans is a city that encourages hyperbole, or so I thought.
Before visiting in the sweaty zenith of summer, I knew little of the Louisiana city save for its reputation as the go-to destination for drunken bachelor parties and student spring breaks.
I didn't plan ahead for my visit, either.  The day of departure, I shoved my guidebook into my handbag for the plane, and quickly scribbled a few sentences down from blog posts I'd saved on Pinterest.  It was very unlike me not to have some activities thought out in advance, but this time it was for the best.  I arrived in New Orleans with no expectations, and a smattering of history gleaned from the pages of Lonely Planet.
The force of my love for this city surprised me.
There are few places I want to return to regularly – not when there's a whole world out there – and yet within 24 hours, I knew I wanted to revisit New Orleans sooner rather than later.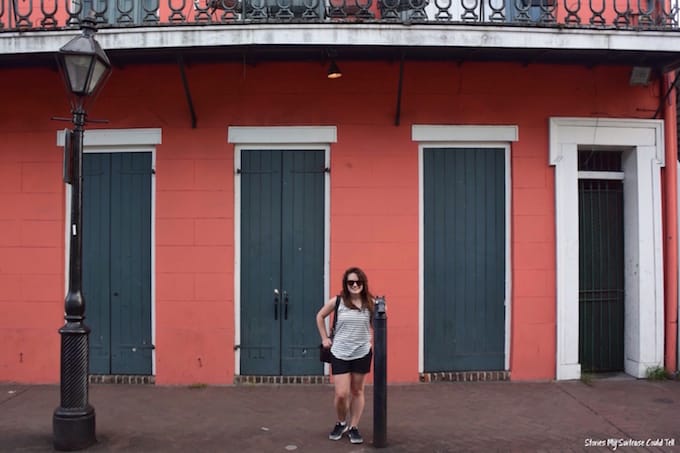 Everything about the city thrilled me.
The culture, the history, the music, the food – even the heat, which reached upwards of 30 degrees Celsius and 80 per cent humidity each day.  New Orleans isn't just unlike any US city I've seen; it's unlike any city I've ever come across. A mix of Cajun and Creole, French and American, Caribbean and Spanish, New Orleans has a long history. 
Originally inhabited by the First Nations, the French arrived in 1690s, officially founding "Nouvelle Orleans" in 1718. Before it was sold to the USA in 1803, the city offered a home to Acadians ('Cajuns') escaping from the British conquest of Canada; was bought by the Spanish; burnt to the ground before being rebuilt; welcomed an influx of refugees from Haiti; and was reclaimed again by the French. Phew! With such a varied background, it's no wonder New Orleans is a city unlike any other – and that's before you even enter the complicated and at times painful history of the 20th century.
Despite my initial disorganisation, the four days I spent there with my brother and our friend covered a lot of ground, from food and music to history and nature.  Someone asked me recently what my favourite part of New Orleans was, and I struggled to answer: how to choose just one experience of many? Food or music? History or culture?
To get a feel for the city, the first thing we did was sign up for a guided bike tour. 
Yes, in 36 degree heat we signed up for a bike tour – but I'd venture to say it was the best thing we did that week. Our introductory 'safety' talk from Lara, our guide, began with "It's legal to drink while riding a bike here" and ended with "It's not the law to wear your helmet." It was clear from the start that our Confederacy of Cruisers bike tour was going to be an experience like no other!
Aside from the carefree feeling of cycling through rainbow-coloured streets with an ever-so-slight breeze on your back, what the bike tour did was help us get under the skin of New Orleans. From the Marginy and the Bywater, and finally into the Treme, we not only saw the different neighbourhoods, but learned their history, and how each plays into the overall story of New Orleans across generations. It was at turns shocking, sad, and uplifting, the stories all made real to us thanks to Lara's infectious spirit.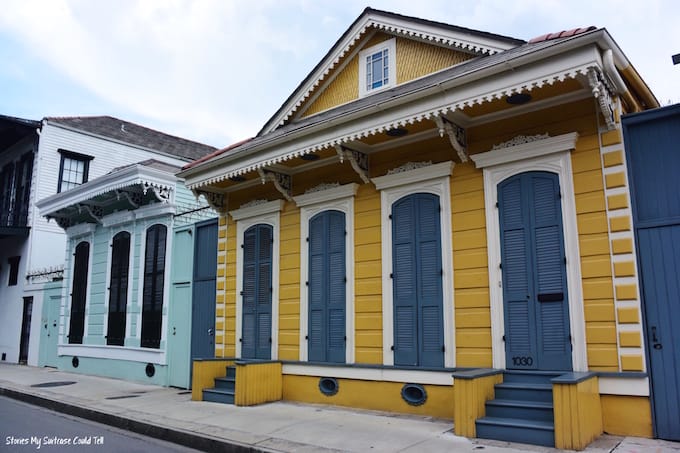 In the Bywater, where the streets were lazy in the heat, we rounded off the tour at one of Lara's favourite neighbourhood bars for a drink, where we sat and chatted and got to know one another before saying our goodbyes, local food recommendations and tourist tips mentally stored away for later.
With the city's history firmly planted in our minds, we strolled the streets of the French Quarter – again, and again, and again.
The buildings here are the ones that grace postcards and posters of New Orleans the world over: pastel hues, wrought iron balconies, cobblestone streets.  It was here I popped into a delightful little bookstore that was once the home of writer William Faulkner, and browsed art galleries, antique stores, and quirky boutiques.
This is the oldest neighbourhood in the city, sitting on some of its highest ground, and featuring street after street of New Orlean's famous Creole architecture. We wandered through Jackson Square, where palm readers offered fortunes and buskers played energetically on the corners, all with St Louis Cathedral looking down on the scene from above. I was falling in love with the city and it's intoxicating, laid back atmosphere.
Later, to reach the Garden District, we took a ride on one of the country's oldest trams, the St Charles Avenue Streetcar.
The tram has been running since 1893, and we opted to ride it from Canal Street, the old dividing line between 'French' and 'American' New Orleans, into the elegant Garden District, full of wide oak tree-lined streets and stately-looking mansions.
Another day, we strolled by the Mississippi River, wide and languid at this point in her journey, and watched as the famous Natchez steam boat eased its way into dock.  We left the city for a morning, too, crossing Lake Ponchartrain to reach the Honey Island Swamp, where we sailed through swamps and cypress forests, passing tiny river towns and spotting crocodiles just below the water's surface.
I even took a tour of the St. Louis Cemetery No.1, not for the horror – I wasn't interested in the ghost tours – but for the history. In New Orleans, cemeteries are above ground, partly because the city is infamously built on a swamp, and partly because of its Spanish Catholic origins. The tour also gave us a fascinating (if slightly morbid) peek into the Voodoo rituals, jazz funerals, and other snippets of history and culture that are connected to these imposing 'Cities of the Dead.'
And of course, we ate. Boy, did we eat!
In a city known for its culinary and drinking excess, it would have been rude not to indulge.  I don't think I had a bad meal in the entire city. Whether po'boys or jambalaya, crawfish or coffee and beignets, we ate it – and loved it – all. (We ate so much, in fact, that I wrote an entire post dedicated solely to the food of New Orleans.)
Yes, we stopped for a drink on the infamous Bourbon Street, known for its party scene, but a bit like New York's Times Square, once is more than enough. Instead, we spent our other evening out on Frenchmen Street.
As it turns out, Frenchmen Street is what New Orleans jazz dreams are made of.
I couldn't stop smiling when we got out of the car and found ourselves in a fog of fairy lights and jazz music on the border of the French Quarter and the Marginy. People were milling about on the road as if it was a pedestrian thoroughfare (it's not), and crowds had gathered to hear a local jazz band do their thing on the sidewalk. We strolled through the Frenchman Art Market – I wanted to buy everything – and squeezed into the legendary Spotted Cat Music Club to listen to live jazz after dinner.
There couldn't have been a better way to end my introduction to New Orleans.
I experienced a lot, but it still wasn't enough. New Orleans captured my imagination (and my taste buds) in a way no other US city has before.  With a laid-back atmosphere, a rich food scene, and a fascinating history that makes New Orleans feel like a little country of its own, I can already tell that New Orleans is somewhere worth visiting a second – and third, and fourth, and fifth – time.
____________________ 
NEED TO KNOW
What's the best way to get around?  Other than occasionally using the few tram lines, I found the best way to get around the city was by foot, or by Uber. If you're staying near the French Quarter (we were just next door, in the Warehouse District), most of the main tourist spots are within 30 minutes walking distance.
Which tours should I take?  I thoroughly enjoyed the three tours I took part in during my time in New Orleans.  The Creole Bike Tour was run by the Confederacy of Cruisers; the Honey Island Swamp tour was run by Cajun Encounters, who picked us up and dropped us off at our hotel; and the cemetery tour I opted for was run by Free Tours By Foot, where you 'pay what you wish' at the end of the walk.
____________________
Have you ever visited somewhere that defied your expectations? What was it like?
Let me know in the comments below – I'd love to hear from you!
____________________ 
Want to read more?
Where To Find The Best Food in New Orleans 
____________________