"Where to find the best food in New Orleans."
It's an internet-friendly title, but I've got to be honest: it's not entirely true.
Yes, I was in New Orleans for four and half days, and ate some of the best food I've found anywhere in the USA (and maybe the world), but I'm not going to claim I can distill the essence of this city's incredible dining scene into one blog post.  In fact, I think I'd be wary of anyone who did, as there is simply so much good food here that one trip couldn't take it all in.
Food is a huge part of the character of this city.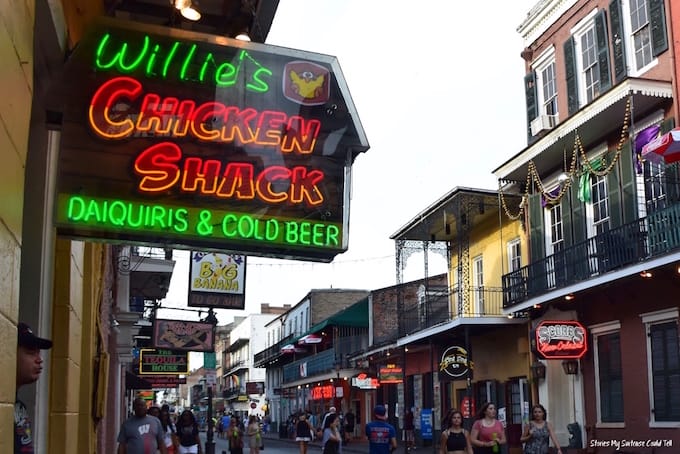 The dishes on offer here reflect the cultures that have melded and made up the fabric of New Orleans over the years, like Cajun, Creole, Caribbean, French, African, and Spanish.
One local told us that if we wanted a shorthand way of categorising New Orleans' food, we were to think of Cajun food as country food, and Creole food as being more urban. Of course, my travel buddies and I made sure to eat plenty of both!
In short, though, what you end up with in New Orleans is some of the most interesting and unique food in the country. So while I can't give you the "ultimate' guide" to eating here, what I can do is give you the Stories My Suitcase Could Tell-approved food guide to New Orleans (and you know I like my food!).
So here's where to find the best food in New Orleans, aka what I recommend you eat (and drink!) on a first-time visit to the Big Easy…
The "debris" Po Boy at Mother's
Mother's Restaurant has been feeding locals and visitors alike since it opened in 1938 – but the history of the city's Po-Boy sandwiches goes back even further. During a transit strike in the 1920s, striking street car workers in New Orleans started making sandwiches filled with meat, using a thin, slightly crisp bread, and serving them free of charge to the strikers. Just like that, the "poor boy" sandwich was born.
There is great debate over where the best Po-Boy can be found in NOLA – and whether you should go for shrimp or roast beef – but at Mother's, a local institution, we went with the "debris" po-boy, a style they claim as their own.
I soon realised why it was called the "debris", as the sandwich was swimming in roast beef shavings and gravy. It's possibly the messiest sandwich I've ever eaten, and I had to admit defeat half way through – but it was quite the introduction to New Orleans as my first meal of the trip!
The beignets and coffee at Cafe du Monde
The green-and-white striped awning of Café du Monde is an instantly recognisable sight in New Orleans. It's touristy, yes, but I tend to be of the opinion that tourist sights are popular for a reason (the Eiffel Tower, anyone?).
Café du Monde started life in 1862 as a coffee stand at the edge of the French Quarter. Today, on the same spot, it's a full-blown sit-down café, famous for its beignets – hot doughnuts originally brought to the city by the Acadians – which are covered in powdered sugar and served in threes with a café au lait on the side.
Even though we had just had lunch at Mother's, we licked our fingers clean of all that lovely powdered sugar (and yes, we went back for more, too!).
The breakfast at Stanley in Jackson Square
Apparently it was New Orleans that invented Sunday Brunch, a meal timed for those leaving mass in a city where, historically, the predominant religion has been Catholic. But even if it's not Sunday, you can't miss brunch (or breakfast, if you're awake early enough after drinking and dancing to jazz all night) at Stanley in the famous Jackson Square.
The dining room looks over to St Louis Cathedral, but let's be honest, it's the food we were looking at. With a mix of the Stanley Classic (scrambled eggs, smoked bacon, Creole breakfast potatoes, and toast) and the Bananas Foster French Toast (battered French bread, sliced bananas, vanilla ice cream, and foster sauce) on our table, our attention was well and truly occupied!
The jambalaya at Coop's Place
We found ourselves at Coop's Place – a small, dark bar in the French Quarter – for lunch after our Confederacy of Cruisers tour leader, Lara, recommended it.
My eyes went straight to the rabbit and sausage jambalaya, which lived up to the hype – and more. So much so, in fact, that I ordered a second bowl of the rice, sausage, rabbit, pepper, and tomato mix, along with a bottle of local beer, Abita Big Easy; it was the perfect pick-me-up after our two hour bike tour!
Although we stopped here for lunch, Coop's Place is a short walk from Frenchmen Street, where jazz spills out onto the sidewalk from every building at night, so I think it would be a good spot for dinner, too.
Everything at Eat New Orleans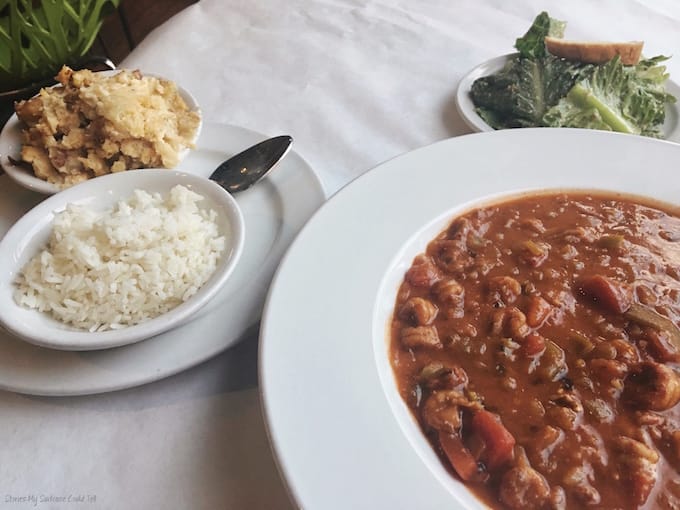 Eat New Orleans was a lucky find. It happened to pop up on a last-minute Google search, and ended up our dinner choice for the night. The small BYOB corner restaurant in the French Quarter seemed unassuming; the menu was outlined on a whiteboard, and the waiter wrote on our paper tablecloth with a black marker.
Well, we've been talking about the food here ever since. Fried chicken, chicken and dumplings, mac and cheese… I thought their crawfish boulettes (fried balls of breadcrumbs and crawfish) were my favourite dish of the trip, until I returned for a solo dinner the night my flight left me stranded, and I ordered the crawfish etouffee, a slightly spicy thick stew filled with crawfish, eaten with rice.
I'm not even exaggerating when I say I would go back to New Orleans for this dish alone!
The meaty sandwiches at Cochon Butcher
I had heard of Cochon Butcher before I ever arrived in Louisiana, thanks to a chat at Travel Massive with a friend. I heard of it again on our bike ride with the Confederacy of Cruisers, and I knew this was somewhere we couldn't miss. Located in the Warehouse District, the light-filled space with counter tables is a combination of "a butcher shop, a sandwich counter and a wine bar."
(Doesn't that sound wonderful?!)
Naturally, like everywhere else I loved in NOLA, I found myself here twice. I started with a New Orleans classic, a muffuletta sandwich (which here constitutes house cured meat, olive salad, melted cheese, all squashed inside a light sesame seed-topped roll), before adding duck pastrami sandwiches and brisket sliders to our table, too.
A cold beer on the infamous Bourbon Street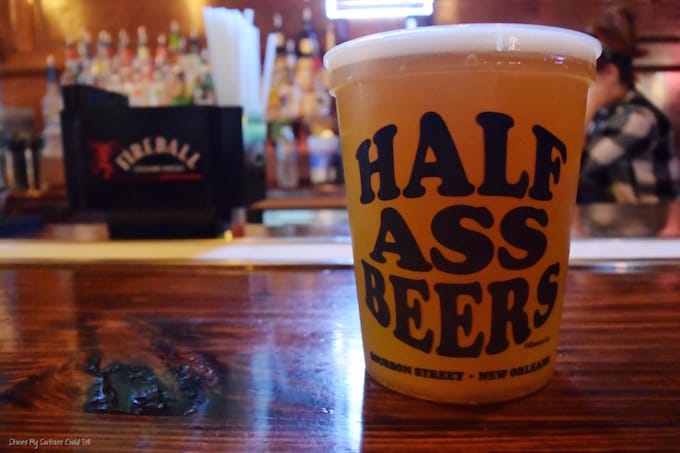 Bourbon Street is probably the most (in)famous street in the city, one that cuts through the French Quarter, lined with neon-lit bars and souvenir shops selling the likes of voodoo dolls and Mardi Gras beads. Honestly, I'm not sure which of the many bars we opted for in the end, but it had excellent prices and live jazz music, so it was an easy sell on our first humid night in the city.
(Side note: if you're braver than me – or have a stronger alcohol tolerance! – this would be the time and the place to get a Hurricane, a traditional New Orleans cocktail made up of light rum, dark rum, passion fruit juice, orange juice, lime juice, simple syrup, and grenadine.)
A cocktail at the Columns Hotel in the Garden District
The Columns Hotel stands proud in the Garden District, its elegant veranda overlooking the wide St Charles Avenue, the route of the famous street car. A 19th century landmark, the hotel is as famous for its drinks as it is its architecture, and the elegant, wood-panelled Victorian Lounge, where we sipped our cocktails in style after riding the street car, has even been named one of the top 100 bars in the USA.
It provided a calm contrast to the craziness of Bourbon Street, and for us was a relaxing spot to recharge before exploring more of the Garden District (this historically American side of the city is drastically different in appearance to its French Quarter neighbour, and definitely worth a visit).
And there you have it: eight of the best food experiences I had in New Orleans.
As I've said before, New Orleans captured my imagination, and my taste buds, in a way no other US city has before. On my next trip to New Orleans – because there will definitely be a next time – I would eat and drink at all these places again, and even more besides. If you ever find yourself in New Orleans, go hungry (and bring your stretchiest pair of trousers – you'll need them!).
____________________
Have you ever eaten New Orleans cuisine, or would you like to? What do you think is the best food in New Orleans?
Let me know in the comments – I'd love to hear from you!
____________________
Want to read more?
New Orleans At A Glance: My Introduction to the Big Easy
____________________