Welcome to Stornoway, the gateway to Scotland's Outer Hebrides!
As the largest town on the archipelago, the chances are that on any trip to the Outer Hebrides you'll find yourself in Stornoway at least once. It's the ideal place to start your island journey, and a great base from which to explore Lewis and Harris before moving south, to Uist and beyond.
But don't let that fool you into thinking Stornoway is simply a launching pad for your Hebridean holiday. Stornoway is more than somewhere to rest your head while you see the tourist sights: it's a thriving little town in its own right, and deserves its own travel itinerary.
Stornoway: past and present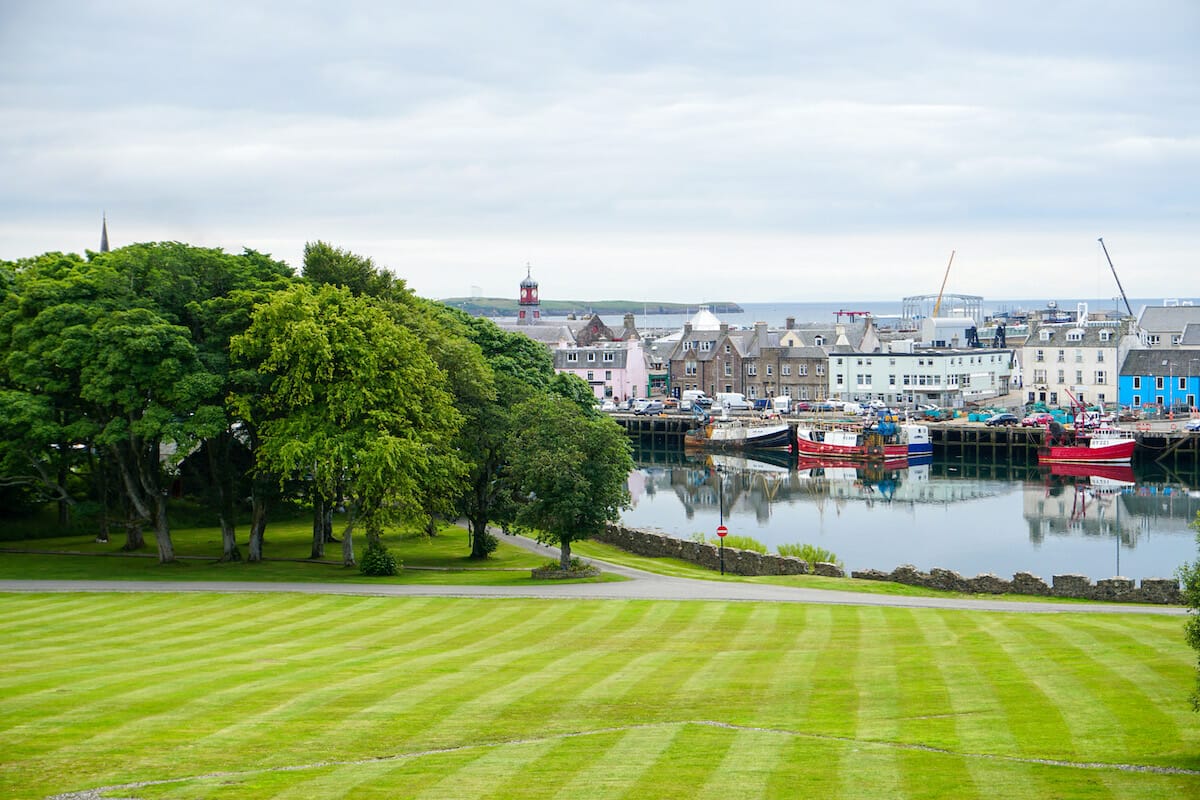 The town's name comes from Sjornavagr, which is the Old Norse term for 'steering bay.' Even during Viking times, it seems, the harbour was busy! According to the Stornoway Historical Society, over the years the town has been a bit of everything: "a medieval castle, a colonial settlement, a Cromwellian fortification, a major fishing port, and centre of the Harris Tweed industry." Stornoway has certainly had an eventful history so far.
Today, Stornoway is a small harbour town that offers everything a small town elsewhere in Scotland does – and even more besides.  This is a town that still has local butchers and bakers, but the convenience of a handful of high street shops when necessary. It's one filled with small locally owned businesses, selling everything from clothes to crafts. It's holding on to its uniquely Hebridean heritage, with Gaelic street signs and traditional music events, while also keeping up with the times.
What to see and do
Start in the centre of town and stroll the pedestrianised streets that are known locally as 'The Narrows.'
There are plenty of shops to browse here, as well as pubs, butchers, the local art gallery, and the Stornoway Town Hall. On a sunny day I often think you could be mistaken for thinking you were somewhere more tropical, thanks to the brightly painted facades of the buildings!
For culture of all kinds, you can't miss An Lanntair.
It's long been one of my favourite spots in town, encompassing an award-winning art centre, shop, cafe, restaurant, cinema, and theatre. Meaning 'The Beacon' in Gaelic, it's certainly a beacon of creativity in the islands. Definitely check out their events calendar when you're town, as you never know what might be on.
I've listened to Jenny Colgan talk about her latest novel, danced the night away to Skerryvore, and watched the Moscow State Ballet pirouette across the stage – there really is something for everyone here.
Listen to some local music.
In the height of the summer, music will be everywhere – on the streets, in the pubs, and on the Castle Green – as part of the annual HebCelt Festival, and the local Mod, a competitive celebration of Gaelic music and culture, which takes place every May.
But even outwith the tourist season, there's music to be heard, as local pubs often host live music and open-mic nights.
Get out of town!
To see Stornoway from its finest angle, you need to get out of town (well the centre of it, anyway), via a little walk by the harbour. The pontoon berths at the marina were introduced in recent years, and have been a runaway success – they're busy with boats every summer.
Past the statue of the Herring Girl and the fishing boats by the pier, on Bayhead Road you'll eventually find a little foot bridge that takes you into the Castle Grounds. The views of the town from the Gardener's Cottage, and Cuddy Point, are truly lovely, and one of my favourite sights in the islands.
Explore the Castle Grounds – by foot or by bike!
Covering more than 200 hectares, the Lews Castle Grounds are a popular recreation spot for those in Stornoway and beyond. (You'll often meet someone you know while walking round the trails on a sunny weekend afternoon!) They were originally created in the 1850s by Sir James Matheson, and offer hours of exploration through pathways and carriage trails, up steep hills and around the edge of river bends.
Take a tour of the newly revamped Lews Castle, home to Museum nan Eilean.
The Castle started life in the 1680s as Seaforth Lodge; it wasn't until Sir James Matheson bought the land in 1840 that construction began on the building that we know today, using the fortune Matheson had amassed through his role in the opium trade. (In short, the Castle was basically built with drug money from China – how's that for a bit of scandalous local history?)
Lord Leverhulme bought the island in 1918, modernizing the Castle further, before the building and the land surrounding it came into public ownership in the Twenties. Since then it's been a World War II naval hospital, student accommodation, and even lain derelict. After extensive renovations, the Castle reopened in 2016, providing a home for the brilliant local museum, a café, shop, and the addition of luxury accommodation from Together Travel Co. Lews Castle is now a must-see on any visit to Stornoway, whether you're staying there or not.
See the town from above, at the Lewis War Memorial.
The Scottish Baronial Tower – one that reaches 85 feet –  is the Lewis War Memorial, and was constructed in 1924 to commemorate the islanders who lost their lives during World War I; on a clear day it can be seen from many of the roads that approach the town. The hill it occupies, Cnoc nan Uan, also offers far-reaching views of the town and the surrounding villages – some local photographers have taken spectacular photos from this vantage point.
Visit the Iolaire Memorial, dedicated to one of Britain's worst maritime disasters in peacetime.
Just outside Stornoway, in Holm, sits a memorial to those who died with the sinking of the Iolaire.  It was 31 December 1918, and 284 servicemen were on board, heading back to the islands after the end of World War I.
Most of them never made it, as the Iolaire sank just 20 feet from shore, on the Beasts of Holm; the tragedy affected every village on the island.  The monument to these men sits at the edge of the cliffs in Holm, with panoramic views across the bay to Arnish and Lochs. To visit this beautiful but sombre spot, drive out of town on the road leading towards the airport, or hop on any buses making their way to Point or Parkend.
Visiting with kids?
They'll want to go wild on the beaches (I certainly did as a child, and still do as an adult!), but there's still plenty to keep younger members of the family occupied in the town itself.
There's the aforementioned Castle Grounds, of course, as well as a soft play area at Adventure Island; the local Sports Centre, which has a swimming pool, climbing frame, squash court, and a small soft play area for pre-schoolers; Bayhead Playpark, which offers a climbing frame, crazy golf, a tennis court, and skate park; and weekly arts activities at An Lanntair.
Where to shop

Invest in a luxury fabric full of heritage, at Harris Tweed Hebrides.
On North Beach Street you'll find the retail outpost of the largest Harris Tweed producer in the islands, Harris Tweed Hebrides. Whether you're looking for a sharp blazer (like the one I bought before moving to the USA), a chic handbag, or even a length of tweed itself, this is the place to splurge.
Get ready for outdoor adventures at Store 67.
The Outer Hebrides offers a wealth of outdoor adventures, from cycling along the Hebridean Way, to climbing the Harris hills, and swimming or paddle boarding in the ocean. And the place to prepare for all of that is Store 67 on Kenneth St, where you'll find everything from camping gear and paddle boards to yoga equipment and bikes for all ages. (I bought myself a mountain bike there recently, and I spent every sunny day in Lewis cycling to the beach on it!)
Discover something unique at The Blue Lobster.
It's a coffee shop by the harbour, yes – but The Blue Lobster is also home to a wee lifestyle shop, filled with beautiful homewares, jewellery, and accessories you won't be able to resist.
Browse books, stationery, and more at the An Lanntair gift shop.
As a stationery addict, I can never resist a browse of the gift shop on the ground floor of the arts centre. But it's not just paper products they offer: you can choose from local books, artwork, music, and even handmade jewellery.
Keep in mind…
The Visit Scotland outpost and a variety of local newsagents also sell a wide selection of souvenirs, postcards, and local literature.
Where to eat
Delights, for some of the best coffee and cake in town.
With only three small tables squeezed between the counter and the rest of the shop (home to high-end culinary and baking ingredients), you might be tempted to give up on waiting. Don't! This home baking is some of the best you'll find, as is the coffee and conversation from the lovely ladies behind the counter.
(I'm not exaggerating when I say that I was in here six days out of seven when I worked in Stornoway!) But if you really can't wait, there are plenty of good coffee options in town, including The Blue Lobster, the café at An Lanntair, and the Storehouse Café at Lews Castle.
The Good Food Boutique, for takeaway sandwiches and deli delights. 
This is Stornoway's version of an Italian deli: the counter is heaving under all types of meats, hams, cheeses, and antipasti, while the shelves display a wide selection of harder-to-find cooking ingredients. It's a great place to pop into for a takeaway sandwich, or to stock up on food for your self-catering holiday kitchen.
The Woodlands Centre, for snacks to keep you going on your tour of the Castle Grounds.
All wood and floor-to-ceiling glass windows, The Woodlands Centre is a lovely, bright spot to have lunch – think wraps, sandwiches, and baked potatoes – before heading off to see more of the Castle Grounds.
One of the many chip shops, for proper Scottish fish and chips.
A good fish supper is one of the meals I miss most as an islander abroad. Order your fish supper from Cameron's, Church Street, or the Stornoway Chippy, and – if the weather cooperates – sit on the benches in the Narrows, or find a spot near the pontoons, like Perceval Square, where you can feast on your food outside.
A local butcher, for a bite of the infamous Stornoway Black Pudding!
While most restaurants have it on their menus in some form, I recommend visiting the local butchers that produce it, and buying a marag or two vacuum packed to take home. I won't voice my opinion in the debate on which pudding is best: you'll have to visit Charlie Barley's, Willie John's, and MacLeod & MacLeod to decide for yourself!
HS-1 Cafe and Bar, for a hearty lunch or delicious dinner.
This my go-to spot for dinner with friends and family. The restaurant's wide windows offer great views of the Lews Castle, and the atmosphere is modern and laid back. As for the food? Expect anything from beef burgers topped with Stornoway Black Pudding to curry-filled wraps, fresh local mussels, and seafood pastas.
Eleven, for a big buffet dinner.
The restaurant on the ground floor of the Caladh Inn is family friendly (there's even a small play area for children), and offers a carvery lunch or dinner for a bargain price. They also host regular 'themed' dinner evenings, where you can book in advance to enjoy an evening of food from elsewhere – maybe Mexican, Nepalese, or Indian.
The Thai Cafe, for fresh flavours and a BYOB policy.
For something a little different, book a table at the Thai Café, one of my favourite spots for a celebratory get-together or an easy take away dinner. I can be a creature of habit with food, and nearly always order the peanut chicken curry (the staff are usually surprised when I don't!), but anything you order on this menu is going to be lovely.
Where to drink
An Lanntair, for a pre-dinner cocktail overlooking the harbour.
Head here at the start of your night, not only because it tends to quieten down earlier than some other bars, but because you'll get a prime view of the sunset over the harbour as the ferry docks for the night.  The sloe gin bramble cocktail here is so good, it's what first turned me into a gin fan!
The upstairs Harbour Bar at The Crown Inn, for a quiet G&T.
Here you'll find dark walls decorated with antlers, Harris Tweed accents, and old maps of the Outer Hebrides, all overlooking comfortable leather chairs and a well-stocked bar – the last time I visited, there were over 80 varieties of gin on offer. (The building is owned by the same company as The West Highland Bar I visited on Skye, and you can definitely see the design similarities).
Where to stay
Having spent most of my life living a 15-minute drive from Stornoway, I don't often stay in the town itself – but there are plenty of different options for visitors of different budgets.
There's the Heb Hostel on the colourful Kenneth Street; the family of hotels that take in the Caberfeidh, The Royal, and The Caladh Inn; countless B&Bs; and of course, plenty of Air BnB options. I've been lucky to spend a night in Lews Castle courtesy of Together Travel Co., and can definitely recommend it for a historic stay on the edge of Stornoway.
Getting there
There are two options for arriving in Stornoway: by air, or by sea.
By air
Loganair operates direct flights daily to Stornoway from Inverness (30 minutes), Glasgow (45 minutes), and Edinburgh (1 hour), making Stornoway (and the wider Outer Hebrides) easily accessible from the Scottish mainland.
By sea
The ferries that operate in the Inner and Outer Hebrides are run by Caledonian MacBrayne (referred to as 'CalMac'). The ferry from Ullapool, on the Scottish mainland, gets you to Stornoway in 2 hours 45 minutes. While it's a longer journey than the one by air, it's worth doing at least once for the breathtaking scenery.
Getting around
In Stornoway itself, nearly everything is within walking distance.  But if you're planning on leaving the town – and let's be honest, you can't miss these incredible sights! – you're going to need to hire a car. Bus services run fairly frequently, but will not allow you the flexibility to see all the islands have to offer.
More information
For the latest information on events in Stornoway, I recommend visiting welovestornway.com, or checking out the latest EVENTS Newspaper, which you can read online in PDF form, or pick up in print across Lewis and Harris.
(Full disclosure: I've worked for this paper for nine years, but it really is your best source for what's happening in Lewis and Harris. Plus, you'll get to read more stories by yours truly!)
____________________ 
Have you ever been to Stornoway, or would you like to visit? Where are your favourite spots in the town?
Let me know in the comments below – I'd love to hear from you!
____________________
If you enjoyed this, you might like:
The Outer Hebrides Travel Guide
14 Useful Things to Know Before Visiting the Outer Hebrides
____________________