As the wild ride that is 2020 comes to a close, it's time for my annual "Year in Review" blog post on Stories My Suitcase Could Tell.
I usually love the end-of-year reviews and reflections that pop up across newspapers, magazines, and radio programs at this time of the year, and I always enjoy putting together this final blog post of the year, looking back on all the adventures I had and the countries I visited. This end-of-year review, of course – after a year of lockdowns, stay-at-home orders, and closed borders – looks very different.
At first, I wasn't even going to write this post; I didn't feel quite ready to reflect on the magnitude of 2020, and besides, I thought, I didn't even travel. But the act of reflection reminded me that actually, I did travel, even if sometimes that travel was very close to home. So here it is: a look back at 2020 in travel, both near and far(ish)…
Hudson Yards, NYC | January
January began in ignorant bliss at what awaited us all. My family were visiting over Christmas and New Year, and we spent the first few days of the year sightseeing in NYC, which included going up the Vessel in Hudson Yards for the first time. In my Instagram post from the sculpture of interconnected staircases on the 2nd of January, I wrote that I was "starting 2020 as I meant to go on, by exploring somewhere new!" Talk about famous last words!
Philadelphia, Pennsylvania | February
To celebrate our fifth wedding anniversary, Mr. Stories My Suitcase Could Tell and I drove down to Philadelphia for a weekend trip that was filled with so much food I think we might have had five meals in one day. We stayed in a lovely hotel with a skyline view (and a lobby full of books!), enjoyed leisurely walks around the old town, and had a stand-out dinner at Sate Kampar, a Malaysian restaurant that later closed because of the pandemic.
When the waitress found out we were celebrating our anniversary, she encouraged us to order the Lunar New Year speciality, the prosperity salad, where you're given the ingredients in separate bowls and mix them together as high as you can using your chopsticks; the higher you get the salad, the more prosperous and lucky your year will be. We had a good laugh piling our salad as high as we could, and then forgot about it – until we unexpectedly bought our first house about six weeks later! (I think I'll be having another prosperity salad this Lunar New Year!)
Tucson, Arizona | February
When we spent a long weekend in Tucson in late February, the news of a new coronavirus was slowly spreading. I hadn't yet listened to The Daily podcast that described the coming situation as "not as bad as the Black Death, but more like the Spanish Flu," but I'd heard enough to wipe down my airplane seat and tray table with antibac wipes, despite the odd looks from fellow passengers who presumably thought I was overreacting. But although coronavirus was in the news, it wasn't something we were seriously worried about, and we had a lovely weekend in Mr. Stories My Suitcase Could Tell's hometown with his family, going for hikes in the desert, playing golf (yes, I played golf!), and eating lots of tacos. A little over two weeks later, we were in lockdown.
Sandy Hook Gateway National Recreation Area, New Jersey | August and September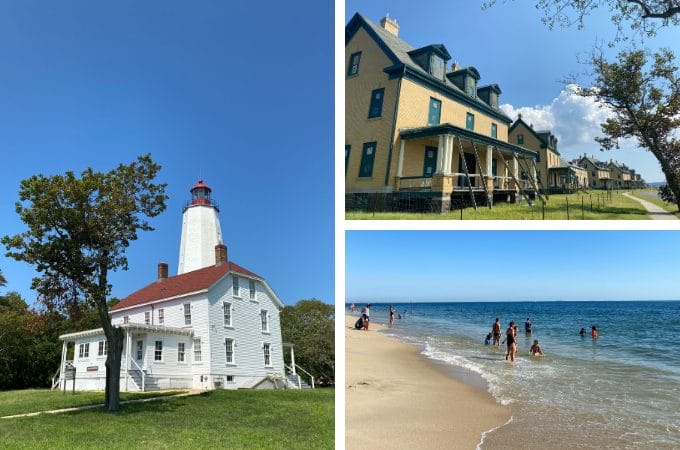 After being stuck at home for eight months, our two day trips to Sandy Hook felt ridiculously exciting. It was the first time I'd seen the sea in a year, which for an islander, is really far too long to be away from the sea! What I liked about this little stretch of coastline was that it was relatively quiet. Because it's managed by the National Park Service, it's not commercialized, so we could plonk our beach chairs in the sand in the early morning and read for a few hours by the water without worrying about crowds. It also has an interesting history – it's home to old army buildings and the oldest lighthouse in the USA – and I enjoyed wandering around the historic area after our mornings on the beach.
Van Vleck House & Gardens, Montclair, New Jersey | August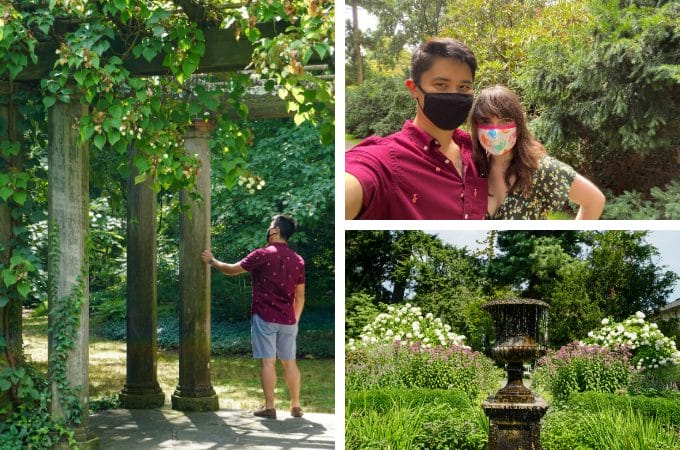 After braving the day trips to Sandy Hook, we went on another summer day trip to the Van Vleck House & Gardens a few weeks later, which I'd discovered (where else?) via some photos on Instagram. While the historic house itself wasn't open for visitors, we enjoyed wandering around the designed gardens and getting another wee change of scenery.
Portland, Maine | September, October, and November
2020 was the year that I fell head over heels for the state of Maine. I've been to Maine a couple of times before – to Kennebunkport, Acadia National Park, Grand Lake Stream, and on two brief visits to Portland – but this year felt different.
I think this year felt different partly because I'd spent eight months cooped up in the city, so the fresh Atlantic air and wide open spaces felt glorious, and partly because we got to spend quality time with my brother-in-law and his wife, the only people we'd seen indoors since early March.
I was certainly nervous about travelling at first, but with pre-travel self-isolation, COVID tests, and non-stop driving for five hours, we were able to make it north without coming into contact with other people. I could write whole blog posts about our time in Maine, but safe to say it was filled with hikes through woods, bike rides by the sea, ferry rides, second-hand bookshops, and a ridiculous amount of good food in good company (think lobster rolls, pizza parties, and homemade pasta). It was, in short, exactly what I needed in 2020!
Schunemunk Mountain, New York | October
After going on a couple of gentle hikes in Maine, I didn't think twice when our friends asked us to go hiking with them one autumn weekend in October. It turned out to be less of a hike and more of a climb (an eight mile climb up and down a mountain!), and while I was truly and utterly exhausted, the scenery was beautiful – my tired legs were worth it for the views of the autumn colours!
Tallman Mountain State Park, New York | October
Making the most of the crisp autumn weather (and those beautiful leaves), Mr. Stories My Suitcase Could Tell and I ventured out to a new hiking spot to get some fresh air and (yet another!) change of scenery from the four walls we'd been staring at all year. We ended our hike with a drive to the little Hudson River town of Piermont, which had lovely views and charming streets.
Midtown Manhattan, NYC | December
I'd been in Manhattan to collect things from my desk at the Penguin Random House offices in September, but I hadn't spent any real time in the heart of the city since that week in early March when everything closed down – so when I had time off in the run up to Christmas, I knew I wanted to see the holiday decorations that have been a tradition for me since I moved here in December 2014. I popped over to Midtown twice, and avoided the subway, so ended up walking around 7 miles each day as a result, but it felt wonderful to be back in the thick of it, even if the thick of it was surreal in how quiet it was. The High Line, for example, was almost completely empty, and given it normally sees 8 million visitors a year, it felt like I'd landed on a different planet!
All in all, it's safe to say that 2020 didn't bring any of the travel adventures I'd dreamed of at the start of the year: I didn't make it home to Scotland, we didn't see family in Seattle, and we certainly didn't return to China for our ten year reunion with friends.
For most of March and April, I didn't even step foot outside of our flat (instead opting to stick my head out the window for fresh air), and I didn't leave the few blocks of our neighbourhood until July, when we started the 4th of July weekend with a socially-distant outdoor picnic in our friends' garden.
But we've had lots of lovely local adventures nonetheless, and being grounded has reinforced what a privilege travelling is, a privilege I certainly took for granted as an expat for the last six years, as I assumed it would always be easy to jump on that six hour flight to Glasgow. When I think of the sheer unadulterated joy I felt on a wild, empty beach in Maine, I can't begin to imagine how emotional and thrilling the experience will be when I step off the plane at Stornoway airport, or in a new-to-me country, sometime in the (hopefully!) near future.
Being grounded has also made me focus a lot more closely on my immediate home environment, as it has for a lot of us.
Mr. Stories My Suitcase Could Tell and I bought our first house in the spring, and moved in the summer – and we've had plenty to keep us occupied given it's over 100 years old and needs some serious renovations. Once I got over my spring fear of going outside, I also spent lots of leisurely time walking masked around our neighbourhood, or going for bike rides by the river. And in the ultimate lockdown cliché, I got very into birdwatching, a hobby that has lasted throughout 2020 – I even received a pair of fancy binoculars for Christmas!
We were also incredibly lucky that our day-to-day life could carry on during the various stages of lockdown: I was able to work my 9-5 day job from home, and managed to write monthly articles and a handful of blog posts. I read 61 books (I've shared some favourites on Instagram); watched a lot of TV (we binged Little Fires Everywhere, Call My Agent, Emily in Paris, and Hamilton); and I discovered that BBC Radio 2 is now where all my favourite music is.
And although it couldn't make up for the lack of real life interactions, the Zoom and FaceTime calls with our family and friends, who are all safe and well, have made the madness of 2020 bearable, even on the days it felt as if we'd be stuck in the limbo of uncertainty forever. Thanks to the magic of the video calls, I've seen sunsets in Lewis, the flowers blooming in my parents' garden, and friends' babies toddling into view of the camera. It reminded me that it's always the little moments that make the year what it is, whether it's a year of big travel adventures or not.
So on that note, here's hoping next year brings the relief we're all looking for. Happy Hogmanay, and Happy New Year when it comes! 2021, we're counting on you…!